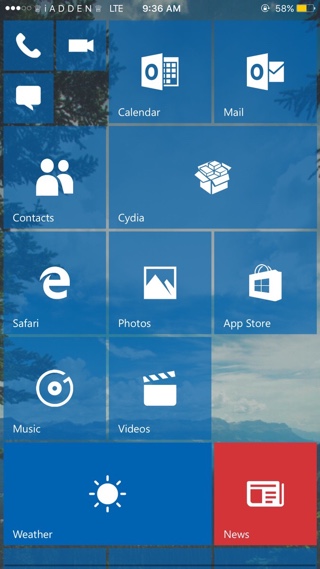 If you like the design of the Windows 10 Mobile's homescreen and want to transform your iOS homescreen into it, then the Redstone tweak can help. Redstone is basically a theme that brings the look of Microsoft's latest mobile operating system to iPhone. As the title suggests Redstone brings the design of Windows 10 Mobile to iOS not Windows 8.1 like Paragon tweak. While the functionality of both remain largely same there's a big difference in their appearance.
The Redstone tweak allows users to set up tiles as they like on the homescreen. It offers 'tiles' for most stock iOS apps as can be seen in the developer's screenshot above. Before you jump to install the Redstone tweak on your device please note that that its in beta and developer has released its source code for anyone who wants to work on it. In a Reddit post he has also made it clear that he will not be offering support for this release and installation should be done on user's own risk. The build is highly unstable and may cause problems.
While Redstone tweak is released on GitHub here, you can also download it on your iPhone through Cydia by adding this repo 'https://festival.ml/repo/'.