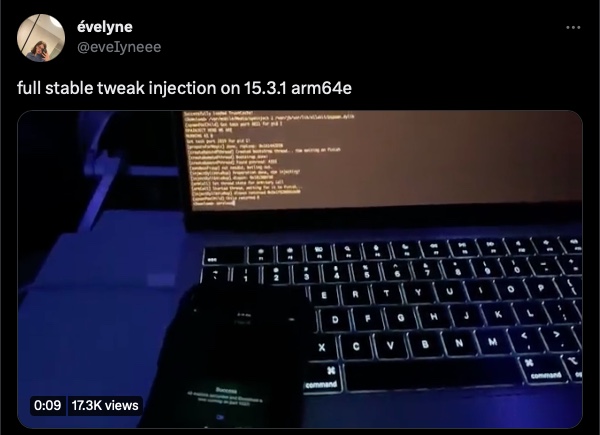 The Fugu15 jailbreak for arm64e devices that works with iOS 15.4.1 or lower has been limited to developers for a while, as no tweak injection method is available to make the jailbreak useful for the masses.
That might change in the near future as developer @eveIyneee has announced a working tweak injection method called ElleKit. The ElleKit injection method is similar to Substitute and libhooker, and could allow iOS 15 users to install jailbreak tweaks on their jailbroken iPhones and iPads.
According to the developer, the ElleKit tweak injection method works with Linus Henze's jailbreak platform. This essentially means this jailbreak could be used with Fugu15 jailbreak and the user-friendly ra1ncloud jailbreak.
While talking about ElleKit, @eveIyneee said that tweaks and repositories will need to be updated to support the rootless jailbreaks before they can be used along with ElleKit and Fugu15 jailbreak. That is definitely not a cause for concern as most of the popular tweaks and repos will get updated to support rootless jailbreaks as soon as jailbreak with tweak injection is made available to the public.
While the development of ElleKit is a major step in the right direction other issues that could hinder the release of a public iOS 15 jailbreak with tweak support still remain. This includes the Wi-Fi issue known to cause panic on various iOS 15 (including iOS 15.3.1) when they are jailbroken with Fugu15 jailbreak.
There's also some work left when it comes to making ElleKit viable for public release. For example, the new tweak injection method does not yet support hooking C functions, and it is not supported system-wide yet. However these issues will eventually be resolved.