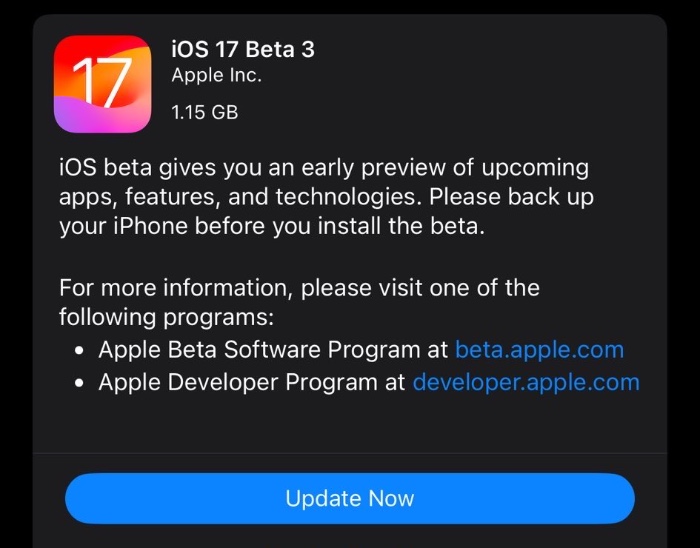 Apple has just released iOS 17 developer beta 3 and it is now available for download. Today's release comes exactly 2 weeks after the release of iOS 17 developer beta 2.
If you are a registered Apple developer, you can head over to the Software Developer section of your iPhone or iPad to download iOS 17 developer beta 3 and iPadOS 17 developer beta 3 on your devices.
Along with iOS 17 and iPadOS 17, Apple has also released the third developer beta of macOS Sonoma and tvOS 17. You can also download them right now.
We expect the third beta to include bug fixes and performance improvements. We also hope that many of the bugs that were reported by beta testers after the first beta's release will be addressed.
We are installing the new beta right now. We will update this post if any major changes are discovered in the new beta.
Apple no longer requires users to have a paid developer account in order to download a developer beta. You can install iOS 17 developer beta for free by following our guide here.
Changes in iOS 17 Developer Beta 3
Along with a new splash screen for the Home app, iOS 17 now includes a new full-screen page for changing the color of multi-color lights.
A new Song Credit information section has been added to Apple Music. This new section allows users to learn about a song's performing artists, songwriters, and more.
A new toggle for Depth Control has been added in the Preserve Settings section of the Camera app.
Messages app's app picker's Photos button now shows the user's most recent photo.