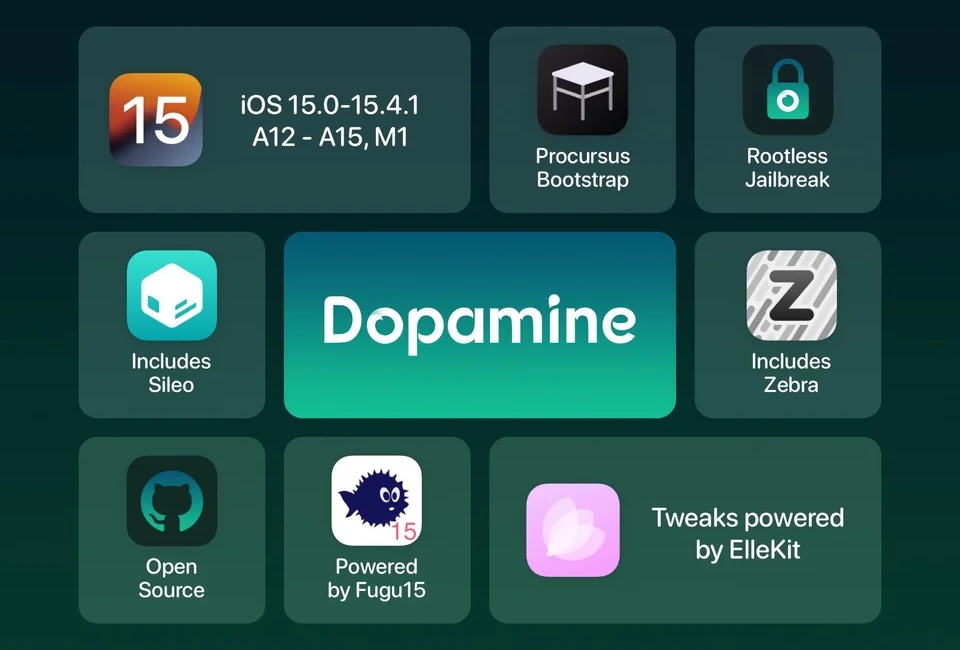 If you have been following iOS jailbreaking news lately, then chances are you are familiar with the news of the Dopamine jailbreak development by developer Lars Fröder. And for those waiting for the release of this jailbreak tool, the good news is it is now available for download.
Dopamine jailbreak tool features support for devices running iOS 15.0 up to iOS 15.4.1. The tool can be used on devices that have the A12, A13, A14, and A15 chips.
This means Dopamine tool can jailbreak iOS 15.4.1 or lower on iPhone XS, iPhone XS Max,iPhone XR, iPhone 11 Pro, iPhone 11 Pro Max, iPhone 11, iPhone 12 Pro, iPhone 12 Pro Max, iPhone 12, iPhone 12 mini, iPhone 13 Pro, iPhone 13 Pro Max, iPhone 13 mini, and iPhone 13.
Dopamine jailbreak is a jailbreak tool that is meant for the average user. It features an easy-to-use interface and supports tweak injection, which means devices that have been jailbroken with this tool can download tweaks. The tool includes Sileo and Zebra package managers, making it easier for users to search for and install tweaks and apps on their devices.
Dopamine is a rootless jailbreak and is based on Linus Henze's Fugu15 jailbreak although it features a fix for the Wi-Fi bug found in that jailbreak.
Jailbreak iOS 15 with Dopamine jailbreak tool
If you are among the lucky few who have a compatible device and are still running iOS 15.0 – iOS 15.4.1 on your device, then you can follow the steps below on how to jailbreak iOS 15 with Dopamine jailbreak.
Step 1. First of all, install TrollStore on your iPhone or iPad using the jailbreak developer's recommended method. For this open Safari and go to the following URL:
https://api.jailbreaks.app/troll64e
Step 2. When prompted to open the page in iTunes tap on the Open button and then from the next prompt tap on the Install button.
Step 3. Go to your iPhone or iPad's home screen and open the 'GTA Car Tracker' app that has appeared. This is a TrollStore installer in disguise.
Step 4. Now tap on 'Install TrollStore'. When you do this your device might respring to complete TrollStore installation.
Step 5. Next launch TrollStore from its icon and tap on the 'Install Persistence Helper' button. Now from the menu choose an app that you never use on your iPhone. Your chosen app will stop working on your device so choose carefully.
Step 6. Delete the GTA Car Tracker app from the home screen.
Step 7. Now open Safari and load up the following URL:
https://ellekit.space/dopamine/
Step 8. On the website find and tap on the 'Install with TrollStore' button.
Step 9. When prompted tap on the Download button and then tap on the Downloads glyph from the address bar.
Step 10. From the Downloads menu tap on Dopamine and then on the Share button from the top right side.
Step 11. From the sharesheet tap on TrollStore icon and then tap on the 'Install' button from the popup.
Step 12. After Dopamine has been installed in TrollStore find its icon on the Home Screen and tap on it.
Step 13. Now tap on the Jailbreak button in order to start the jailbreak process on your device.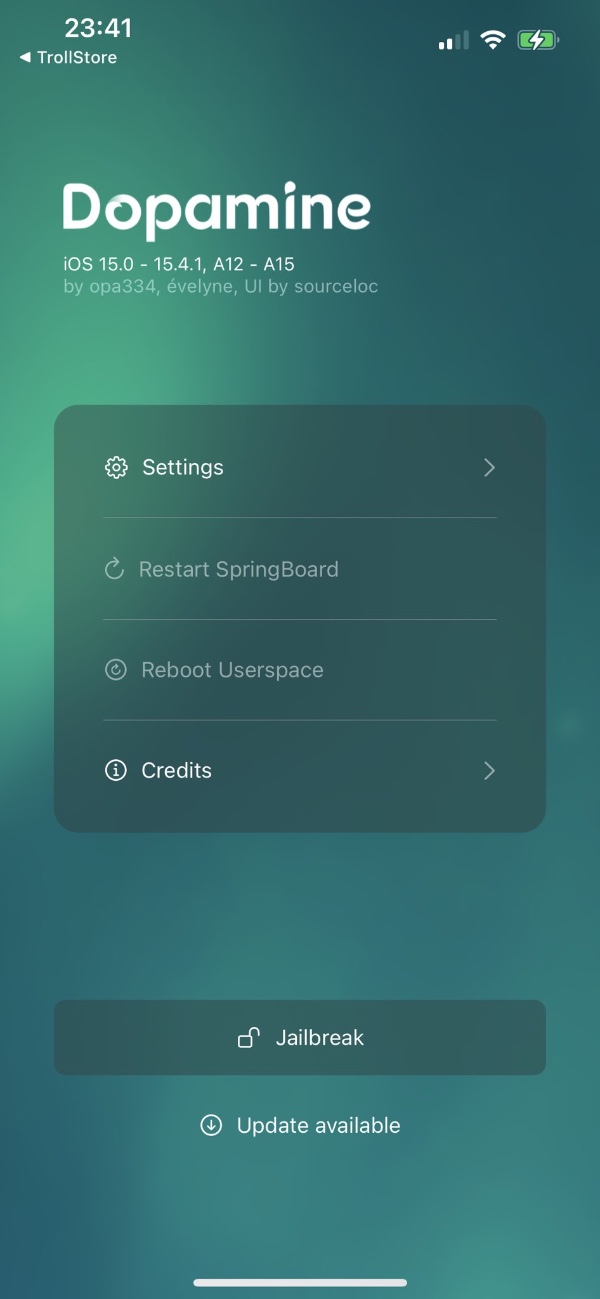 Step 14. When prompted select Sileo package manager and hit Continue.
Step 15. Dopamine will ask you to set a Terminal password. Choose a password of your choice and repeat enter it. Make sure you remember it for later use.
After the jailbreak process is complete you will see the Sileo icon on the Home Screen. Open Sileo and start installing the jailbreak tweaks of your choice.