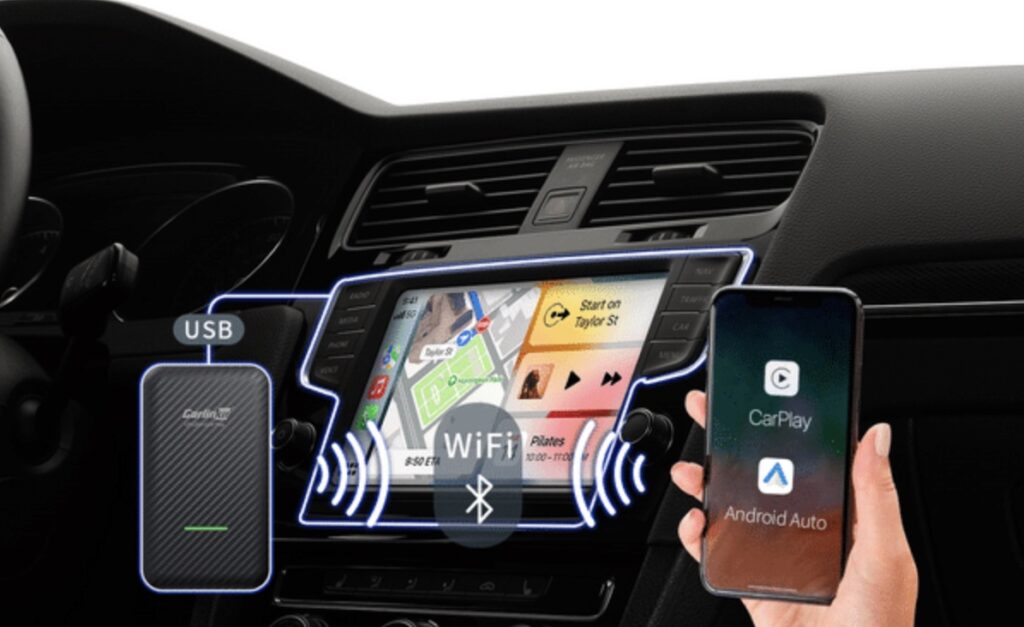 If you own a car with wired Apple CarPlay and want to convert it into Wireless CarPlay, then an accessory called Carlinkit 3.0 is here to help.
Carlinkit is essentially a dongle that goes into the USB port of your car. When you plug this device in your car you can convert wired CarPlay into wireless CarPlay. It works with all recent versions of iOS including iOS 15 in 2022.
Once a CarPlay unit has been converted into wireless CarPlay with Carlinkit you can wirelessly connect your iPhone's CarPlay interface to the car's head unit without connecting the iPhone with a USB cable.
With this accessory you can enjoy all of CarPlay features wirelessly, which includes streaming music, using Siri, making and receiving phone calls, getting notifications and using third-party CarPlay apps.
Many vehicles that are released in the last couple of years come with wireless CarPlay already, however older cars that were released between 2016-2019 come with wired CarPlay. Even today many cars are being released with wired CarPlay, and this accessory helps them.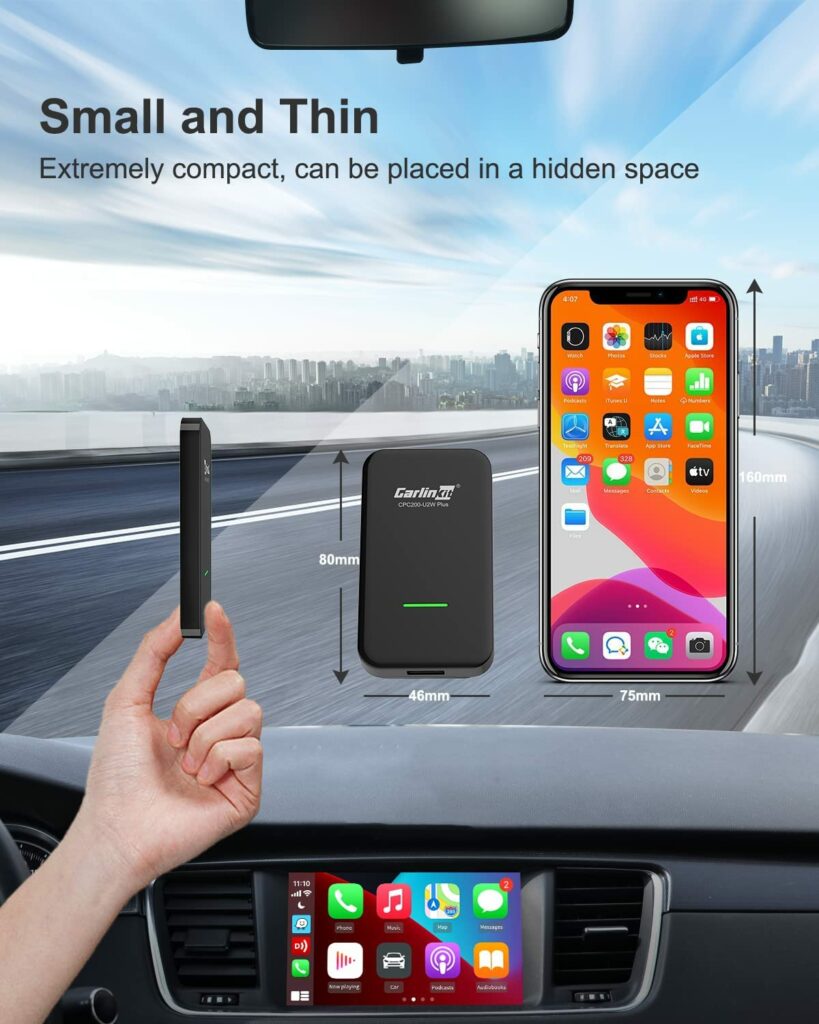 The Carlinkit works with all first party head units that support Apple CarPlay feature. A complete list of supported cars is available on official website here. So if you have a wired CarPlay enabled vehicle, then you can use Carlinkit to turn it into wireless.
If your car has an aftermarket head unit from companies like Pioneer, Alpine or Kenwood, then you can also take advantage of Carlinkit and convert them into wireless.
The best thing about this U2W Plus dongle is that it is extremely easy to connect. Simply connect a USB-C cable to the Carlinkit dongle and plug the USB-A side of the cable to your car's USB socket.
After you have connected the dongle to your car connect your iPhone with it from its Bluetooth settings. On iPhone go to Settings -> Bluetooth and connect to the Carlinkit dongle.
Once you have completed the initial set up every time you sit in your car your iPhone will automatically connect to Carlinkit and wireless CarPlay will turn on. Then you can use the CarPlay interface and all of its feature like you normally would.
In addition to Apple CarPlay you can use the Carlinkit 3.0 dongle to turn your car's wired Android Auto into wireless Android Auto.
You can buy the Carlinkit 3.0 and convert your car's wired CarPlay into Wireless CarPlay from Amazon for $118 here.
Want to take CarPlay Screenshots? Here's how.
FAQ About Carlinkit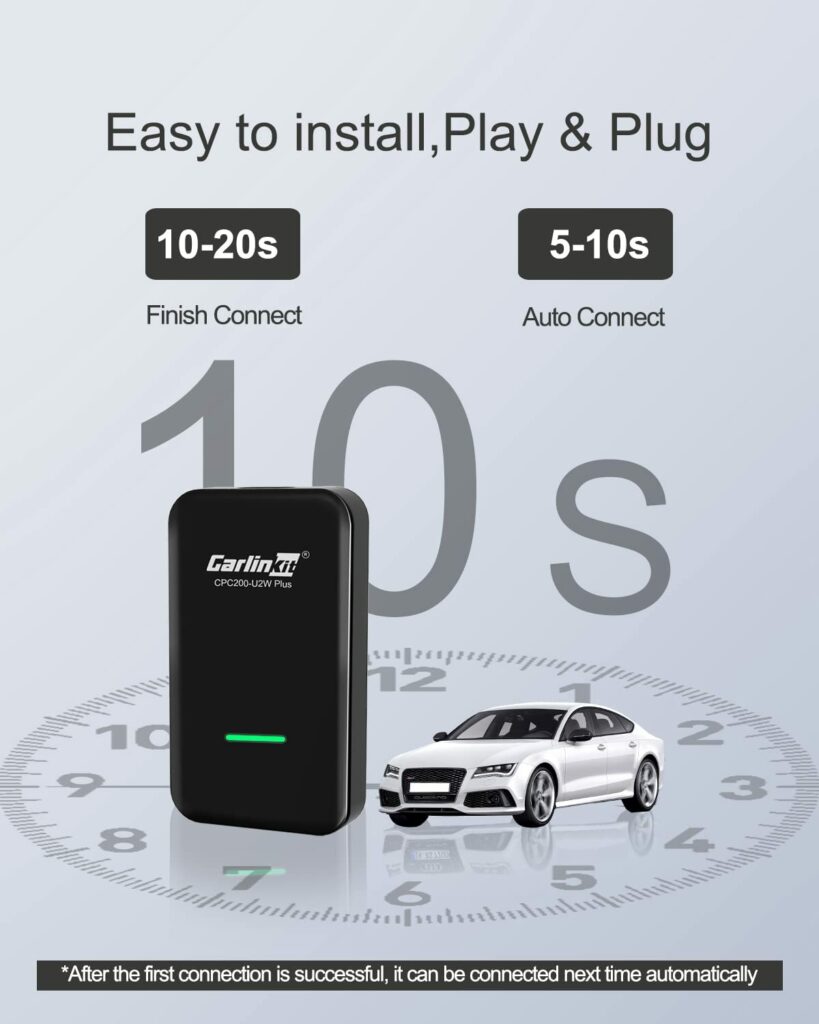 Does Carklinkit work with head units that don't support CarPlay?
Carlinkit can only convert an already wired CarPlay head unit into a wireless CarPlay head unit. It does not add CarPlay functionality to a car head unit that does not support CarPlay in the first place.
Can I plug in Carlinkit to my car's cigarette lighter port?
Carlinkit will not work if you plug it in your car's cigarette lighter port. You need to plug it in a USB port. It comes with a Type A-C cable. If your car has a USB-C port, then you have to use your own USB C-C cable with it.
Is there lag when using Wireless CarPlay?
Once Carlinkit is connected it works without any lag.
How can I connect Carlinkit to my Car's head unit?
You can use the included Type A-C cable to connect your Carlinkit dongle to your car. Simply plug the USB-A side of the cable to your car's USB port. After plugging it in the car connect your iPhone to the dongle with Bluetooth.
Does it support Android Auto as well?
Yes the latest version of Carlinkit 3.0 also works with Android Auto and can convert wired Android Auto into wireless Android Auto.
My car has USB-C port, what should I do?
You can use your own USB Type-C cable to connect Carlinkit 3.0 to your car or use a USB-A to USB-C converter plug to connect the included cable to your car's USB-C port.