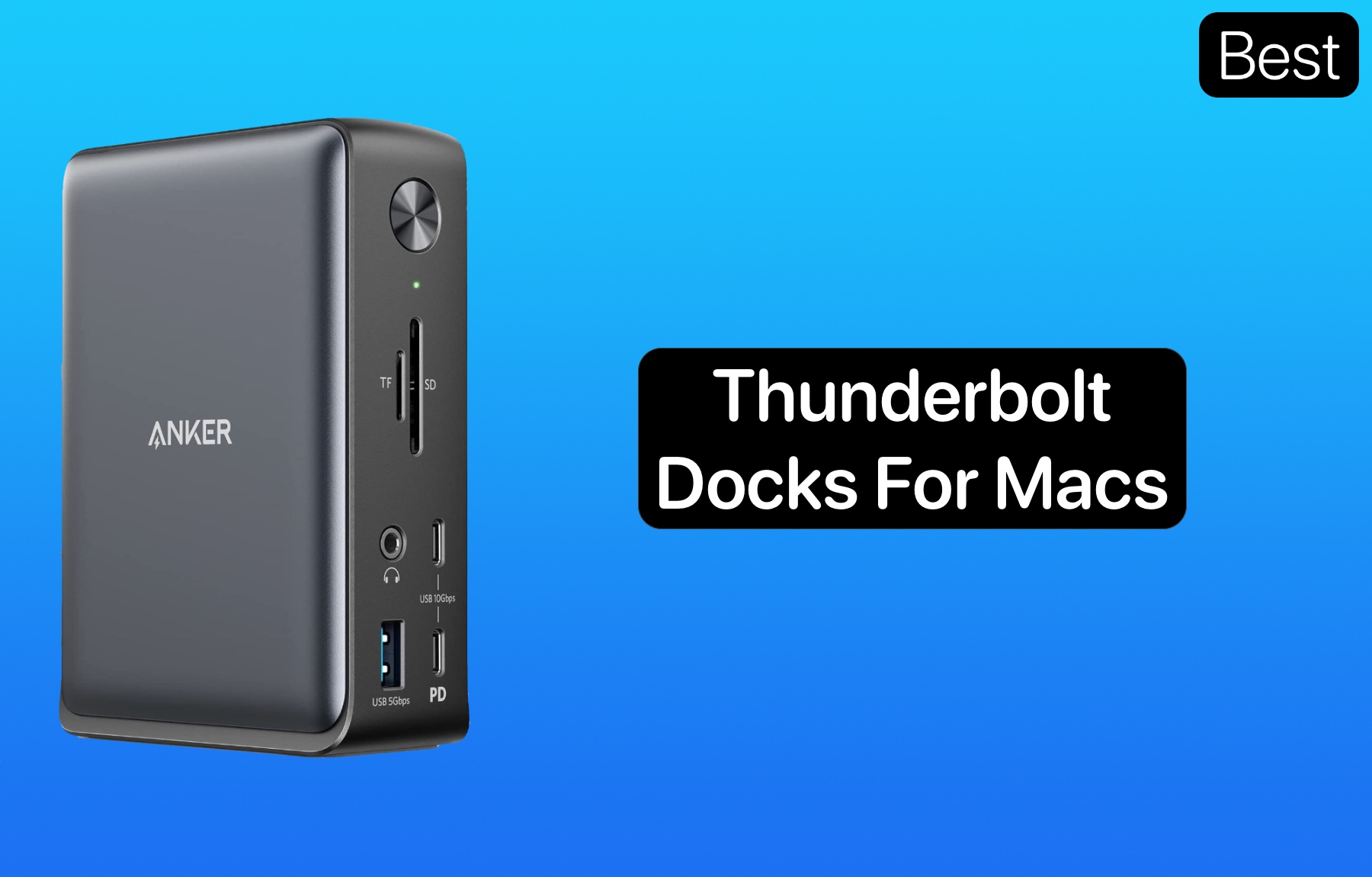 In this article, we discuss the best Thunderbolt docks for Mac that serve as a game-changer by providing enhanced connectivity, expanded screen space, and convenient power delivery capabilities.
Are you a Mac user looking for a reliable Thunderbolt dock to expand your connectivity options? Well, you're in luck!
Thunderbolt docks have become increasingly popular due to their ability to transform your Mac into a powerhouse of productivity.
Although on the pricier side of must-have peripherals, Thunderbolt technology continues to evolve and improve, with each new iteration bringing enhanced capabilities.
With improved data transfer speeds, increased power delivery, and enhanced support for peripherals, by investing in a Mac Thunderbolt dock, you future-proof your connectivity needs. While also ensuring compatibility with upcoming Mac models and peripherals.
Furthermore, Thunderbolt docks offer expanded connectivity, streamlined workflow, high-speed data transfer, power delivery, and multi-monitor support for Mac users.
So, not only do you get future-proof tech, but can also enhance your productivity, simplify cable management, and maximize the potential of your Mac setup.
Best Thunderbolt Docks for Mac
Let's dive in and find the perfect match for your needs! Here are the eight USB-C docking stations for Mac with glowing user reviews:
1. CalDigit TS4 Thunderbolt 4 Dock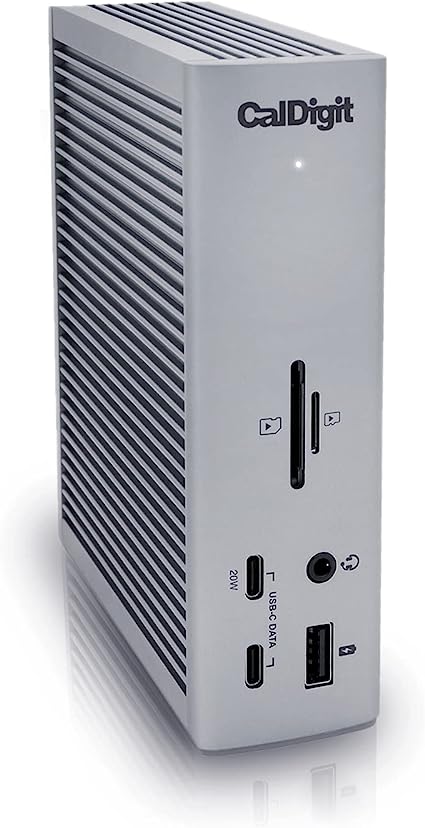 The CalDigit TS4 Thunderbolt 4 dock is a top-of-the-line docking station that offers exceptional performance and versatility.
With a total of 18 ports, this dock offers extreme connectivity to cater to even the most demanding workflows. It includes 3x Thunderbolt 4 (40Gb/s) ports, 5x USB-A ports, and 3x USB-C ports with 10Gb/s performance. But that's not all.
The best Thunderbolt dock for Mac, it also supports SD and microSD 4.0 UHS-II card readers, a built-in DisplayPort 1.4 connector, 3x audio ports, 2.5GbE Ethernet, and a security slot.
It is an ideal dock for power users who demand high performance and versatility, especially considering that it supports dual 4K displays and 90W power delivery.
Buy the CalDigit TS4 Thunderbolt 4 Dock from Amazon for $399.99.
2. SATECHI Triple 4K Docking Station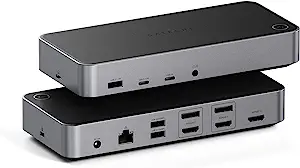 If you're all about visual clarity and multi-monitor setups, the SATECHI Triple 4K Docking Station is an excellent choice. With its triple 4K HDMI ports, you can enjoy stunning visuals and enhance your productivity, making it one of the best triple display docks for Mac.
For MacBook M2 and M1 users, the Triple 4K Docking Station is particularly advantageous as it allows them to overcome the single-monitor limitation of the MacBook processor.
Apart from an immersive viewing experience and enhanced compatibility with MacBook, it also offers powerful ports, efficient heat dissipation, and included accessories.
All these features backed by the Satechi brand make this docking station the best thunderbolt dock for Mac users seeking enhanced connectivity options and improved productivity.
Buy the SATECHI Triple 4K Docking Station from Amazon for $299.99.
3. UGREEN Docking Station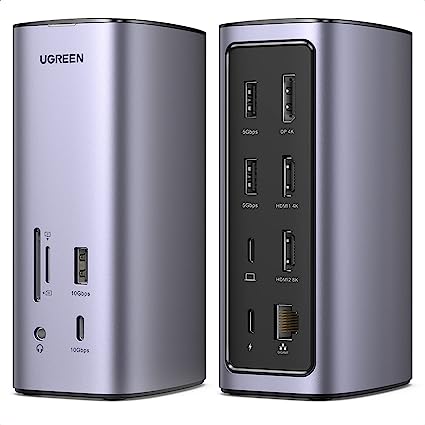 One of the best thunderbolt docks for Mac, the UGREEN Docking Station strikes a perfect balance between affordability and functionality.
This universal multi-port hub allows you to extend your workspace across three monitors, improving work efficiency and providing a more immersive computing experience. Plus, it features an impressive array of ports that connect to various devices and peripherals, catering to your daily work requirements.
When it comes to data transfer, the docking station delivers impressive data transfer speeds of up to 10Gbps. This allows you to transfer data quickly, saving valuable time.
With its triple display support, extensive port selection, fast data transfer speeds, and PD 100W fast charging, it covers all the essential features to enhance your Mac experience.
Buy the UGREEN Docking Station from Amazon for $299.99.
4. OWC Thunderbolt Hub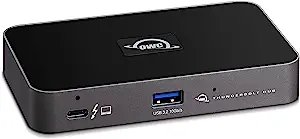 Looking for a compact and sleek dock that doesn't compromise on performance? The OWC Thunderbolt Hub fits the bill.
This Mac Thunderbolt dock expands a single Thunderbolt 4 port into three Thunderbolt 4 ports and one USB-A port, providing users with increased connectivity options. It is compatible with M1 Macs, Thunderbolt 3-equipped Macs, and Thunderbolt 4 PCs, ensuring widespread compatibility across different devices.
One of the best Thunderbolt docks for Mac, the Thunderbolt 4 ports allow for high-speed data transfer and support the connection of dual 4K/5K displays or a single 6K/8K display.
Furthermore, it allows users to redefine their device chain by creating three separate daisy chains of devices. This flexibility enables users to remove devices from one chain without affecting the others, providing a convenient and customizable setup.
Buy the OWC Thunderbolt Hub from Amazon for $129.99.
5. Dell Thunderbolt Dock WD19TBS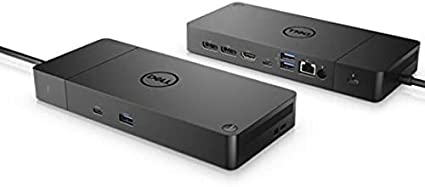 Dell has long been known for its high-quality computer accessories, and the Dell Thunderbolt USB-C docking station for Mac lives up to that reputation.
Designed to maximize productivity for Mac users, it offers a wide range of connectivity options, including Thunderbolt 4 ports, USB-A ports, HDMI, DisplayPort, and Ethernet. Additionally, it provides reliable connectivity with its Thunderbolt 3 ports and offers additional USB and DisplayPort options for your Mac.
The WD19TBS dock is designed to keep your workspace clean and clutter-free. With the option to mount the dock using the secure VESA Mount, you can create a clean and organized setup.
The best Thunderbolt dock for Mac, it stands out for its compatibility, optimized workspace management, and secure manageability.
Buy the Dell Thunderbolt Dock from Amazon for $161.
6. QGeeM Thunderbolt 4 Docking Station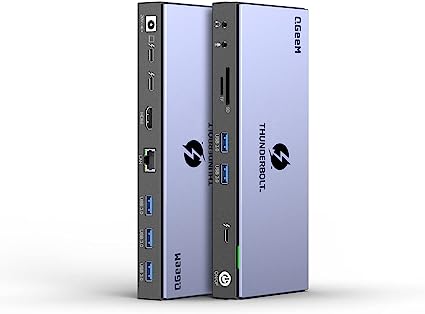 If you require a versatile dock with a plethora of connectivity options, the QGeeM USB-C hub for Mac has got you covered.
Equipped with Thunderbolt 4 ports, USB-C ports, USB-A ports, HDMI, Ethernet, and SD card slots, it offers versatility and convenience. Its sleek aluminum design and affordable price make it an attractive, reliable, and the best thunderbolt dock for Mac.
The biggest plus point of the docking station is its impressive display capabilities. Whether you require a multi-monitor setup or a high-resolution single display, this docking station delivers on both fronts.
In terms of speed, the Thunderbolt 4 dock excels with its 40Gbps Thunderbolt 4 ports. You can transfer a 20GB file in just 10 seconds, making it ideal for handling demanding data-intensive tasks.
Buy the QGeeM Thunderbolt 4 Docking Station from Amazon for $199.99.
7. Belkin Thunderbolt 3 Dock Mini
For Mac users on the go, the Belkin Thunderbolt 3 Dock Mini is a portable powerhouse.
Despite its small size, it packs a punch with Thunderbolt 3, HDMI, USB-A, and Gigabit Ethernet ports, making it an ideal travel companion.
The universal multi-port hub provides an instant workstation experience by granting easy access to monitors, networks, and peripherals. Plus, with this docking station, users can enjoy the convenience of connecting two monitors simultaneously, expanding their workspace and increasing productivity.
Additionally, considered one of the best Thunderbolt docks for Mac, it can charge your device while it is connected, ensuring that you stay powered up throughout your workday.
Buy the Belkin Thunderbolt 3 Dock Mini from Amazon for $139.95.
8. Anker 575 Docking Station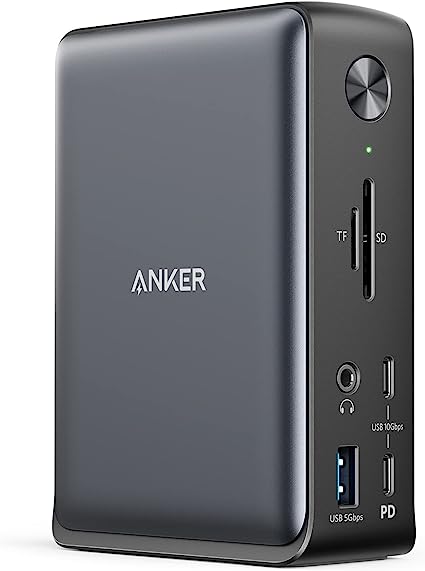 The best Thunderbolt dock for Mac, Anker 575 is a reliable and budget-friendly option for Mac users who value simplicity and efficiency. It boasts a massive expansion capability with its array of Thunderbolt 4 and USB ports.
As for media display, the Anker 575 offers DisplayPort and dual HDMI ports, allowing you to stream media simultaneously to up to 3 monitors.
It is worth noting that macOS and iPadOS only support SST mode, meaning that all connected monitors will display the same content. However, the docking station still provides a robust and versatile display experience.
While the USB-C docking station for Mac may not have all the bells and whistles of higher-end docks, it still offers reliable performance and convenience at an affordable price point.
Buy the Anker 575 Docking Station from Amazon for $249.99.
Conclusion…
Thunderbolt docks have become essential accessories for Mac users, providing enhanced connectivity and expanding the capabilities of your device.
The best Thunderbolt docks in 2023 prioritize speed, display quality, versatility, or portability. We bet there is a Thunderbolt dock on this list that will suit your needs as per any of these factors.
So, go ahead and choose the best Thunderbolt dock for Mac that complements your workflow and take your Mac experience to the next level!