In this article, we discuss the best compact keyboards designed to provide convenience, portability, and a comfortable typing experience while being small enough to make them easy to carry around.
As a writer who spends most of her day typing away, a keyboard sits snuggly in the #1 spot on my list of "must-have-the-perfect-one" peripherals category.
While some people are fine with whatever default keyboard their Macs came with, I personally am not okay with that. If you're going to spend an entire day, every day, clicking and clacking away, getting the perfect keyboard is not too big of an ask.
So, since you've landed on this article, it's safe to assume you're team we-need-better-keyoards, and rightfully so!
Best Compact Keyboards For Mac and iPad
We've curated this list of the best compact keyboards that aid in enhanced productivity, making typing on the go a breeze. Here are our top eight picks for the best wireless compact keyboards for Mac and iPad.
1. Logitech MX Keys Wireless Keyboard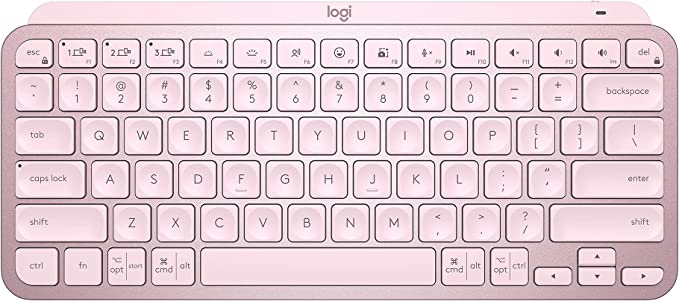 The MX Keys Wireless Keyboard offers a premium typing experience in a compact form factor, making it one of the best compact keyboards out there.
With its sleek design and backlit keys, this keyboard combines functionality and style. The keys are satisfying to type on, providing a comfortable and quiet typing experience as expected from the best compact keyboards in 2023.
Key Features:
Keys shaped for comfortable typing, including voice-to-text Dictation, Mic Mute/Unmute, and Emoji keys.
Backlit keys with automatic adjustment for changing lighting conditions.
Bluetooth Low Energy allows connecting and switching between 3 devices on various operating systems.
Seamlessly type across multiple computers or laptops when paired with MX Master 3 or MX Anywhere 3.
Up to 10 days of battery life on a full charge (5 months with backlighting off).
Buy the Logitech MX Keys Wireless Keyboard for $99.99 now.
2. Logitech K380 Keyboard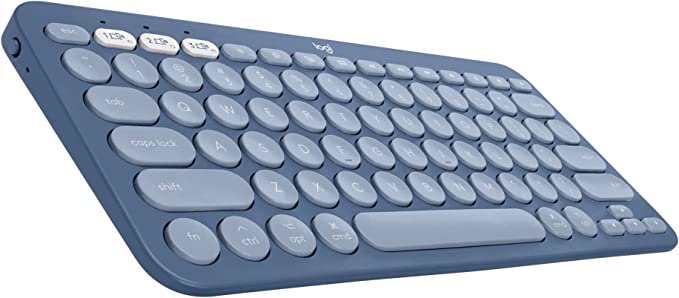 Another exceptional keyboard from Logitech, what makes the K380 the best compact keyboard is an unbeatable combination of affordability and feature-rich functionality.
This compact keyboard connects to your Mac or iPad via Bluetooth, allowing for seamless wireless connectivity.
More importantly, the keyboard's round keys are comfortable to type on, and its compact size makes it easy to carry around, making it one of the best small keyboards for Mac.
Key Features:
Works with Bluetooth-enabled devices, pairs with up to three devices, and seamlessly switches between them with a tap.
Low-profile scissor keys offer a fluid, quiet, and familiar laptop-like typing experience.
Enjoy extended usage with the built-in rechargeable battery that lasts up to 2 years.
Utilizes radio frequency technology for a stable and reliable wireless connection.
Designed for portability, making it ideal for working on the go.
Buy the Logitech K380 Keyboard for $33.19.
3. Keychron K2 Mechanical Keyboard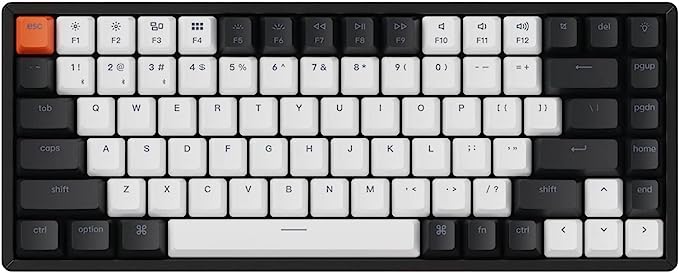 If you prefer the tactile feedback and precision of mechanical keyboards, the Keychron K2 is an excellent choice.
The best compact mechanical keyboard, it is designed specifically for Mac and iPad users, featuring Mac-specific keycaps and a macOS layout.
With its wireless connectivity and long-lasting battery, the Keychron K2 is the best compact keyboard for those who value both aesthetics and performance.
Key Features:
Offers various switch options, including the popular Gateron and hot-swappable keys, allowing you to customize your typing experience.
Designed to be portable and easy to carry, making it perfect for working on the go.
With three pairing channels, you can connect and switch between up to three devices with a simple tap.
The slim and small keyboard footprint promotes better body posture and less arm reaching.
Features automated power-saving technology and an on/off button for extended battery life.
Buy the Keychron K2 Mechanical Keyboard for $99.99 now.
4. Nuphy Air60 Portable Wireless Keyboard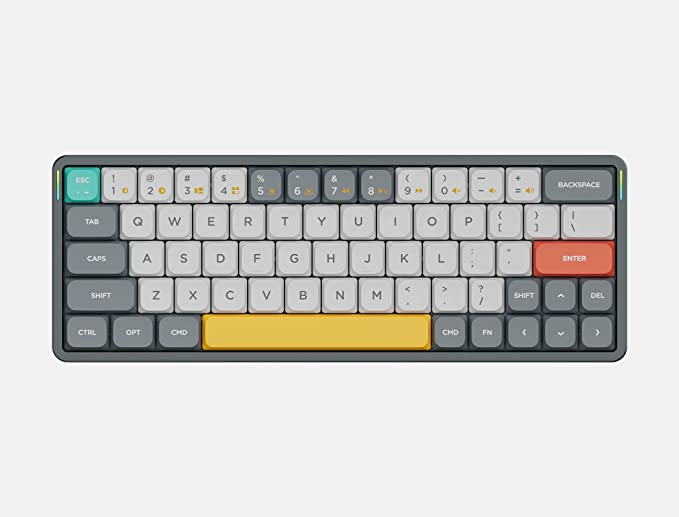 The Air60 Keyboard is an ultra-compact and best compact keyboard option for users who prioritize portability.
This keyboard is incredibly thin and lightweight, making it easy to slip into a bag or backpack. But, we're not just crowning it as the best wireless compact keyboard for its size.
Despite its compact size, the Air60 doesn't compromise on functionality.
It offers a responsive typing experience with a built-in rechargeable battery and compatibility with multiple devices, making it a reliable choice for users constantly on the move.
Key Features:
60% layout (64 keys) with a bright color scheme.
Low shaft design for wrist comfort during extended use.
Wide keycap design to reduce keystroke errors.
Three-mode design: 2.4G, Bluetooth wireless, and Type C wired connection.
Can connect up to 4 devices simultaneously.
Perfectly embedded between the keys of notebook keyboards for laptop users.
2500mAh battery that lasts over 48 hours with backlight mode off.
Buy the Nuphy Air60 Portable Wireless Keyboard for $119.99 now.
5. Apple Magic Keyboard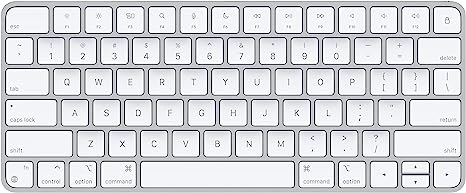 No list of the best compact keyboards would be complete without mentioning the Apple Magic Keyboard.
This keyboard is specifically designed by Apple to complement their devices seamlessly. It features a compact and minimalist design, with low-profile keys that offer precise and quiet typing.
If you're looking for a compact keyboard that perfectly integrates with your Apple ecosystem, the Apple Magic Keyboard is the best keyboard for iPad and Mac.
Key Features:
Wireless connectivity via Bluetooth for seamless pairing with Mac, iPad, or iPhone.
Rechargeable internal battery eliminates the need for disposable batteries.
Quick pairing process allows you to start working immediately.
Provides a comfortable and precise typing experience.
Long-lasting battery life, lasting approximately a month or more between charges.
Includes a woven USB-C to Lightning Cable for easy pairing and charging via a USB-C port on your Mac or iPad.
Buy the Apple Magic Keyboard for $99.00 now.
6. Arteck Ultra-Slim Bluetooth Keyboard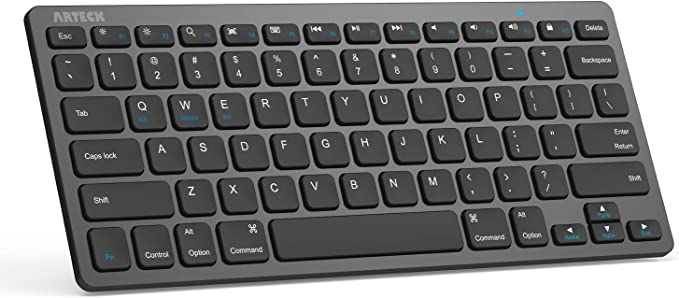 One of the best compact keyboards, the Arteck Ultra-Slim Bluetooth Keyboard is an affordable and compact option for Mac and iPad users.
Despite its slim profile, the Arteck keyboard provides a comfortable typing experience with well-spaced keys. The best compact keyboard for Mac, it connects to your device seamlessly and offers a long battery life.
Lastly, it is compatible with iPad, iPhone, and other Bluetooth-enabled devices, including iOS, Android, and Windows.
Key Features:
Bluetooth connection allows for easy typing without the need for cables with an operating distance of up to 10 meters.
Works with all major operating systems supporting Bluetooth, including iOS, Android, Mac OS, and Windows.
QWERTY layout with hotkeys customized for all iPads, including volume, music control, and brightness adjustment.
Energy-saving design and automatic sleep mode provide a battery life of up to 4 months between changes.
Buy the Arteck Ultra-Slim Bluetooth Keyboard for $17.99.
7. Satechi Slim X1 Keyboard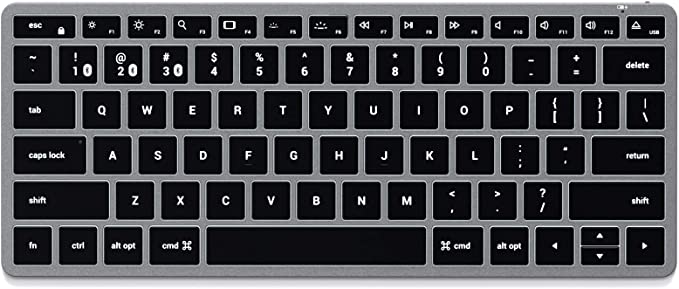 Satechi peripherals make it to almost all our lists when it comes to the best of the best. As for the best compact keyboards, the Slim X1 Keyboard makes it to the list for blending a compact design with enhanced functionality.
This keyboard features an aluminum construction that not only provides durability but also matches the aesthetic of your iOS devices. Thus making it an excellent compact keyboard for iPad and Mac if style matters the most.
Key Features:
Optimized for Mac with a full QWERTY layout and MacOS function keys.
Multi-device Bluetooth capability allows for easy switching between up to three devices.
Illuminated keys with ten levels of brightness adjustment for typing in any environment.
Rechargeable USB-C port for fast and convenient charging.
Sleek aluminum design and ultra-slim, compact profile for a modern work setup on the go.
Buy the Satechi Slim X1 Keyboard for $69.99 now.
8. Targus Bluetooth Keyboard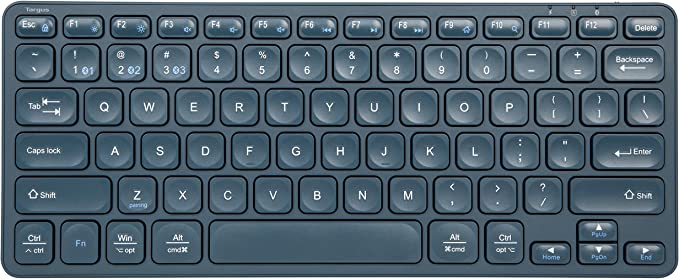 Last but not least, the Targus Bluetooth Keyboard offers a slim profile and a lightweight build, making it easy to carry around.
The best compact keyboard, it connects wirelessly via Bluetooth, and its scissor-switch keys provide a comfortable typing experience. It also features a dedicated macOS layout with convenient function keys for quick access to various commands.
With its affordability and compatibility, the Targus Bluetooth Keyboard is a solid choice for Mac and iPad users when it comes to the best wireless compact keyboards.
Key Features:
Connect to up to 3 devices simultaneously, allowing for seamless switching between devices.
Utilizes Bluetooth 5.1 wireless technology, eliminating the need for a USB connector and offering reliable and battery-saving connectivity.
Treated with a patented DefenseGuard coating, ensuring long-lasting protection against spills and other potential damage.
The super slim and compact design makes it convenient for use with phones and as a low-profile keyboard.
Buy the Targus Bluetooth Keyboard for $29.39 now.
The Takeaway…
Whether you're looking for the best compact mechanical keyboards or simply the best compact keyboards in 2023 all of the above-mentioned options offer a blend of convenience, performance, and style.
From Logitech's MX Keys and K380 to Keychron's K2 and Apple's Magic Keyboard, these keyboards prioritize portability, functionality, and seamless integration with your Apple devices.
Consider your preferences and requirements to find the perfect compact keyboard to complement your Mac or iPad and enhance your productivity on the go.