In this buying guide you will find some of the best budget monitors for MacBook that you can buy in 2023. Even though these are budget monitors for MacBook these displays are packed with features like high resolution, curved display, large screen size and more.
Screens on various MacBook models come in 13″, 14″, and 16″ sizes, which help you accomplish your daily tasks. However, sometimes one needs a bigger and better screen for complex jobs such as video editing, photo editing, or even gaming.
Buying the best monitor for MacBook Air can cost you an arm and leg. So, before making an impulsive decision, it is highly suggested to conduct research and know about the specifications of some best monitors out there.
Good news is there are plenty of amazing budget monitors for MacBook that allow you to enjoy your MacBook and greatly expand its usability and screen area without breaking your bank.
Best Budget Monitors For MacBook In 2023
Here is the list of budget monitors for the MacBook that would assist you greatly before making a final decision. Let's get started.
1. LG 29WN600-W UltraWide Monitor
LG 29WN600-W is one of the most budget-friendly monitors on this list, and at this price, it offers the finest picture quality with vivid colors and wide viewing angles.
The monitor displays 98.5% of the sRGB color spectrum. You can go up to 300cd/m2, which is ideal for regular office work. Further, it also includes several ports.
However, the monitor lacks a dedicated USB-C port so you will have to take the help of a USB-C hub or adapter to get it connected with Mac.
Buy LG 29WN600-W UltraWide Monitor for $229.99 here.
2. HP E24u G4 FHD USB-C Monitor
This monitor is particularly designed for regular business work and is not meant for color-critical tasks.
The manufacturers made a conscious choice and built this monitor while keeping environment in mind. 80% of its plastics are made from recycled materials, and all the packaging is sustainably sourced and recyclable. That's the reason why this monitor is ENERGY STAR certified and EPEAT registered.
Surprisingly, the HP E24u has many ports. Along with the USB-C ports, there are also HDMI and DisplayPort connectors. So, if you want to connect a Windows desktop or an older laptop with it, you can without any hassle.
Buy HP E24u G4 FHD USB-C Monitor for $259.95 here.
3. LG 27UL500-W Monitor with Radeon
LG 27UL500-W Monitor has slim bezels and a curved ergonomic monitor stand to adjust height which gives it a premium look.
This LG monitor takes your coding, gaming, editing, watching, or creating to the next level. Its compatibility with HDR10 represents even minute details in bright and dark parts of high dynamic range contents.
What's more? LG IPS display offers remarkable color accuracy, covering almost 98% of the sRGB color spectrum. Further, it has a wider viewing angle, making it convenient to enjoy true color visuals.
Buy LG 27UL500-W Monitor for $299.99 here.
4. Dell SE3223Q Monitor
With this monitor, you can experience spectacular screen quality in 4x the resolution of Full HD with more than 1.07 billion colors together.
On an anti-glare Vertical Alignment screen with 99% sRGB, the monitor offers wide viewing angles and 99% sRGB.
Dual HDMI 2.0 and DP ports make it possible to toggle 4K content from multiple devices simultaneously. You can even reduce your work desk clutter with a discreet cable holder and the built-in power supply unit (PSU) on the stand riser.
Buy Dell SE3223Q Monitor for $319.99 here.
5. GIGABYTE G34WQC Ultra-Wide Curved Gaming Monitor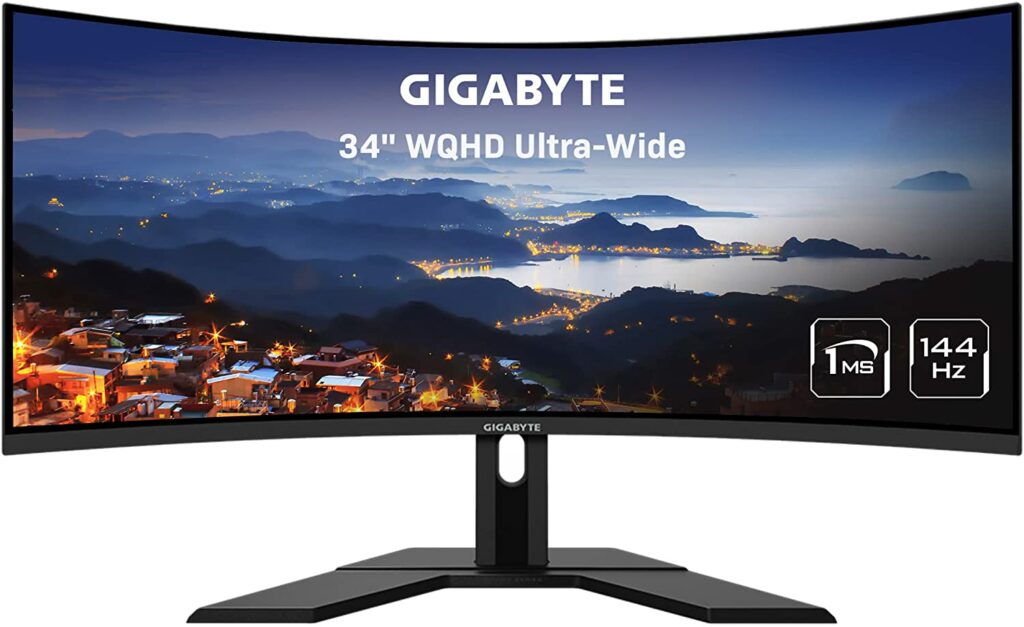 GIGABYTE gaming monitors offer hands-down the best quality and specifications, you can enjoy revolutionary performance without spending a fortune.
Its 34" 1500R VA panel provides you with a view closer to the human eye than a flat monitor for a better immersive feel. With a fantastic color display and 90% DCI-P3 super wide-gamut color you can play your favorite games for hours.
Buy GIGABYTE G34WQC Ultra-Wide Curved Gaming Monitor for $349.00 here.
6. AOC CU34G2X Frameless Immersive Gaming Monitor
It is high time to say goodbye to blurry motion and image stuttering! Because this MacBook monitor has twice the frame rate as compared to other models.
With the 144Hz refresh rate of the AOC CU34G2X, you can line up your shots precisely and appreciate high-speed races to the fullest while gaming.
The monitor has a curved design that wraps around you perfectly to provide an immersive gaming experience.
Buy AOC CU34G2X Frameless Immersive Gaming Monitor for $389.99 here.
7. HP UWQHD HDR Gaming Monitor
With an HP IPS monitor, you will always see clear, vivid images, no matter where you stand.
The IPS technology in this monitor ensures image consistency and accuracy across the ultra-wide viewing spectrum. With its ultrafast refresh rate, the gameplay feels incredibly responsive and the action looks crisp.
Besides, HP is introducing new ways to reduce materials in their packaging, the company uses more recycled materials in the design of their products.
Buy HP UWQHD HDR Gaming Monitor for $454.97 here.
8. SAMSUNG SJ55W UltraWide Gaming Monitor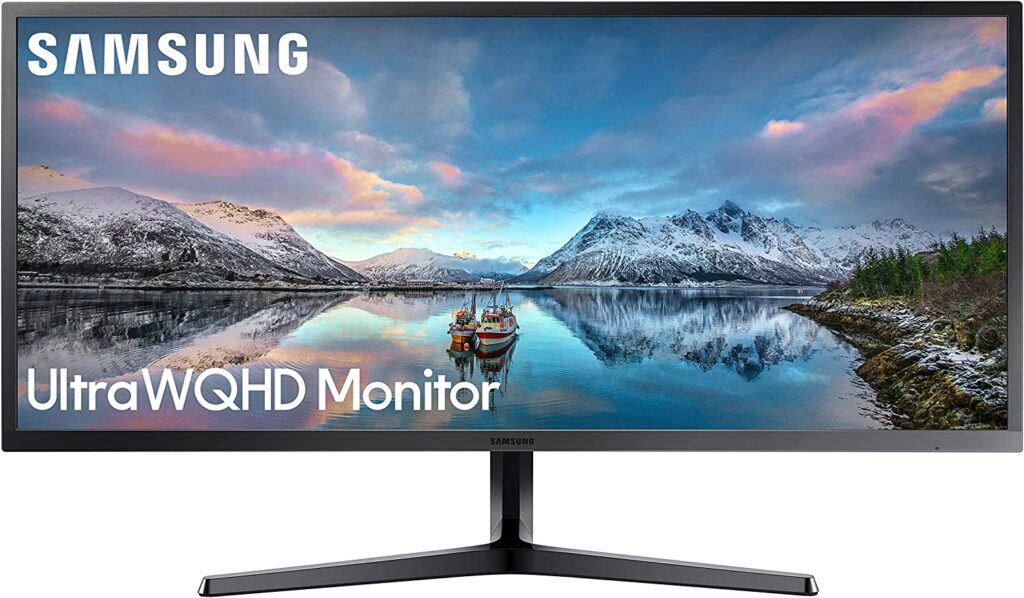 This gaming monitor has a slim panel, metallic bezel, and elegant y-stand which bring style and quality to your workplace and home.
SAMSUNG SJ55W is ideal for dual monitor usage because it offers powerful multitasking split screen features – PBP/PIP. Plus, user-friendly embedded split screen software.
You can connect multiple input sources through display and HDMI ports and adjust your screen for comfortable viewing with tilt capabilities and height adjust.
Buy SAMSUNG 34-Inch SJ55W Ultrawide Gaming Monitor for $299.99 here.
9. Sceptre Curved 75Hz LED Monitor
A 1500-degree curve of this monitor occupies you entirely in the gaming world, allowing you to spot all opportunities and threats ahead of your rivals.
This monitor has a 98% sRGB color gamut, which gives deeper colors and defining features. Two HDMI ports and one VGA port enable rapid refresh rates up to 75Hz, giving you an edge over your competition while playing your favorite games.
The adaptive sync technology eliminates tearing and stuttering in images by matching the graphics card's refresh rate with the monitor's.
Buy Sceptre Curved 27″ 75Hz LED Monitor for $169.99 here.
10. Dell S2421H Monitor
The Dell S2421H Monitor lets you keep track of applications, emails, and windows all on one screen.
You can get virtually flawless views with steady colors across a wide 178°/178° viewing angle and In-Plane Switching (IPS) technology.
This MacBook external monitor is equipped with a three-sided ultrathin bezel design which lets you enjoy terrific screen clarity in 1920 x 1080 Full High Dimension resolution.
Buy Dell S2421H 24 Inch Full HD 1080p Monitor for $156.96 here.
11. SAMSUNG SR650 Series 27-inch Computer Monitor
SAMSUNG SR650 combines superior design with everyday versatility.
This height-adjustable MacBook monitor pivots, tilts, and swivels so you can watch your screen however you prefer. In addition to adding a contemporary touch to your office interior, this product is VESA-compatible for easy installation.
Combined with a dual-monitor setup, the virtually bezel-less screen lets you view more at once without distraction, helping you get through your to-do list quicker.
With an IPS panel, colors appear vibrant and clear across the whole screen, allowing you to work comfortably on the wide-viewing display and see accurate tones and shades from 178 degrees all around.
In addition to these features, it is also equipped with Flicker-Free technology continuously eliminates tiring and irritating screen flicker while Eye Saver Mode reduces blue light emissions for greater productivity and concentration.
Buy SAMSUNG SR650 Series 27-inch Computer Monitor for $220 here
12. Dell S2722DZ 27-inch Work-from-Home -Monitor
In addition to its modern, sleek design and capability to hook to the wall with a VESA mount, the Dell S2722DZ offers great style and quality to every working space.
With its three-sided ultrathin bezel, you get to see more with fewer distractions, allowing you to meet your family, teammates, classmates, or work-out coach virtually.
A built-in camera, noise-canceling microphones, and dual 5W speakers make it easy to connect virtually and professionally with friends and colleagues.
You can deliver video, audio, and data to your computer and charge your laptop with up to 65 watts of power using USB-C connectivity.
The best part is it has a super clear 5MP IR pop-up camera that supports Windows Hello facial recognition for convenient, instant Windows sign-on.
Buy Dell S2722DZ 27-inch Work from Home -Monitor for $332 here
13. Philips 346E2CUAE Curved Frameless Monitor
This Philips 346E2CUAE features a curved VA panel for an immersive viewing experience.
The Philips display delivers CrystalClear images regardless of whether you are a demanding professional needing extremely detailed information for CAD-CAM solutions or a financial wizard working on huge spreadsheets.
There is no doubt that this is one of the best monitors for MacBook since it offers crystal clear and ultra-wide Quad HD images at 3440 x 1440 pixels. A high-density pixel count, 178/178 wide viewing angles, and high-performance panels make this display stand out.
With the UltraWide 21:9 format, you can do better side-by-side comparisons and view more spreadsheet columns for enhanced productivity.
Furthermore, Philips VA LED displays feature an advanced vertical alignment technology that produces ultra-high static contrast ratios and brighter images. In addition to handling standard office applications with ease, it is especially ideal for users who take photos, surf the web, watch movies, play video games, and use demanding graphics programs.
Buy Philips 346E2CUAE 34″ Curved Frameless Monitor for $400.00 here
14. Dell G3223D Gaming Monitor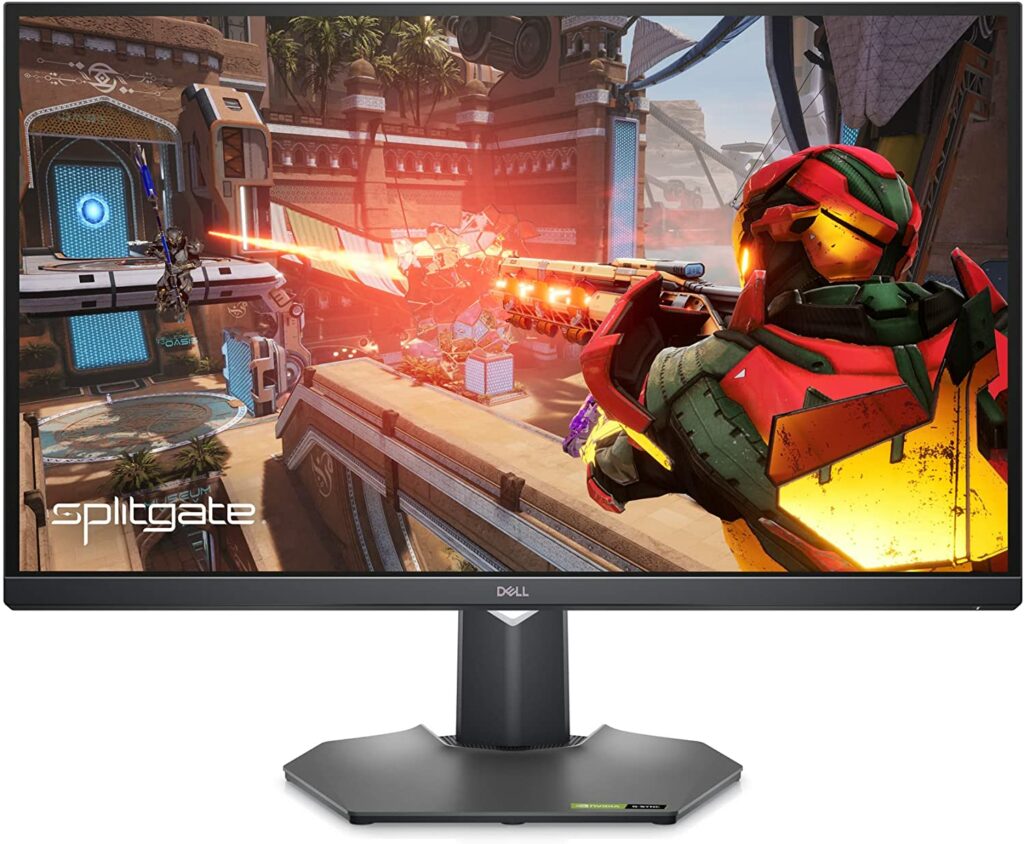 Take your gaming to the next level with this fast IPS panel with a variable refresh rate of 165Hz on PCs and 120Hz on consoles.
Compatible with the latest consoles, the Dell 32 USB-C Gaming Monitor provides 120Hz variable refresh rate QHD content.
Enjoy realistic images and vibrant colors with this 32-inch MacBook external monitor with VESA DisplayHDR400 certification.
It reduces screen tearing for fluid and smooth gaming with a 1ms GTG response time and AMD FreeSync PremiumPro and NVIDIA G-SYNC compatibility.
Moreover, featuring 95 percent DCI-P3 color coverage and a flicker-free picture, this 32-inch monitor minimizes blue light exposure without compromising color quality.
Buy Dell G3223D Gaming Monitor for $369.99 here
15. AOC U32P2CA 4K Frameless Monitor
Next on our list of the best budget monitors for 2023 is AOC U32P2CA.
This sleek monitor features bezel-free sides on three sides, making the screen appear even bigger. The minimalist design enables seamless multi-monitor setups that enhance your workflow.
With this frameless AOC monitor, you can enjoy brilliantly sharp images thanks to its 32-inch (31.5-inch viewable) VA panel featuring 4K UHD resolution and 178/178 wide viewing angles.
An AOC monitor which features a frameless design and a 32″ (31.5″ viewable) VA panel with 4K UHD resolution and 178/178 viewing angles delivers brilliantly sharp images Delivery support) via a single USB-C cable.
The KVM switch simplifies your workspace by letting you share peripherals, thumb drives, and more between two computers.
AOC's ergonomic stand lets you adjust the height, tilt, and swivel for a comfortable and healthy position. You can also rotate your monitor instantly from landscape to portrait mode with the pivot function.
Buy AOC U32P2CA 4K Frameless Monitor for $399.99 here
16. BenQ GW2485TC Computer Monitor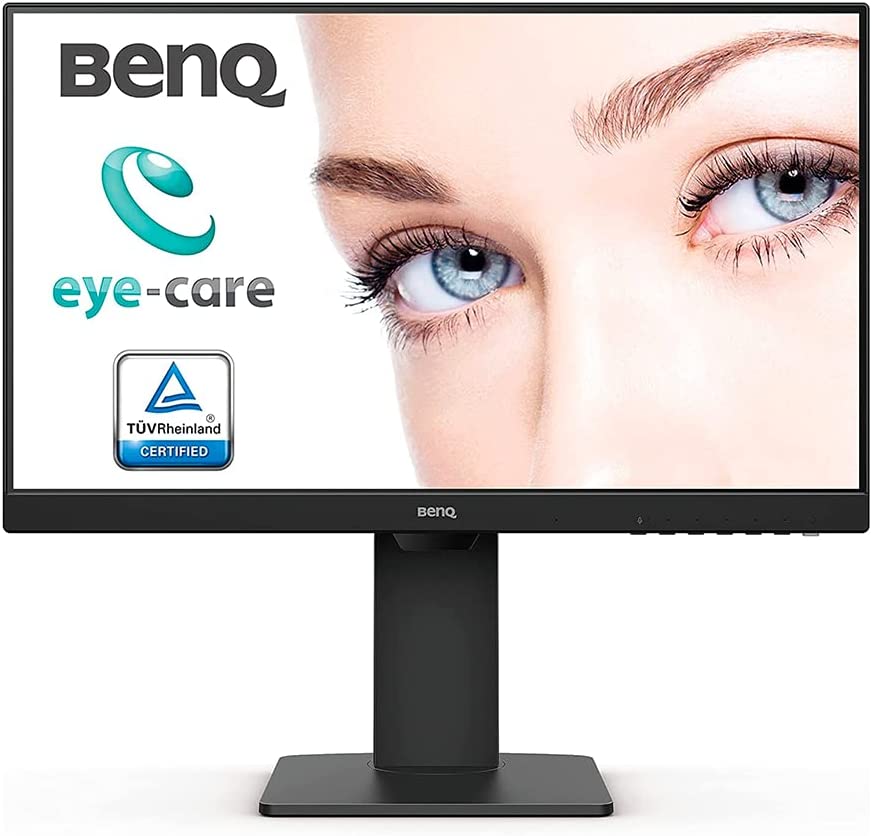 You can experience stunning images as well as protection from harmful blue light with BenQ Displays, which are optimized for both work and gaming.
This best monitor for MacBook Pro features an edge-to-edge display that lets you focus on everything important.
With Eye-Care technology, you can work for longer periods without feeling fatigued, allowing you to be more productive.
The background noise can be reduced with a single click, so you can focus on what matters. This all-in-one cable is great for synchronizing images, videos, and data, plus charging mobile devices.
Due to the daisy chain connectivity capabilities, you will be able to free up your desk space and get rid of clutter! Furthermore, you can set up a multi-monitor setup by connecting your computer/laptop seamlessly.
Buy BenQ GW2485TC Computer Monitor for $229.99 here
17. ViewSonic VG2456 Monitor
You can enjoy stunning views from any position with the SuperClear IPS panel of this best monitor for MacBook Air.
The world's leading visual display solutions manufacturer, ViewSonic, inspires people to marvel at what's possible. ViewSonic offers a complete lineup of innovative solutions for work, play, and learning, from curved monitors to ultrawide displays to portable projectors.
This 60Hz monitor delivers Full HD (1920x1080p) viewing for any task from big data to presentations. An ergonomic design with a 40-degree tilt boosts productivity with all-day comfort.
With RJ45 and USB 3.2 Type-C, there is no need to purchase expensive docking stations, cables, or adapters.
Additionally, USB Type-C provides fast 60W charging over a single cable in addition to fast data, audio, and video transfer.
This product can be used with laptops, PCs, Macs, and POS systems that support USB 3.2 Type A, B, and C, HDMI 1.4, and DisplayPort (Daisy Chain).
Buy ViewSonic VG2456 Monitor for $249.99 here
18. BenQ EW3270U Computer Monitor
A BenQ patented brightness Intelligence technology sensor detects ambient lighting surroundings and automatically adjusts screen brightness to keep your eyes safe even when you are on-screen for long hours.
Based on the content of the screen and ambient lighting, the B.I.+ sensor adjusts the image accordingly to avoid headaches, eye strain, and fatigue.
A massive 32-inch 4K offers a brilliant entertainment experience with a 10-bit vertical alignment (VA) panel that provides a maximum resolution of 3,840 by 2,160 pixels covering 100 percent of the screen.
With HDR technology, EW3270U delivers exceptional details, vividness, and brightness to HDR video content with enhanced brightness and contrast. All in all, High Dynamic Range (HDR) provides brilliant brightness, black levels, and white levels, and a wide color range for intense video performance.
Buy BenQ EW3270U Computer Monitor for $349.99 here
19. ViewSonic VP2768a ColorPro IPS Monitor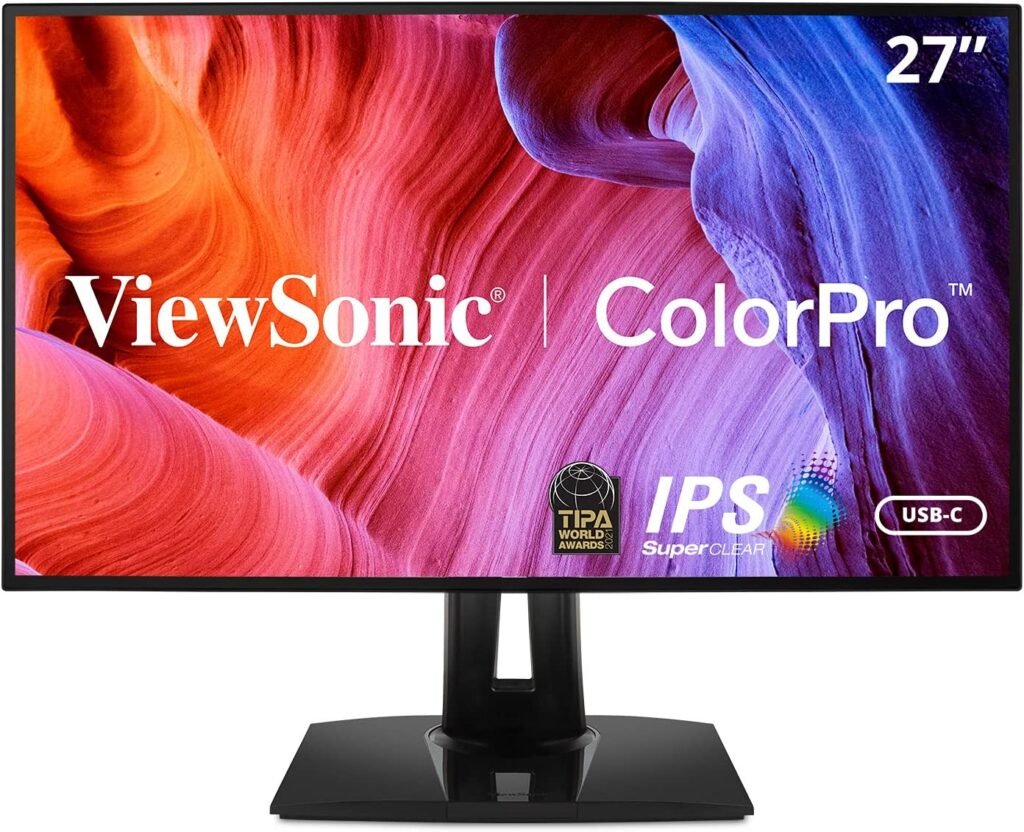 Next on our list of the best budget monitors for MacBook is ViewSonic VP2768a. With its ultra-thin bezel, it offers a unique viewing experience that blurs the line between the viewer and the screen.
QHD (2560x1440p), ergonomic, 60Hz IPS monitor delivers lifelike colors for photographers, graphic designers, and office workers.
With the VP2768a, you no longer need a docking station. Using a single USB-C cable, you can connect your Ethernet cable directly to your monitor and charge your device with 90W.
With 100% sRGB, EBU, SMPTE-C, and Rec., you will never be disappointed. Besides, a gorgeous palette of 4.39 trillion colors and DICOM-SIM color uniformity of 709 ensures you always get the exact color you want.
Buy ViewSonic VP2768a ColorPro IPS Monitor for $379.99 here
20. Pixio PX275C Prime Gaming Monitor
View your content with Pixio PX275C and experience beautiful, vibrant colors and brightness.
You can adjust height, tilt, pivot, or swivel this ergonomically-designed monitor to find the ideal viewing position for optimal viewing.
When you switch to 100Hz, you can't go back. Get the most out of your high frame rate and upgrade your gaming experience.
Get smooth gameplay at virtually any frame rate without tearing or stuttering. What's more, with AMD Radeon FreeSync, you can experience a new level of PC gaming performance.
Buy Pixio PX275C Prime Gaming Monitor for $279.99 here
Final Verdict
Now that you have several options, you will be able to purchase the best monitor for MacBook Pro. We urge you to shortlist some monitors and check product reviews before purchasing a monitor of your choice.
If you have any queries, leave a comment below.