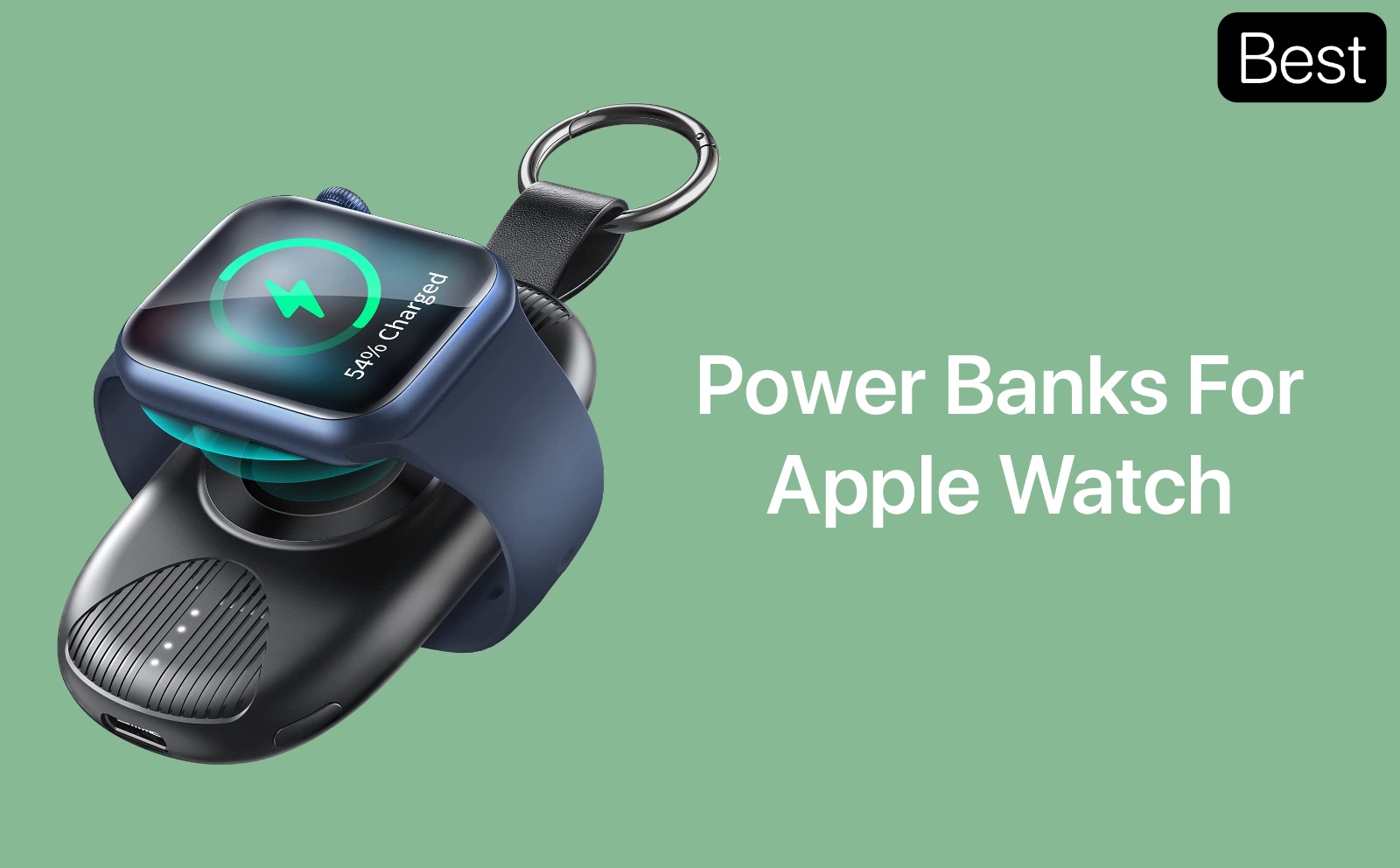 In this article, we have rounded up our top 8 picks of the best power banks for Apple Watch to keep your battery life topped up. Never miss a beat when you can recharge on the go.
I spend so much time wearing my Apple Watch it feels like a second skin now. But, considering the amount of use and only 18 hours of battery life, I have to charge it overnight, daily. And the days I forget to charge it are some of the most chaotic days I have lived so far.
Not to be dramatic, but it gets hard to go without your second skin.
If you're anything like me (or maybe not as intense as me but still attached to your Apple Watch) you need one simple solution for those battery-less days: Power Bank.
Apple Watch Power Banks
Stop falling into the pit of worry every time your watch dies on you out of nowhere. Get any one of these Apple Watch power banks mentioned below, leaving no charge days a thing of the past.
These Apple Watch Power Banks are great for Apple Watch Ultra, Apple Watch Series 8, Apple Watch Series 7, Apple Watch Series 6 and older.
1. VRURC Magnetic Wireless Charger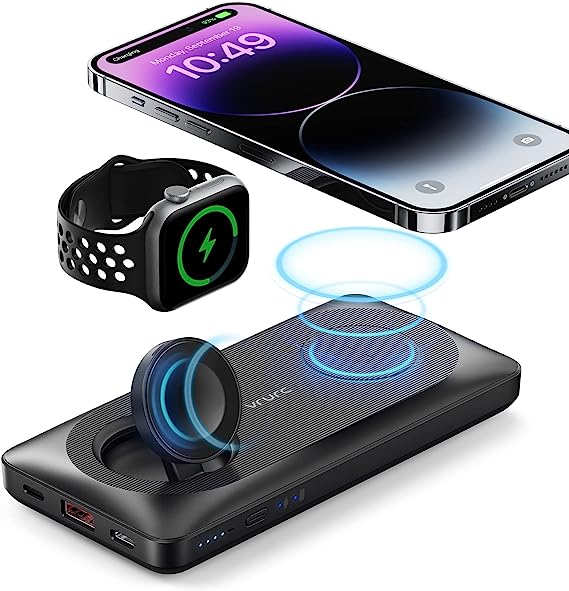 VRURC's Magnetic Wireless Charger is for everyone with an Apple Watch, iPhone, and AirPods. It is considered one of the best power banks for Apple Watch as it offers 10000mAh of power with 22.5W Fast Charing.
With this 3 in 1 Portable Charger, you can wirelessly and simultaneously recharge multiple Apple devices. But if you're not up for wireless charging, no worries. The 22.5W USB-C port will fully recharge your Apple Watch within 30 minutes.
VRURC's Apple Watch power bank is pocket-friendly and can fit in your pocket easily.
Plus, it guarantees a safe charging experience each time. It comes integrated with an updated smart chip and overheating protection function. Therefore, don't worry about over-current, over-voltage, short-circuit, over-heat, and other charging effects.
Buy the VRURC Magnetic Wireless Charger for $49.99.
2. Belkin Boost Charge Power Bank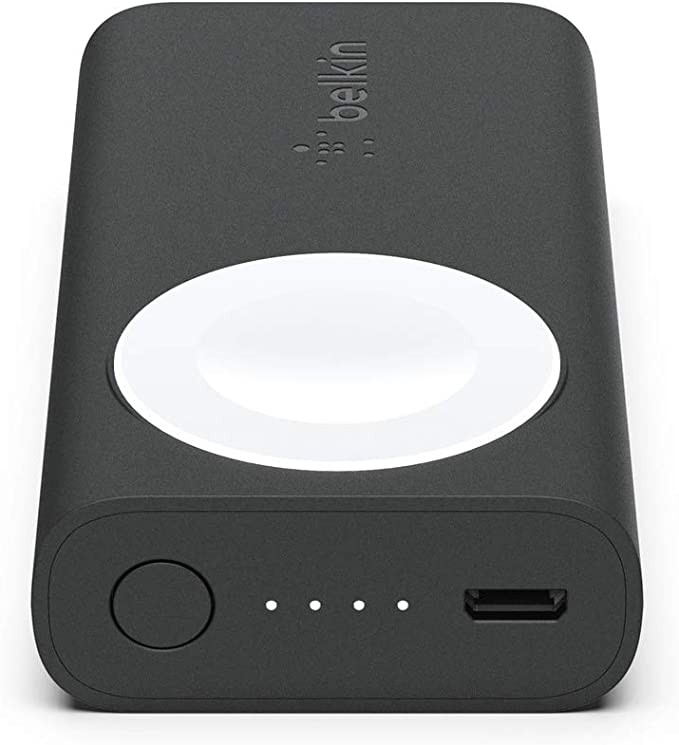 Short on cash but not willing to compromise on the quality? Belkin's power bank is the cheapest yet best power bank for Apple Watch you'll find not only on this list but everywhere else as well.
Built exclusively for Apple Watch Series 5, 4, 3, 2, and 1, this is an MFi-Certified Apple Watch power bank. In regards to the power, you get 2000mAh of battery capacity and portable charge for Apple Watch anytime, anywhere.
This little power bank is lightweight, durable, and easily carryable.
Going on a trip or do you just keep forgetting to charge your Apple Watch? Get Belkin's Boost Charge Power Bank and add up to 63 hours of battery life to your Apple Watch.
Buy the Belkin Boost Charge Power Bank for $17.99.
3. RORRY Portable Apple Watch Charger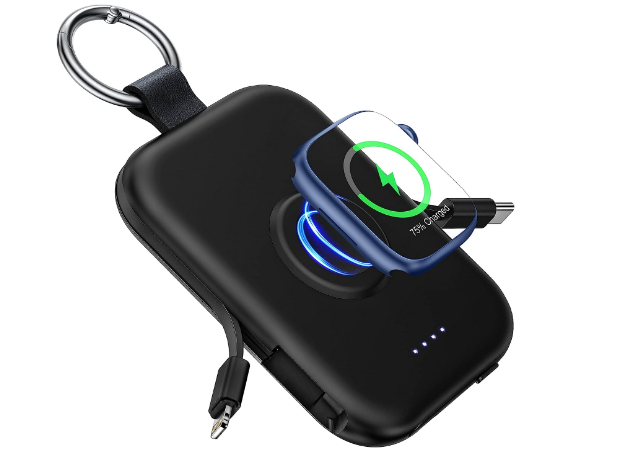 RORRY offers a portable Apple Watch charger that is universally compatible with not only all Apple Watches but all Lightning Charging Devices (iPhone, iPad, AirPods) and Type-C charging devices (Android) as well.
The one-for-all capability makes it one of the best power banks for Apple Watch out there.
Let's talk about its power capacity. It offers a 5000mAh wireless charging capacity which means that you can recharge your Apple Watch about 7-10 times. But that's not it, you can also charge AirPods around 6-8 times and iPhone at least one time before it runs out of juice.
Wondering how long it takes to charge an Apple Watch and the power bank itself? Just 2-2.5 hours and 3 hours respectively.
Buy the RORRY Portable Apple Watch Charger for $32.99.
4. HUOTO Portable Wireless Charger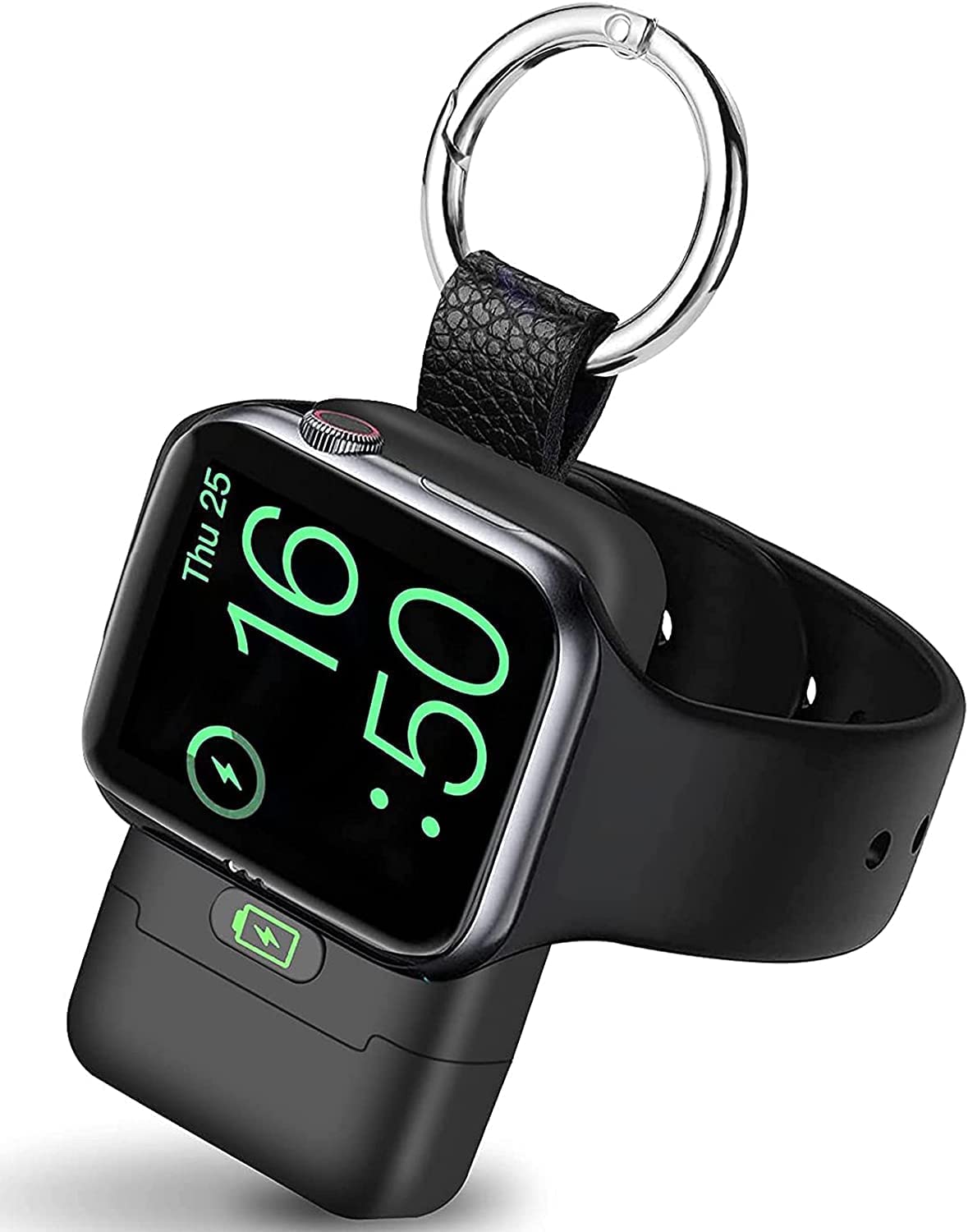 An Apple Watch portable charger in 2023 that comes with a built-in magnetic adsorption solution is not exactly a USP at this point. However, HUOTO's power bank pairs it up with a built-in 1400mAh battery that makes all the difference.
Fully recharge your Apple Watch within 3 hours without worrying about over-current, over-voltage, and short circuits.
Adding to the list of qualities, HUOTO offers a two-way charging ability. The magnetic charger is paired with a Type-C charger and USB Adapter as well. This allows you to charge your devices that are not compatible with wireless charging as well.
Lastly, this portable charger is the second cheapest option you'll find on the list.
Buy the HUOTO Portable Wireless Charger for $19.99.
5. LATIMERIA Magnetic Wireless Charger
Trusted by many Apple Watch users, LATIMERIA's magnetic wireless charger ensures your Apple Watch is always charged. The power bank is compatible with all Apple Watches as well as iPhone 14, 13, and 12.
One of the best power banks for the Apple Watch, it is integrated with strong magnets that snap firmly in place, eliminating any risk of falling. Once it snaps on, just press the power button so the power bank can charge your Apple Watch.
Our favorite part is the complete autonomy to choose the angle of your device as it charges. The 10000mAh power bank has a foldable rubber stand made which allows you to adjust angles either vertically or horizontally.
Buy the LATIMERIA Magnetic Wireless Charger for $39.99.
6. ZEROLEMON Magnetic Power Bank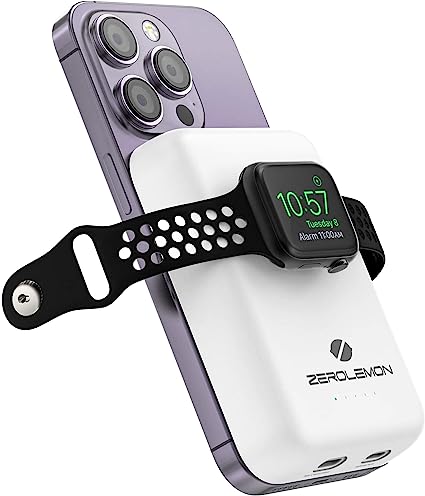 The ZEROLEMON iPhone power bank with Apple Watch support offers MagSafe compatibility, Lightning input, and Fast cable charging safely and efficiently.
It comes with two magnetic wireless charging pads and one USB C output so you can wirelessly charge an iPhone, an Apple Watch, and AirPods Pro 2 at the same time.
Just click on the power button to activate the wireless charging, and you're good to go.
Moreover, ZEROLEMON's power bank is UL-Certified with a 10,000mAh battery capacity. The 20W USB-C port allows you to recharge any device within an hour and the power bank itself within 3 hours using a 20W PD adapter. It can also charge other devices while charging itself.
Buy the ZEROLEMON Magnetic Power Bank for $45.99.
7. VACOOR Portable Charger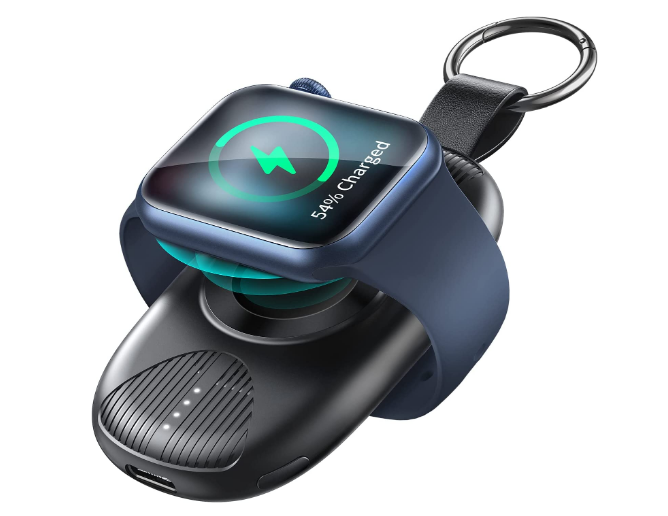 Housing a 1000mAh battery, Vacoor brings one of the best power banks for Apple Watch to the table. Charge your smartwatch 2-3 times within no more than 3-4 hours with this portable charger.
Every time you grab your keys, you will inevitably be taking the magnetic keychain charger with you eliminating the chance of forgetting it at home. In addition, the power bank sports some fantastic features like Fast Charging, magnetic charging, and LED Indicators.
Apple Watch power banks need to be sturdy and safe, not just portable. This is where this power bank shines. It is tiny and convenient but it also covers over-current, over-voltage, short circuits, and over-temperature protection.
Buy the VACOOR Portable Charger for $15.85 here.
8. Lifeegrn Wireless Portable Watch Charger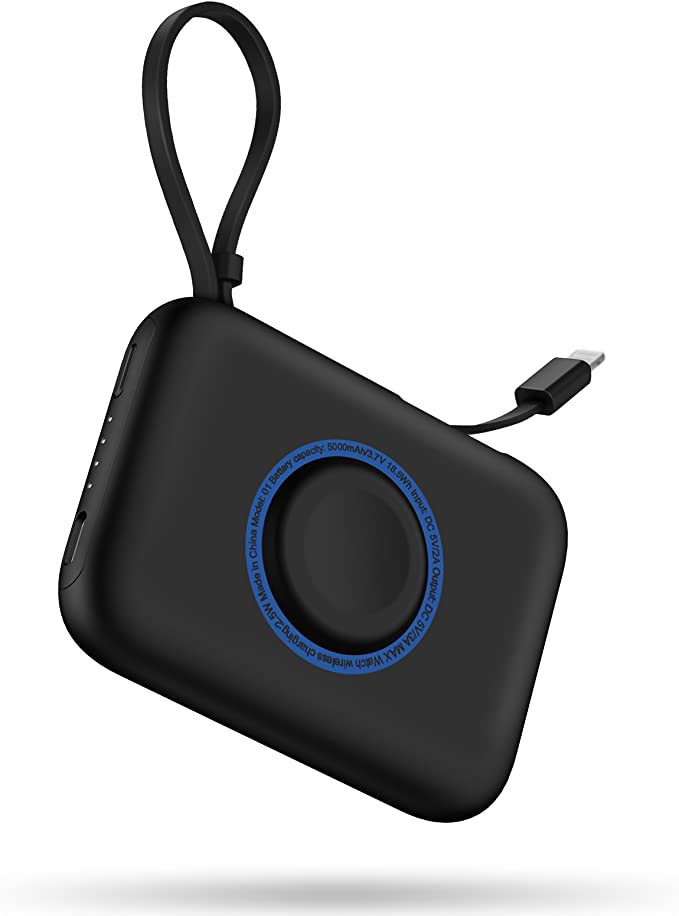 Lifeegrn is an amazing power bank, or should we say one of the best power banks for Apple Watch.
Although it only offers 5000mAh of power, it can charge your Apple Watch up to 8 times within 2.5 hours before it needs to recharge itself. Even then, it won't take you forever to bring it to 100%. It takes 3 hours to fully charge using the USB-C cable.
The built-in magnetic module is super-strong ensuring that your device does not slip off or slide down in any case. But, it is the unique design that catches the eye. You can use it as a lanyard to carry items and not worry about wearing it off as it is made from durable PET material.
Buy the Lifeegrn Wireless Portable Watch Charger for $24.99.
Finishing Thoughts…
Apple Watch power banks are a blessing. As someone with a hectic work schedule and complete dependency on the Apple Watch, I personally cannot go a day without a portable charger.
If any of these power banks strike your fancy, don't overthink it. Buy one and see your life getting a tad bit easier than before.