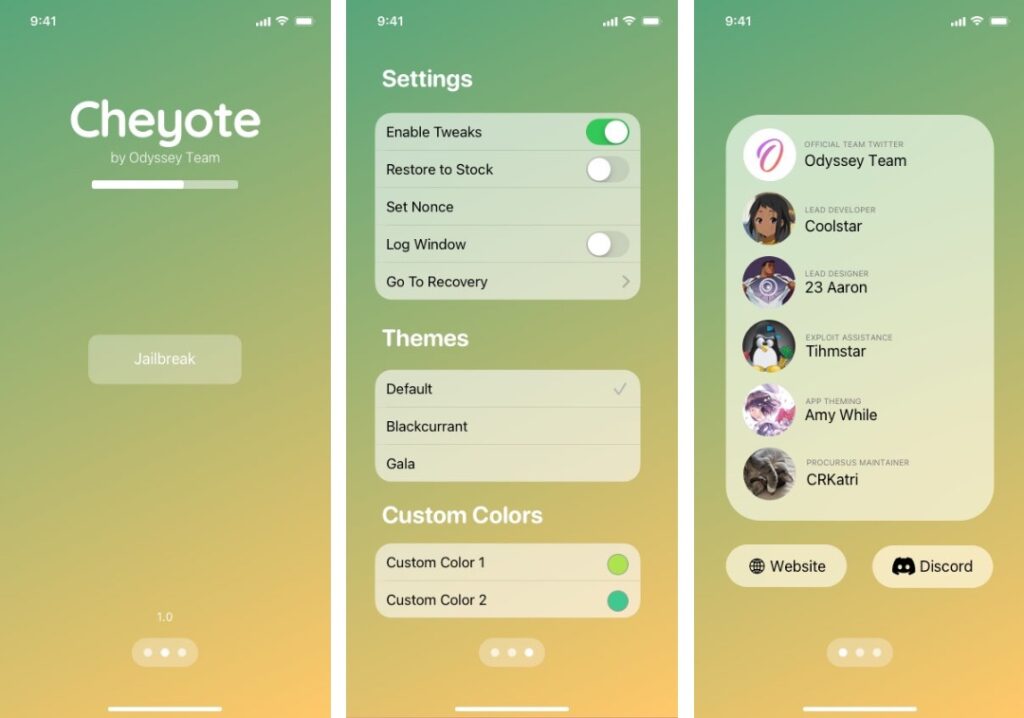 Odyssey Team has finally made their upcoming iOS 15 jailbreak tool official. The new tool is called Cheyote and will support iOS 15.0 up to iOS 15.1.1 on release.
While Odyssey Team has proudly showcased the Cheyote tool on its official Twitter account it has not provided an official release date for their iOS 15 jailbreak. This announcement only covers the name reveal and unveiling of the user-interface, which looks modern and sleek.
It looks like Odyssey Team has paid much attention to the UI of their upcoming jailbreak tool as it also offers customization options including various themes and custom color options.
Must read: Is There A Jailbreak For iPhone 13 And iPhone 13 Pro
As for jailbreak related options the tool will give users access to useful toggles and tools that includes Enable Tweaks, Restore to Stock, Set Nonce, Log Window and Go To Recovery.
When released Cheyote will by default install Sileo package manager, however users will also be able to download their favorite package managers such as the Cydia, Zebra and others. Although they might require to be updated first in order to support rootless iOS 15 jailbreak.
Cheyote jailbreak is expected to be rootless and will be able to jailbreak iOS 15.0 – iOS 15.1.1. Similarly users will be able to jailbreak iPadOS 15 up to iPadOS 15.1.1. It will support newer hardware including iPhone 13 series.
As this is going to be a rootless jailbreak it will not give tweak developers and users access to OS/root volume. This will affect many jailbreak tweaks that modify system files however those that do not modify system files should have no problem working with this jailbreak.
Tweak developers will still need to update their existing tweaks to support the rootless jailbreak. Many tweaks that modify files in root will need to be updated to support rootless jailbreak and will need to workaround this restriction.
We will update you once Cheyote jailbreak for iOS 15.0-iOS 15.1.1 is released for public.