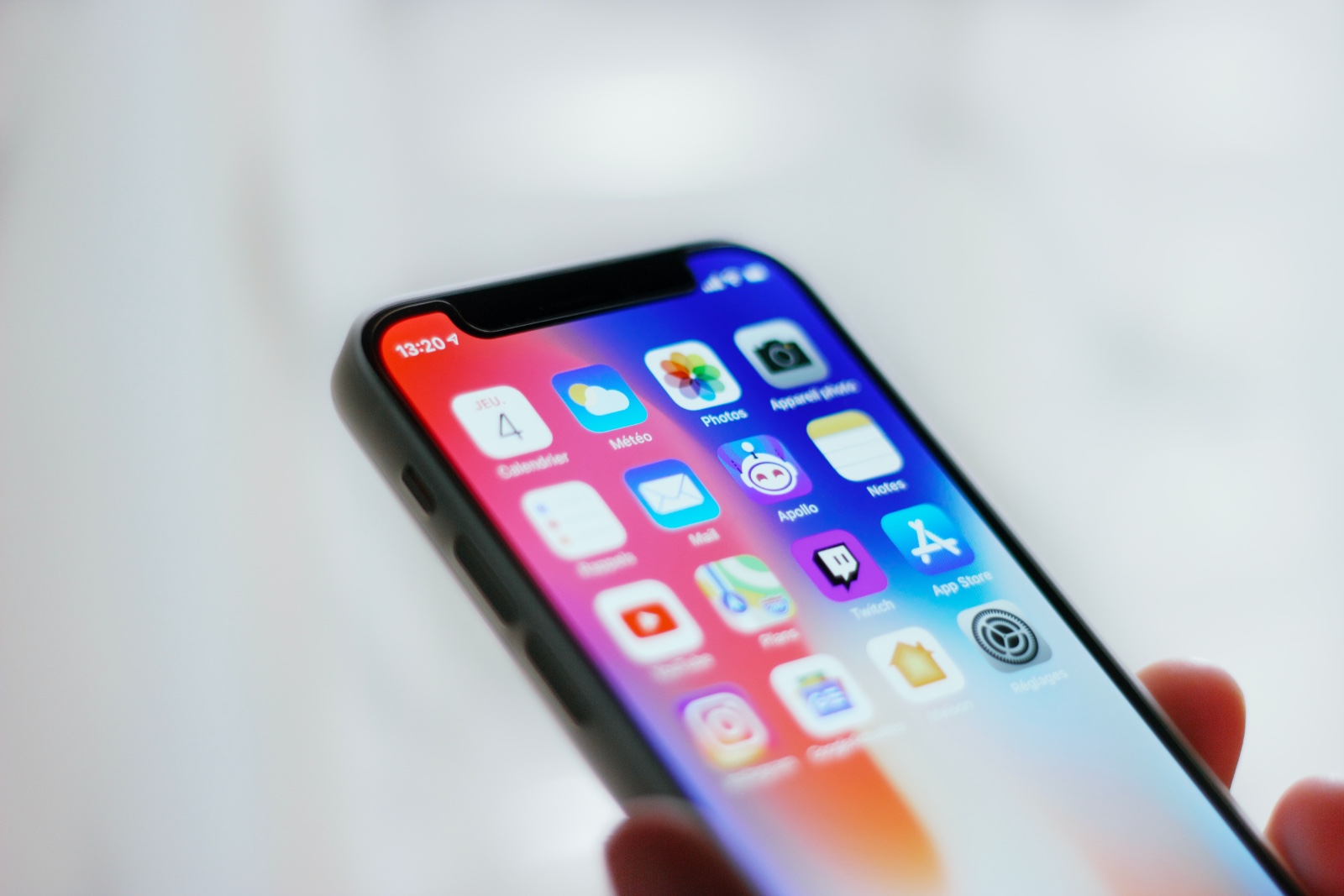 Do you have an iPhone or iPad locked to an Apple ID you no longer know the password of? Then don't fret, as in today's article we will show you how you can effectively bypass Activation Lock and start using a device that is locked to a lost Apple ID.
Being stuck with a device that is locked to an iCloud account you do not know the password of is highly frustrating. I have been in a similar situation with a relative's iPhone who had forgotten the Apple ID password for the account that was used with their iPhone and was unable to recover its password.
In this situation, your iOS device is essentially useless, as you can't use it for any purpose. A third-party tool from software maker Foneazy called Foneazy Unlockit iCloud Remover for macOS makes it possible for users to remove the iCloud Activation lock from an iPhone and iPad.
The best thing about this tool is that it supports all recent versions of iOS, so no matter if your iPhone or iPad is running iOS 12 or all the way up to iOS 16.5, you can take advantage of this tool and securely bypass iCloud lock yourself.
Using the Foneazy Unlockit iCloud Remover tool is easy and you can use it to bypass iCloud lock within 30 minutes. You do not need to have the password of the owner's Apple ID in order to use this tool.
After the tool has completed its job you will get access to your device and regain control over its features. Not all features of your iPhone will work with this method however, you will get access to many of its features and it will make the device usable again.
You can use the Foneazy Unlockit iCloud Remover tool to fix an iPhone that is unable to activate, is in Lost Mode, is stuck in the iCloud Activation lock, or is locked to the Owner. You can also bypass iPad locked to owner with this tool.
Things you will be able to achieve after using Foneazy Unlockit iCloud Removal on your iPhone:
Regain access to your device once again.
Remove location tracking of the device by the previous owner.
Prevent old Apple ID to erase the device and delete its data.
Use Apple services like App Store and take advantage of downloaded apps.
Precautions when using this tool to remove iCloud Activation Lock:
After using this tool to remove iCloud Activation Lock do not factory reset it or restore iOS on your device. This could result in the device getting locked again.
You will not be able to take advantage of your iPhone entirely. Many functions such as phone calls, iCloud services, and cellular data will not be available.
Your device will be jailbroken during the unlock process and remain jailbroken afterward.
How to use Foneazy Unlockit iCloud Remover tool
You can follow the instructions below to remove the iCloud Activation lock from your iPhone. The whole process takes less than 30 minutes to complete.
Step 1. The first thing you need to do is download the Foneazy Unlockit iCloud Remover tool.
Step 2. After downloading and installing the tool launch it and connect your iPhone or iPad to the computer with a USB to Lightning cable. Make sure your device is supported.
Step 3. Now click on the 'Start' button to start the unlocking process.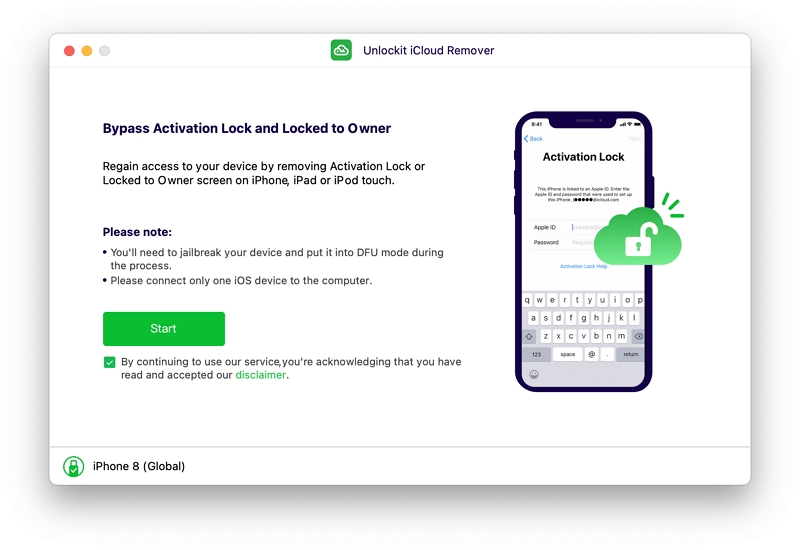 Step 4. As you hit the Start button Unlockit tool will put your iPhone in Recover mode automatically. Allow it to complete this step without any interruptions.
Step 5. Next, follow the on-screen instructions to put your iPhone in DFU mode.
Step 6. Once the device has successfully been placed in DFU mode it will start jailbreaking. Allow this process to complete.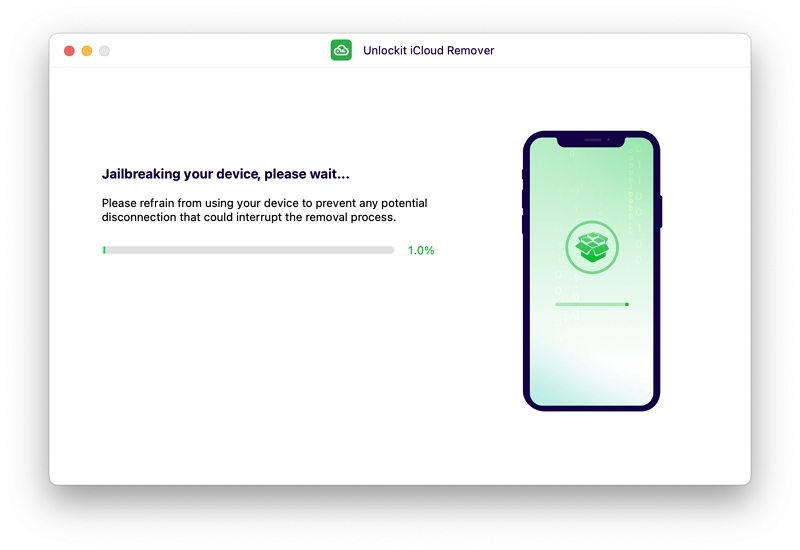 Step 7. After jailbreaking process has been completed your iPhone will reboot automatically. If it does not reboot try to force restart it.
Step 8. After reboot Unlockit tool will display your iPhone's information on the screen. After verifying the information click on the 'Start to Remove' button.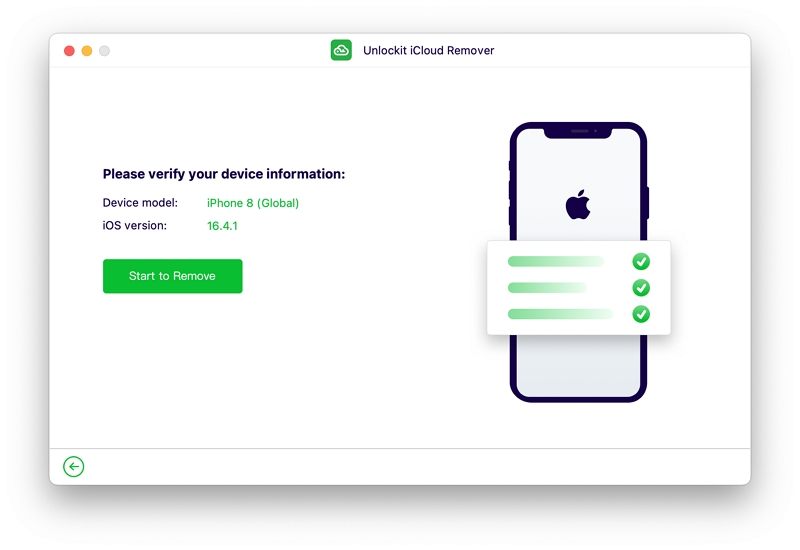 Step 9. Finally, after the removal process is complete click on the Done button.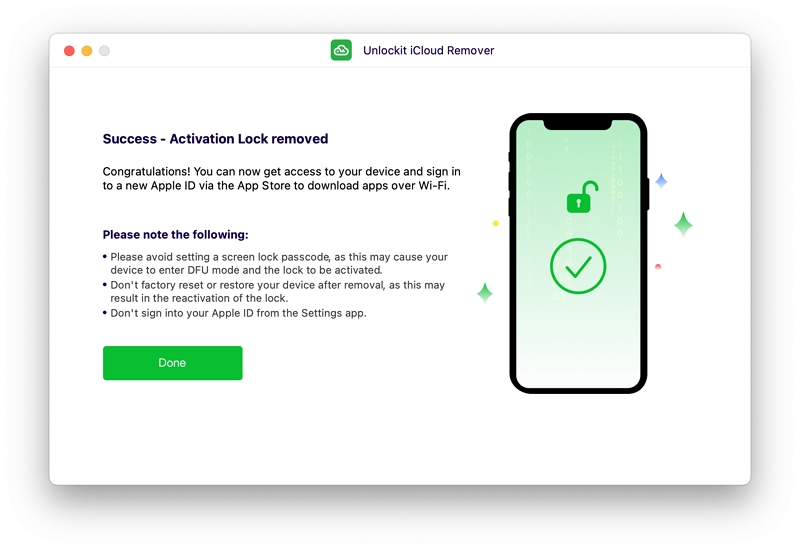 After the device's activation lock has successfully been removed avoid setting up a passcode during the setup process, as this could cause your device to enter DFU mode and reactive lock.
You can download the Foneazy Unlockit iCloud Remover tool from the official website for free. the tool is available with a lifetime plan for $49.95. You can also opt for a 1-month subscription plan for $29.95.