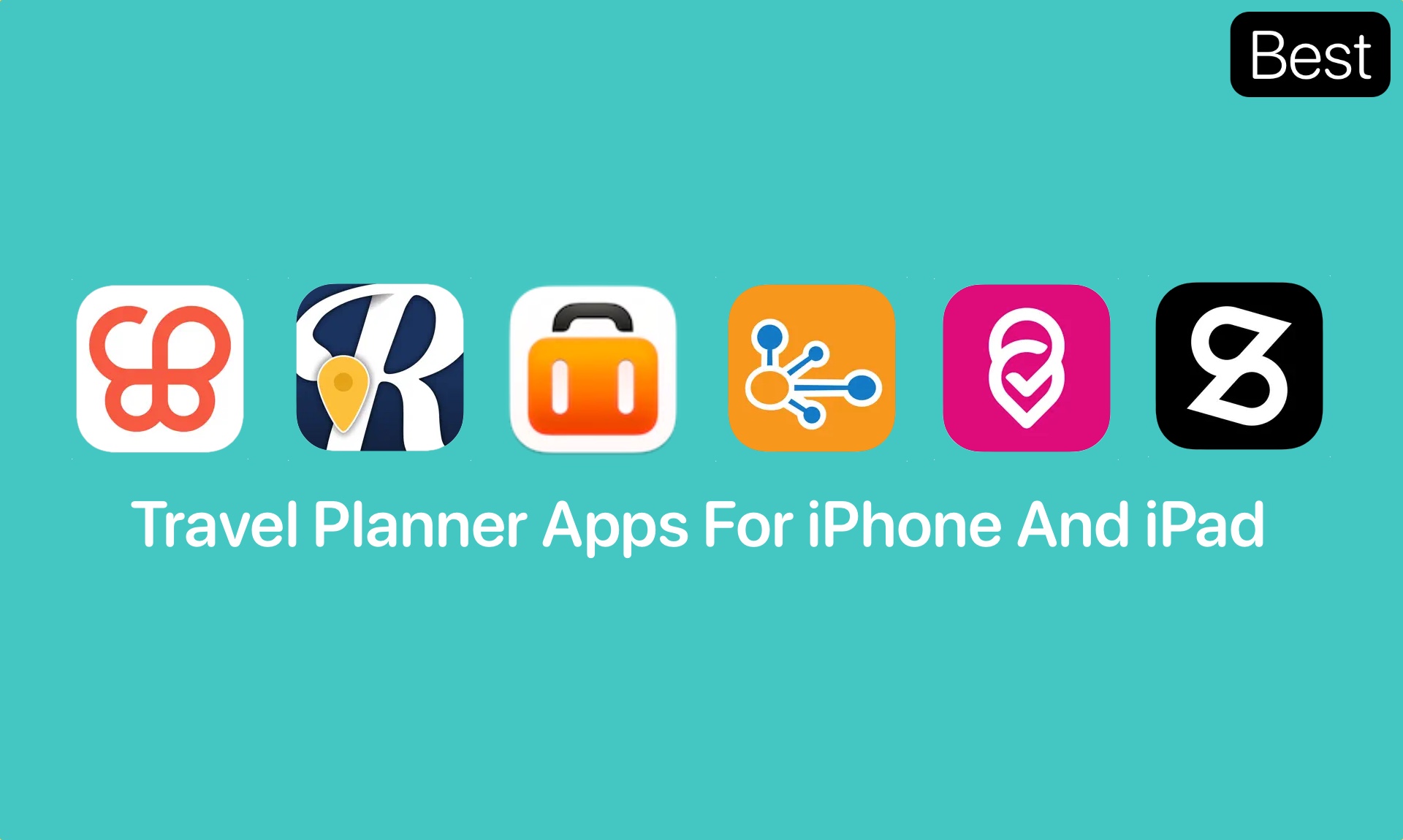 In this article, we discuss the best travel planner apps that can assist you in organizing your itinerary, finding attractions, booking accommodations, and more. 
Given the fast-paced and competitive nature of the world we live in, it's no surprise that traveling has become a popular interest for a significant portion of the population.
We all need a respite from the constant demands and pressures of daily life, so we can relax and de-stress.
But, the process of planning a trip can often become an ongoing headache that stresses you out more than anything else.
Fortunately, travel organizer apps come to the rescue, serving as invaluable tools that alleviate stress and elevate our travel experiences.
From creating itineraries and finding attractions to booking accommodations and managing expenses, there are numerous aspects to consider.
Whether you're a meticulous planner who likes to have every detail in order or a spontaneous traveler who loves exploring off-the-beaten-path locations, these apps cater to specific needs.
Best Travel Planner Apps 
Let's dive right into it. Here are our top picks for the best travel planner apps for iPhones and iPads.
1. Wanderlog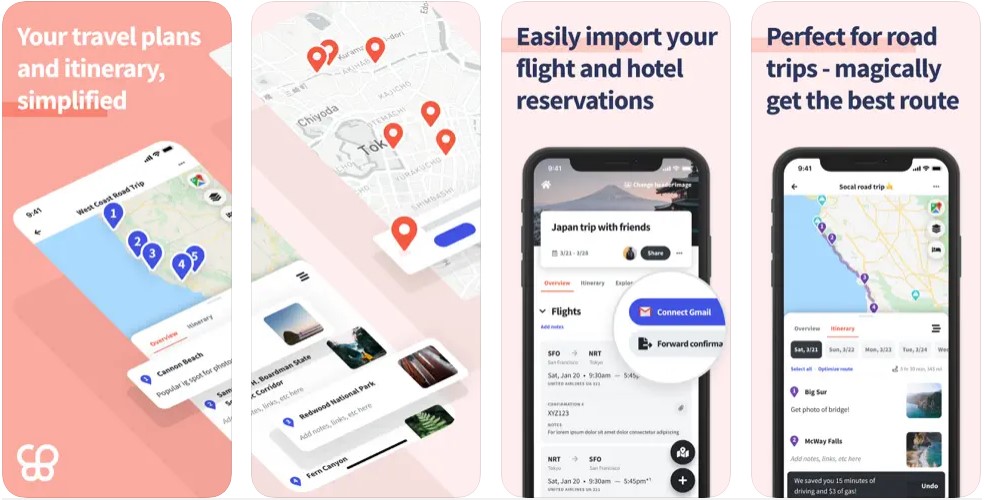 This iPhone travel planner combines convenience, comprehensive features, and intuitive design to ensure a seamless travel planning experience.
Whether you're in for long-haul vacations or fun road trips, Wanderlog will assist you in creating the perfect itinerary, keeping in mind your budget and specific accommodation needs.
But, that's something every other app offers. What makes this one of the best travel planner apps is its ability to consolidate flights, hotels, and attractions in one place. Furthermore, with its ability to provide offline access to plans, offer collaboration options, and assist in budget management, Wanderlog is a valuable tool for organizing trips.
Key Features:
View plans on a Google Maps-based map, map your route, and rearrange places easily by drag-and-drop.
Add unlimited stops, optimize routes, view times and distances between places, and export to Google Maps.
Automatically import reservations from emails or Gmail, keeping all your travel plans in one place.
Trip plans automatically sync across devices, keeping your information up to date.
2. Trip Scout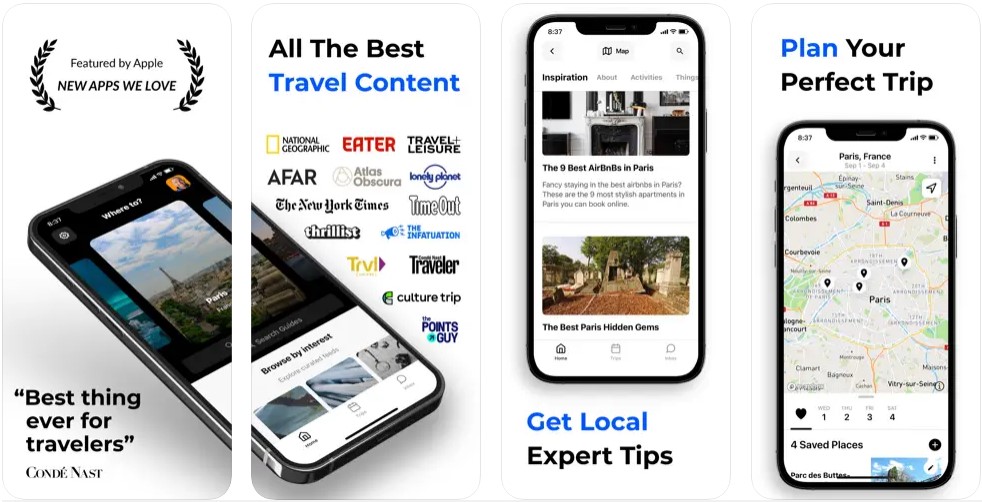 Trip Scout is an excellent app for discovering hidden gems and local attractions. Not only does it provide personalized recommendations based on your interests, but it also offers curated city guides created by travel experts.
So, with Trip Scout iPad travel planner apps you can explore off-the-beaten-path destinations or visit popular landmarks, restaurants, and activities near you.
One of the best travel planner apps, Trip Scout's user-friendly interface, and offline maps make it a convenient travel companion.
Key Features:
Offers a curated selection of the best travel articles and videos along with a personalized and always up-to-date travel guide.
Map every featured restaurant, cafe, shop, or site to 100M+ points of interest.
Save anything you discover with one tap, compare photos and local tips from recent travelers, and easily create a personalized itinerary and map on your phone.
Travel guides and maps work completely offline giving uninterrupted access to all locations.
3. Roadtrippers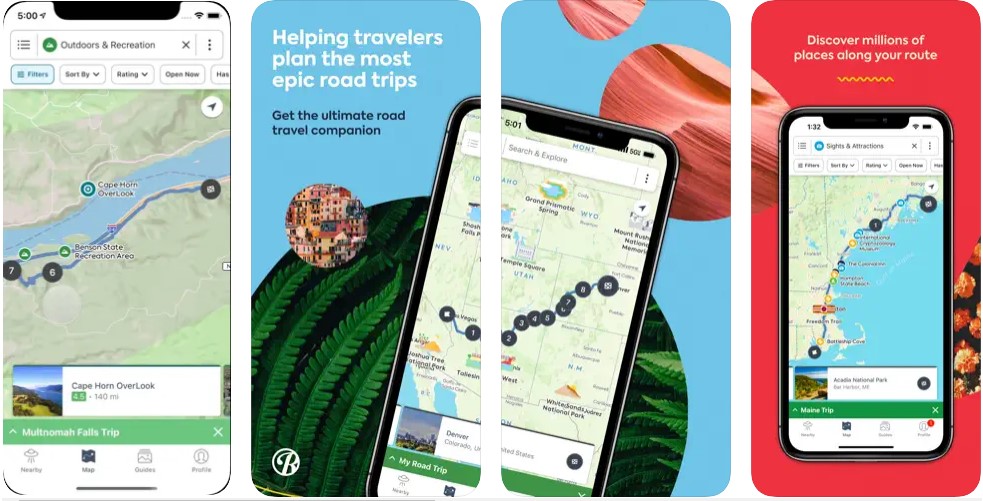 The perfect travel companion to take along on your next road trip, Roadtrippers is a travel organizer app that maps out your journey, suggesting interesting stops along the way.
From quirky roadside attractions, scenic viewpoints, or local restaurants, Roadtrippers can do more than just give you a travel itinerary. You can customize the route, add specific destinations, and calculate fuel costs and travel time with this handy app.
Plus, the app also allows you to save your favorite places and sync your plans across multiple devices, making it the best travel planner app for your road trips.
Key Features:
Build your route and plan your road trip with the easy-to-use trip planner.
Turn-by-turn navigation feature to guide you along your chosen route.
Discover millions of interesting places, including local diners, quirky roadside attractions, scenic points, national parks, and hotels.
Access pre-made trip guides for unique and once-in-a-lifetime routes to explore.
Seamlessly navigate using CarPlay integration.
Start plotting your route with up to seven waypoints.
4. TripIt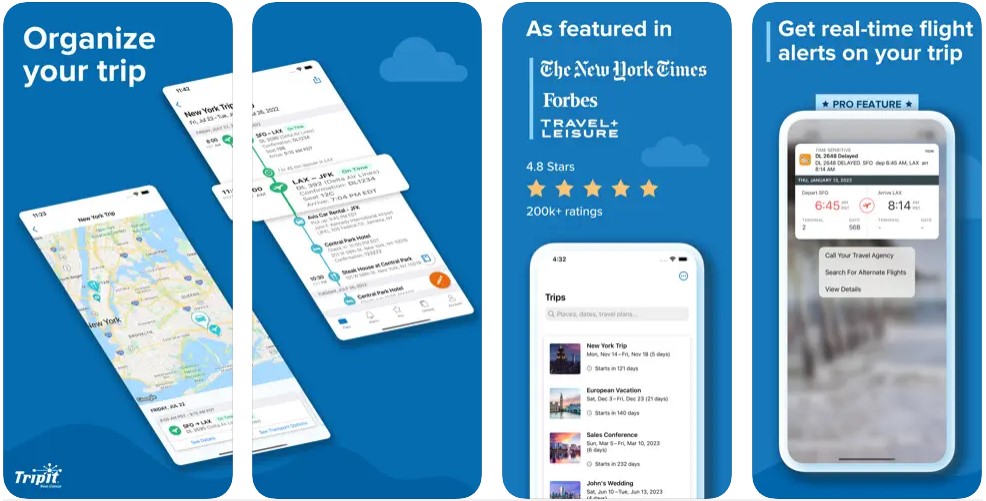 TripIt simplifies the process of managing your travel plans making it one of the best travel planner apps. Forward your flight, hotel, and rental car confirmation emails to TripIt, and it will automatically create a detailed itinerary for you.
The popular travel trip planner app of 2023 provides real-time flight alerts, notifies you about gate changes, and helps you find alternate flights if needed.
Furthermore, TripIt allows you to share your itinerary with friends or family, making it easier to coordinate your plans and keep everyone informed.
Key Features:
Syncs travel plans to your calendar and allows easy sharing with others.
Upload PDFs, photos, boarding passes, and digital passport QR codes to keep all your travel documents in one place.
Provides comprehensive mapping tools for road trips, including plotting your entire trip on Google Maps or Apple Maps.
Offers transportation options and driving directions between two points, powered by Rome2Rio.
Helps you find nearby restaurants, parking, ATMs, and more while on your trip.
5. Tripsy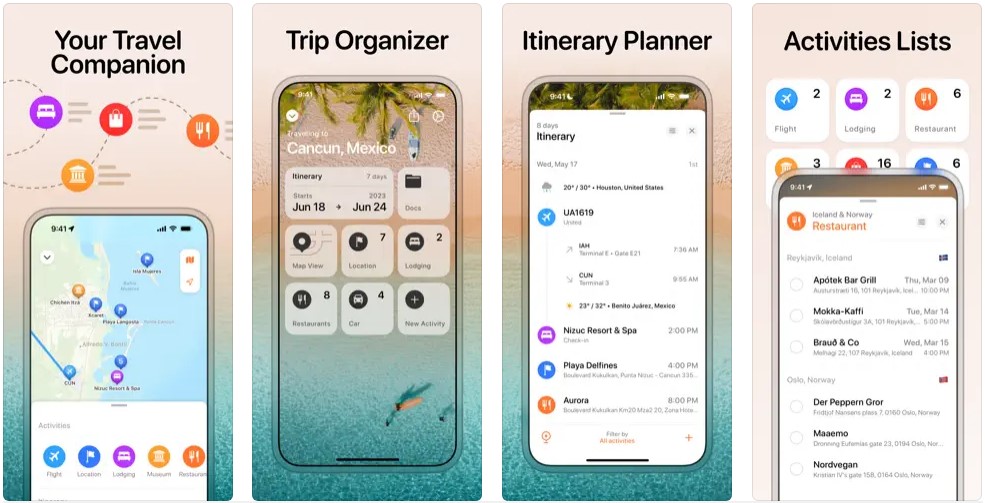 This iPhone travel planner combines itinerary planning, expense tracking, and travel information all in one place. It enables you to create detailed daily plans, including activities, transportation, and accommodation.
The best travel planner app, Tripsy also provides weather forecasts, currency conversion, and language translation features, ensuring you have essential information at your fingertips.
Key Features:
Receive push notifications for flight updates, departure and arrival times, terminals, gates, and baggage claims.
Store images, notes, videos, and documents, and easily share them with others.
Import reservations from over 700 providers and major airlines.
Sync your trip data with your calendar app to stay organized.
Access popular mapping services like Waze, Google Maps, and Uber directly from your itinerary.
Configure each activity with the desired time zone, making the trip organization more practical.
6. Rome2Rio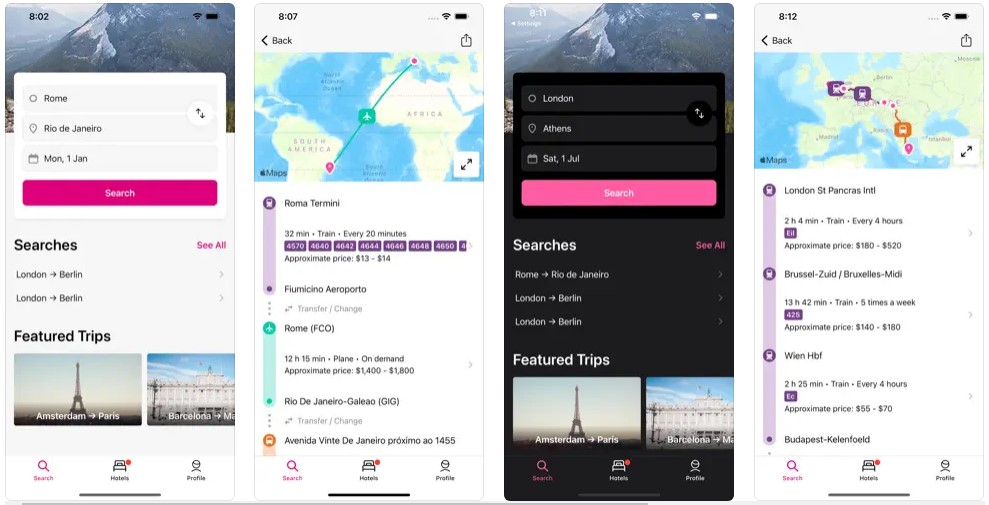 Rome2Rio is the best travel planner app for planning your transportation options, especially when you have multiple destinations in mind.
The iPad travel planner app provides comprehensive information on schedules, prices, and durations, allowing you to compare various transport options easily. It helps you find the most convenient and cost-effective routes, whether you're traveling by plane, train, bus, or ferry.
All in all, Rome2Rio makes travel planning easy by providing the quickest, cheapest, and most convenient options to get you to your destination worldwide.
Key Features:
Simply enter your destination, and find all your travel options, including air, land, and water transportation.
Comprehensive global coverage with information from over 5,000 companies in 160+ countries.
Displays a wide range of transport options, including flights, trains, buses, ferries, and rideshares.
Enables easy comparison of prices, durations, schedules, connections, and booking details.
Get Your Vacay Mode On!
Whether you're a meticulous planner or a spontaneous adventurer, you need the best travel planner app to ensure a seamless travel experience.
After all, the purpose of a vacation is to relax and unwind, not to be overwhelmed by logistical worries.
With these travel organizer apps on your iPhone or iPad, you can effortlessly plan your trips, discover new destinations, and make the most out of your travel adventures in 2023 and beyond.