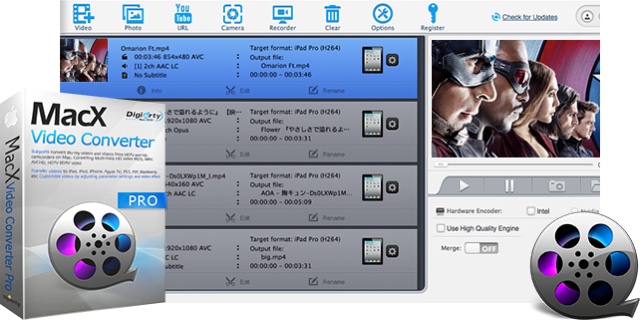 There are so many times when we have to convert, edit, record or download a video from the Internet on our Macs. Editing videos is not for everyone, the task requires a lot of skills and patience. However the MacX Video Converter Pro tool makes all of the mentioned tasks easier. Using this tool on your Mac you can convert HD and SD videos in any format of your choice including MP4, MKV, WMV, MOV and more. Not only that but you can also use it to easily transfer converted files to your iPhone, iPad, Apple TV or even Android powered devices. So far, this software is the fastest Mac video converter in the world which costs no more than 1 minute to convert a MP4 (AVC) file (3846X2160, 4.30min, 520MB) to iPhone (H.264, 1280×720).
While MacX Video Converter is mainly a video conversion tool it can also handle audio well. It offers over 370 audio video codecs as well as over 350 ready-made device profiles. So you can just select the device and start converting. With MacX Video Converter you can also download videos, music and movies from your favorite websites. This includes Youtube and 300+ other websites. There's no restriction on the size or quality of videos you can download as the tool supports 4k, 1080p and 720p resolutions.
No video editing and conversion tool would be complete without editing features. MacX Video Converter offers useful features like Trim, Merge, Crop, Rotate and more. You can also add subtitles and watermarks to your videos. It also includes a built-in screen recorder that is capable of recording the screen at the original image quality.
MacX Video Converter is a premium tool that comes with a paid license. A single user license normally costs $49.95. However the company is currently running a Thanksgivings offer, which means you can download the tool for absolutely free. Simply participate in the MacX Video Converter Pro giveaway and download a licensed copy. Please note though that the free download giveaway is only being offered to first 20,000 customers. If you end up getting the free copy, you won't be able to upgrade to a future version unless you buy the paid license. However there is another saving opportunity if you care about always having the latest version. If you have the giveaway version, right now you can take advantage of an exclusive discount offer with Black Friday deal, you can get MacX Video Converter Pro for for $19.95 instead of $49.95, and you also get up to 78% off discount to buy other DVD ripper or video converter software pack.. The promotion ends of December 5, 2016. Simply participate in the MacX Video Converter Pro giveaway and download a licensed copy.