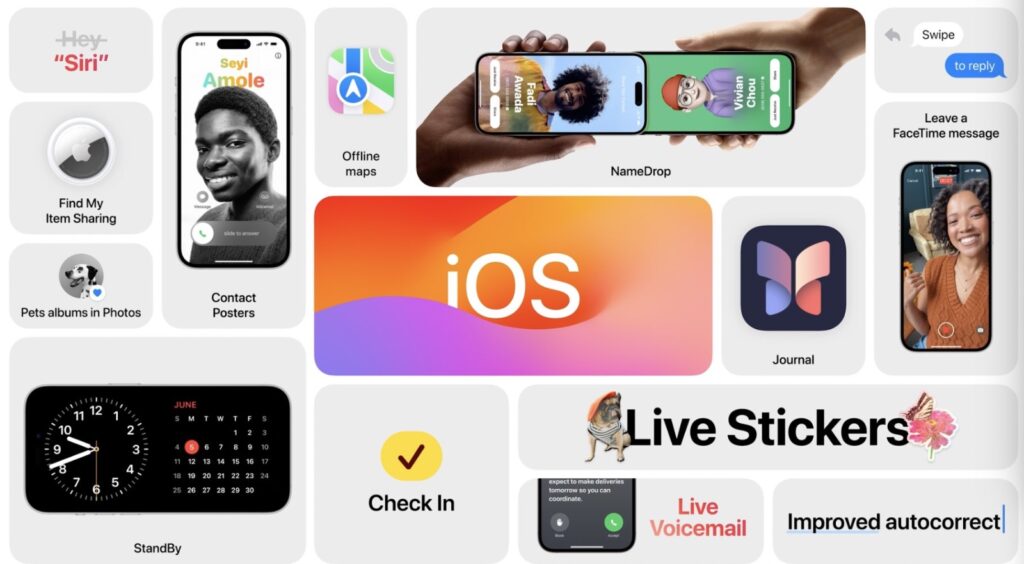 Apple took the stage at WWDC 2023 to announce the new iOS 17 update. The new update brings tons of new features and improvements to iPhones.
Apple has also launched iOS 17 developer beta, while an iOS 17 Public beta is scheduled to launch in July.
With iOS 17 Apple has introduced a number of new features to its Communication apps, namely Phone, Messages, and FaceTime. AirDrop sharing feature has also received major changes, which have made it even more powerful than before.
Apple has also introduced a new Journal app, that will make it easier for users to experience gratitude. Perhaps the most interesting feature of iOS 17 is the launch of StandBy, which is a new glanceable information screen.
Read on to learn all about these new features of iOS 17…
Improvements for Phone, Messages, And FaceTime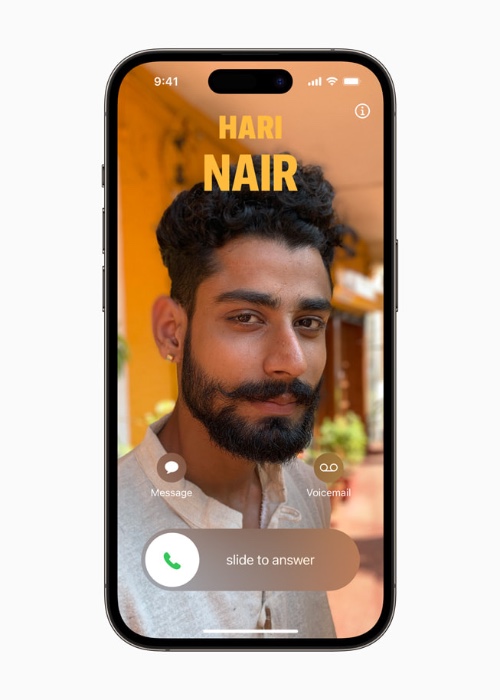 Apple has redesigned iPhone's Phone app by introducing a new personalized Contact Posters screen. With this screen users will be able to dictate how they appear on other people's iPhones when they are calling them. Users can choose a photo or Memoji and customize their Contact Posters screen with typography and fonts. In addition to the Phone app the Contact Posters will also be available in third-party apps.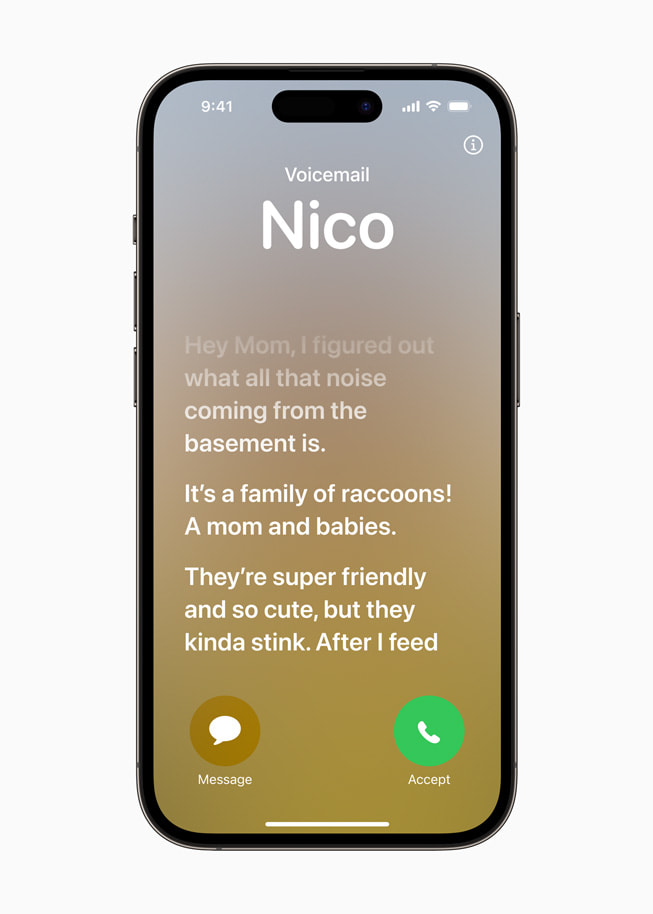 Another cool feature of the Phone app is Live Voicemail, which will allow users to view a real-time transcription as someone is leaving a voicemail on their phone. Users will also be able to pick up calls while other person is leaving a voicemail.
For FaceTime Apple has introduced audio and video messages, which allow users to leave messages if someone does not pick up their call. The new Reactions feature in FaceTime video calls will allow users to send effects like hearts, fireworks, balloons, laser beams, and more by making simple gestures with their hands.
In the Messages app, Apple is introducing the new Stickers feature that will enable them to create Live Stickers by lifting subjects from photos. User-created stickers will be available via the keyboard across all apps.
A new expandable menu has been added to Messages app, which will make it easier for users to access various features of the Messages app. The Search feature within the Messages app has also seen improvements allowing users to precisely search for content with search filters.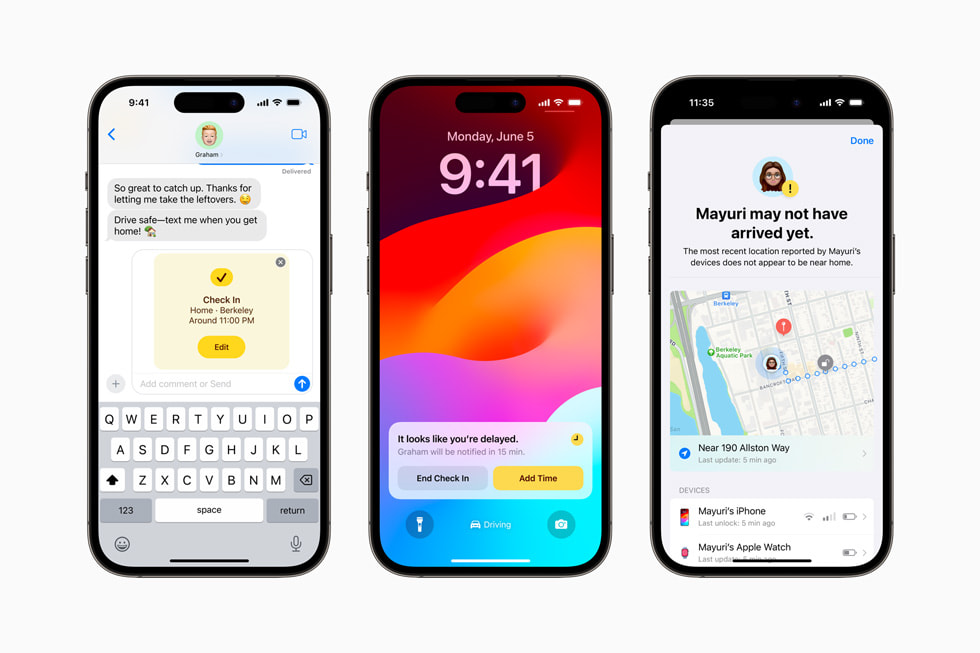 The Messages app is also getting a new location-sharing feature, which displays shared real-time location in the conversation. Check In feature allows users to notify their loved ones if they have safely arrived at their destination. When Check In feature is initiated family or friends will receive notifications as soon as the user arrives at their destination. If a user stops on their way useful information such as their progress towards the destination, iPhone's battery level, cell service status, etc is shared with loved ones.
StandBy feature to see glanceable information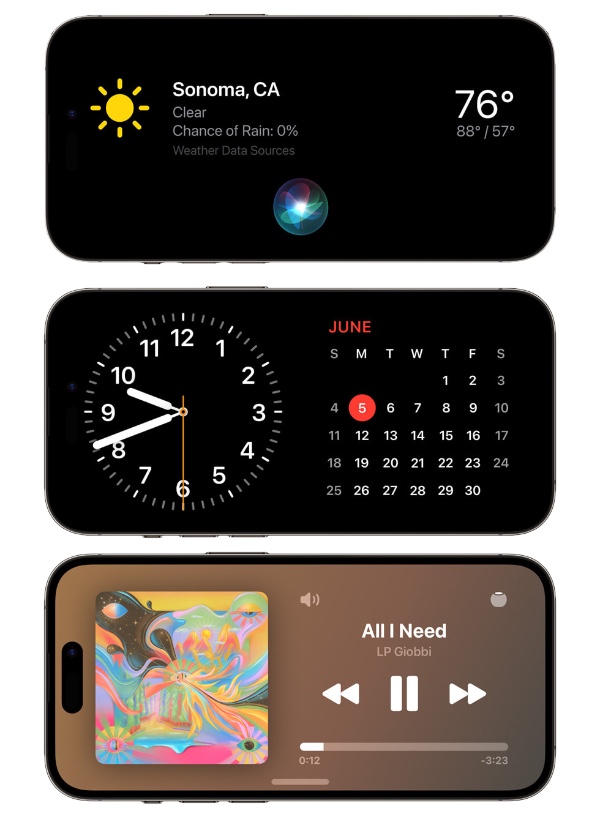 In iOS 17 users are getting a brand new feature called StandBy. This feature will allow users to see glanceable information on their iPhone's screen while it is placed on a charging stand.
The information is displayed in a way that it can be viewed at a distance. StandBy is great feature for those who place their iPhones on a nightstand, desk, kitchen counter, and more. The feature displays various clock styles, Smart Stacks, Widgets, and more to the user, making the iPhone useful even when it is not in use. Users can also get Live Activities, interact with Siri, see larger notifications and incoming calls.
StandBy also remembers the user's preferred view when the device is charging with MagSafe. On iPhone 14 Pro and iPhone 14 Pro Max StandBy screen is always displayed. On devices that do not have always-on display users can tap on the screen to bring up StandBy.
AirDrop NearDrop Feature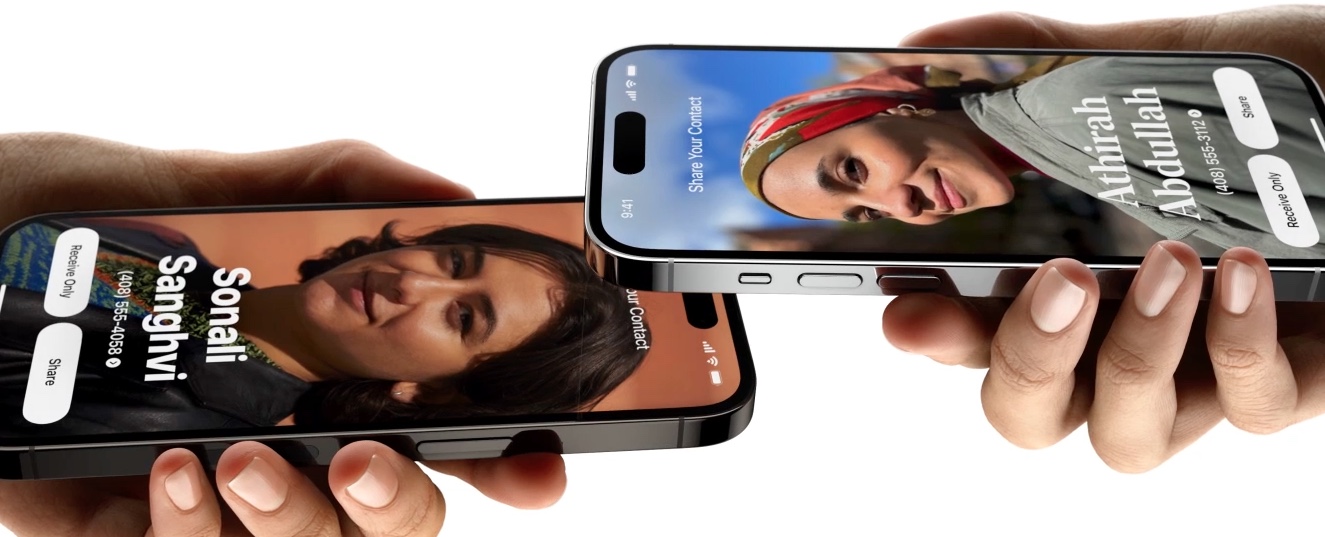 AirDrop feature has received major improvements and new features in iOS 17. The New NameDrop feature makes it easier for users to share their contact details with others by simply bringing their iPhone close to other user's iPhone. Users can also bring their iPhone close to an Apple Watch to share their contact information.
Users can also bring two iPhones closer to initiate SharePlay feature and start listening to music, movie, or playing a game on two nearby iPhones.
New Journal app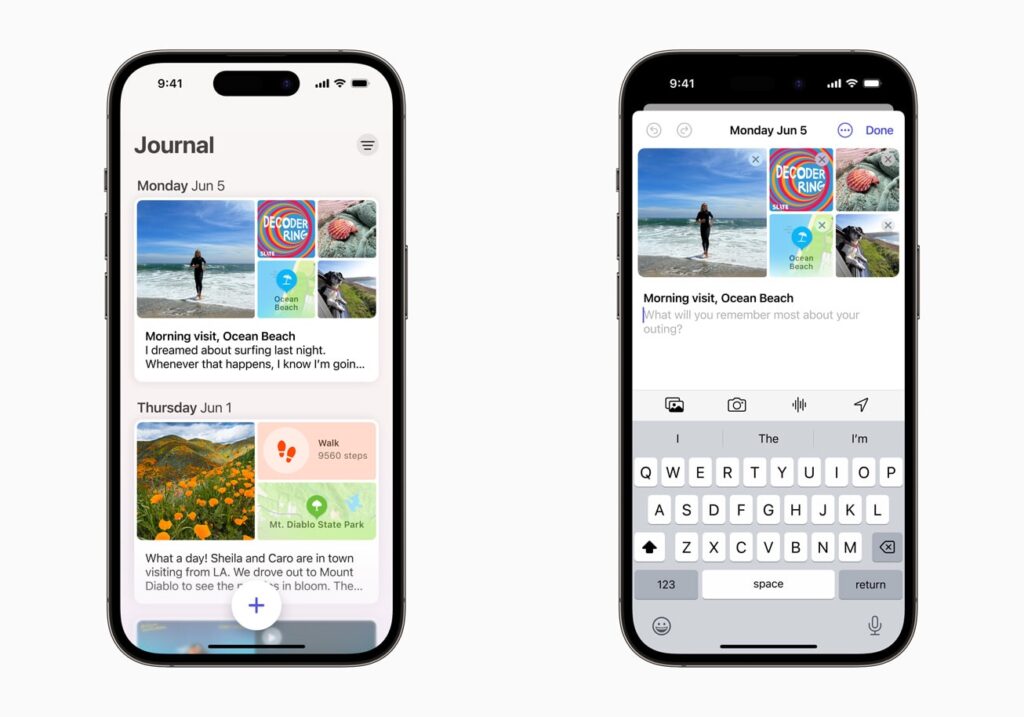 A new app called Journal has been added to iPhone, which will give users the opportunity to reflect and practice gratitude with the help of journaling. The Journal app will give users personalized suggestions to inspire them to make journal entries. These suggestions are generated on-device using user's photos, places, people, workouts, and more. Users are able to lock the app in order to keep their journals private.
Autocorrect and dictation improvements
With iOS 17 iPhone's autocorrect and dictation capabilities have received major improvements. Now Autocorrect will offer better accuracy as they type. A refreshed design will also improve typing support while grammatical mistakes can be reduced with sentence-level autocorrections. In iOS 17 users will receive in-line predictive text recommendations, which will make it easier for them to add words or complete sentences by tapping on the Space bar.
Apple has also introduced new features for Safari with greater protection for private browsing, improvements for passwords and passkeys, Health app improvements, Apple Maps get offline support for turn-by-turn navigation, AirTag sharing with up to 5 people, Apple Music Collaborative Playlists feature, improved AirPlay sharing at hotels, AirPods improvements, improvements for Reminders, Photos, Siri, Visual Look up and more.
iOS 17 update will be available for download for everyone in the fall. Apple has released iOS 17 Developer Beta after the WWDC 2023 keynote event while a public beta of iOS 17 will be released in the fall.