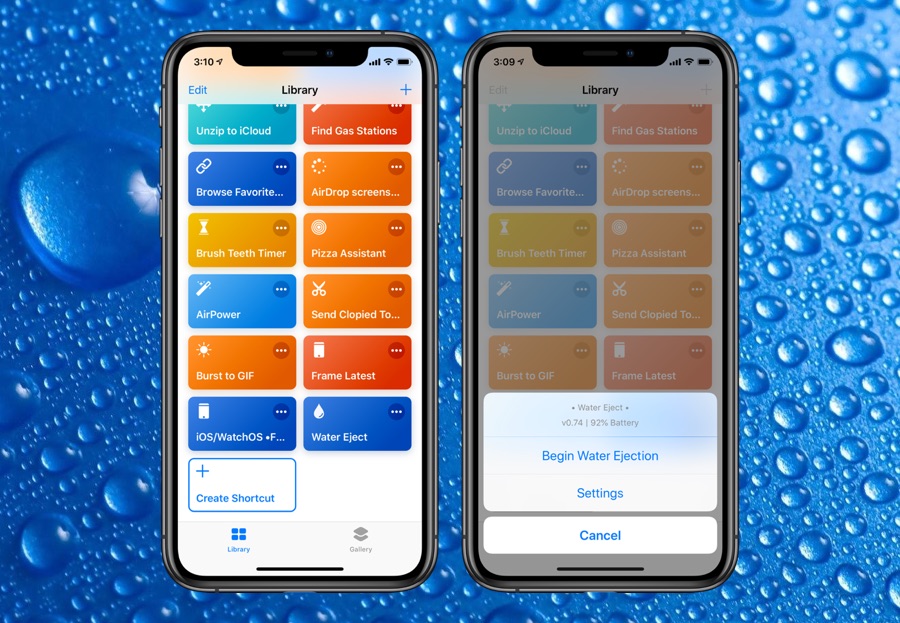 A clever new Siri Shortcut Called Water Eject Shortcut makes it easier for iPhone users to get water out of their device's speaker grill. This shortcut brings Apple Watch inspired Water Eject functionality to the iPhone.
The latest iPhones are all water resistant and come with IP68 rating. This means that you can take your iPhone under water during a casual swim or use it during shower. All iPhones released after iPhone 7 are water resistant while some of the newest ones such as iPhone 11 can stay underwater up to 2 meters for 30 minutes.
While the iPhone works totally fine after it has been underwater, same cannot be said about the speakers, as they sound a little muffed up since the water goes inside the speaker grill. The water could take some time to clear up. Good thing is there is a very useful water eject Siri shortcut that can help.
A clever Siri shortcut solves this issue by ejecting water from the speaker grills. The Water Eject Siri shortcut plays a high frequency sound that forces the water out of the speaker grill in no time.
This shortcut works in the similar way as the Water ejection feature found on the Apple Watch, that also ejects water by playing a sound through the speakers.
When you run Water Eject shortcut you can actually see water coming out of the speaker grills, and that is how you know this shortcut actually works.
Before you use the Water Eject Shortcut make sure your iPhone offers water resistance. Not all iPhones offer water resistance feature can submerging them into the water can cause permanent damage to the device.
Here are the devices that are water resistant.
iPhone 11 Pro Max
iPhone 11 Pro
iPhone 11
iPhone SE 2020
iPhone XS Max
iPhone XS
iPhone XR
iPhone X
iPhone 8 Plus
iPhone 8
iPhone 7 Plus
iPhone 7
Download Water Eject Siri Shortcut
You can install the shortcut to your iOS device by going to this link. Once the shortcut has been added to your device simply run it by tapping on its tile.
After you run it tap on 'Begin Water Ejection' and it should start working. You can also ask Siri to run this shortcut by saying "Hey Siri, Run Water Eject Shortcut".
The video above shows the Water Eject Siri shortcut in action and you can clearly see water coming out of speakers when the shortcut is activated.
Having the Water Eject Siri Shortcut installed on your device can come in handy in a variety of situations, so we recommend that you keep it on your device's Shortcuts app so you always have access to it whenever you need it.
What do you think about this amazing Siri Shortcut? Let us know in the comments section below.