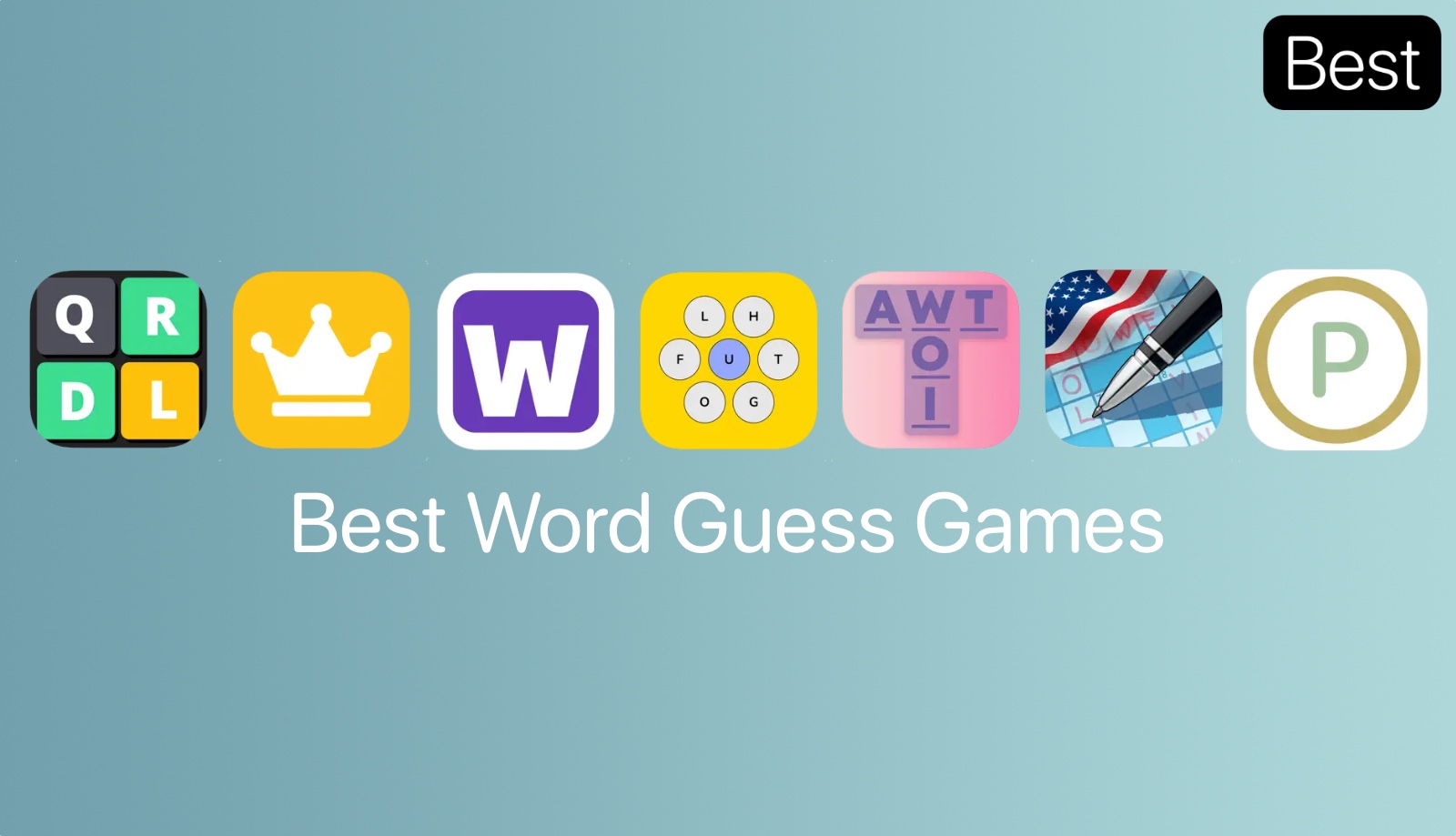 In this article, we have rounded up a list of the best word guess games for those who enjoy a good noggin' scratcher on the go.
When it comes to playing mobile games, manipulating fruit and matching colors undoubtedly dominate the entire gaming industry.
Not everybody likes to test their wits knotty riddles and complex brain-teasers. But, for some of us, puzzles are the best way to unwind.
Not only do word games provide endless amusement, but they play a significant role in improving our vocabulary and mental agility.
So, if you are a word aficionado, get ready to be spoiled for choice. Here are some amazing word game apps just for you!
1. Daily Word Games – TaiWord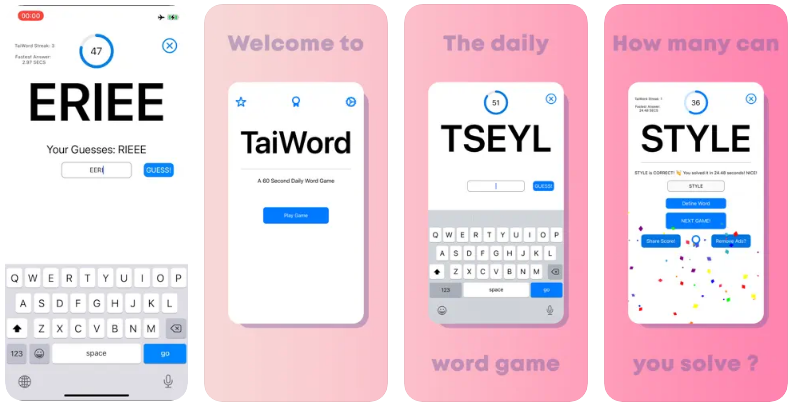 TaiWord is gut-wrenchingly effective, oh-so-relevant, and probably the best daily word game for iPhone.
Every day you'll wake up to a new puzzle where you'll have to solve the 5, 7, and 10-letter anagrams as fast as you can. There are different modes you can choose from:
The Multi Taiword mode: Can you guess as many 8-letter words within 5 minutes?
Time Attack mode: How many 4-letter words can you guess against the clock?
As you progress, see where you rank in the 12 leaderboards and track your progress. With this fun app, train your brain to guess words faster while also improving your vocabulary.
Learn the proper definition behind each new word you see, solve daily conundrums, and unlock new achievements.
Price: Free with in-app purchases
Download the Daily Word Games- TaiWord app now.
2. Spelling Game: Unlimited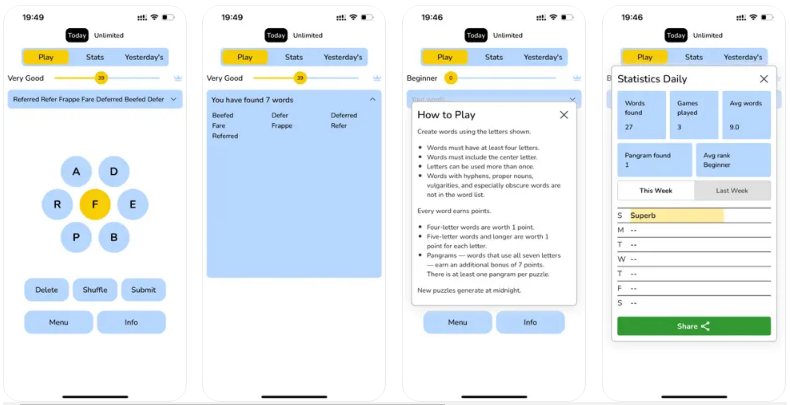 A sharp spruce up of a true classic, Spelling Game: Unlimited made the list of the best word guess games for its crisp presentation and elegant gameplay.
Play Spelling Game: Unlimited to practice spelling and learn new words. The gameplay is simple: find as many 7-letter words as you can.
Each day, players are given new 7 letters out of which 6 are simple and one mandatory. As a player, you are to create 4-letter words out of these 7 letters given to you. You can use the 6 simple letters as many times as needed, but the one obligatory letter must be present in all the words you create.
This little challenge helps you think fast and demands your full attention.
Price: Free
Download the Spelling Game: Unlimited app now.
3. Pangram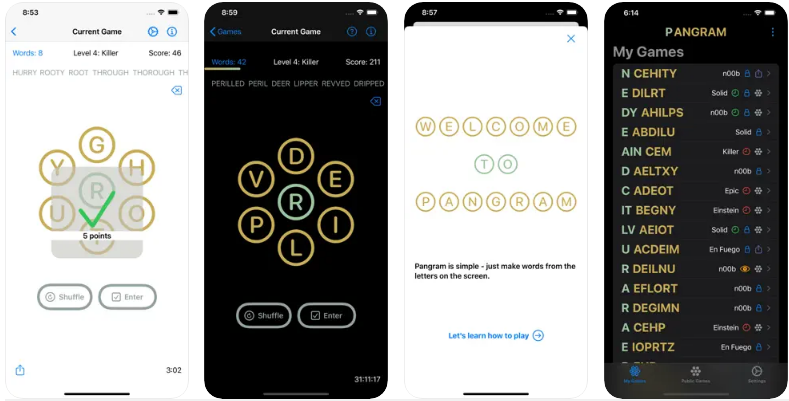 Test your vocabulary with the Pangram iPhone word guess game. See how many words you can make with a given set of letters. The challenge? You must use the central letter(s) in each word you create.
True to its namesake, each game contains at least one Pangram. Find them and get bonus points. The best part is that this game is completely stress-free. There are no lives to lose, no penalties for wrong answers. Just keep guessing.
Pangram also allows players to configure the games as they like by setting their own number of center and outer letters as well as the minimum word length.
Price: Free with in-app purchases
4. Quordle!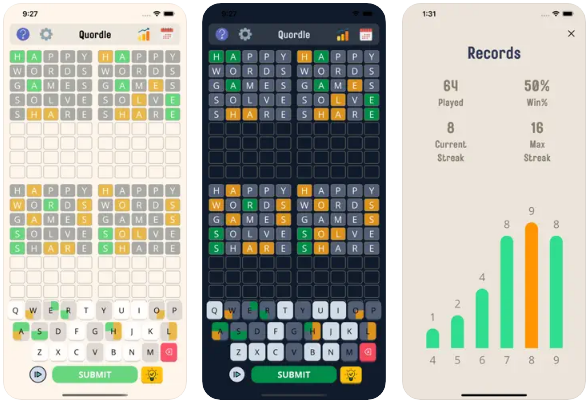 The best word guess games should minimize stress and maximize learning. That's exactly what we get from Quordle.
Can you guess four 5 letter words in 9 chances or less? Find out by playing Quordle. Either find the words yourself or invite your friends and family to join in on the fun.
Quordole is a fun mix of Scrabble, Crossword, and Wordle where you can train your brain, learn new words, and enjoy relaxing gameplay.
Here's the gist of the game. There are four hidden words that you need to find in nine tries or less. Each guessed word gets you color feedback:
Green color shows you've positioned the right letter in the right place.
Yellow color shows you've positioned the right letter in the wrong place.
Grey letter shows you've chosen the wrong letter.
Price: Free with in-app purchases
Download the Quordle! app now.
5. Spelling Queen Pangrams – Bee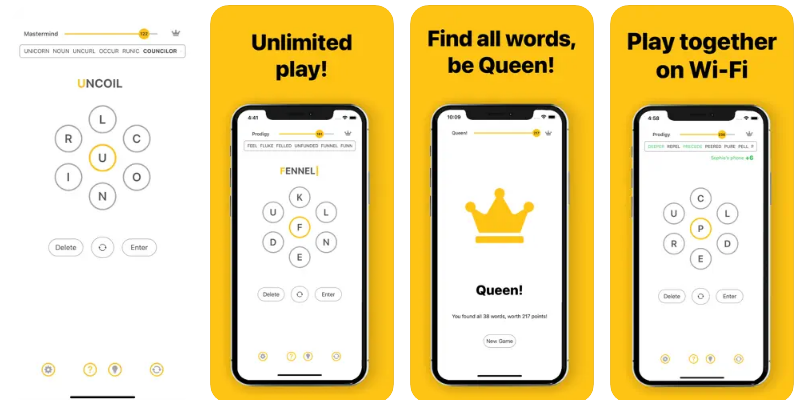 The Spelling Queen Pangrams – Bee is an epically unique spelling game for iPhone.
This app contains 4000+ unique 7-letter games for you to play alone or with your friends and family. Start the game as a Novice player and move your way through Brilliant to Mastermind and onwards.
Just keep these 2 rules in mind: the words you create must be at least 4 letters long and you must use the center letter. That's all!
Here's the fun part though, each game has at least one (some more than one) pangram. A word that uses all seven of the game's individual letters and you get bonus points for finding them.
Price: Free
Download the Spelling Queen Pangrams – Bee app now.
6. Word Hurdle – Word Game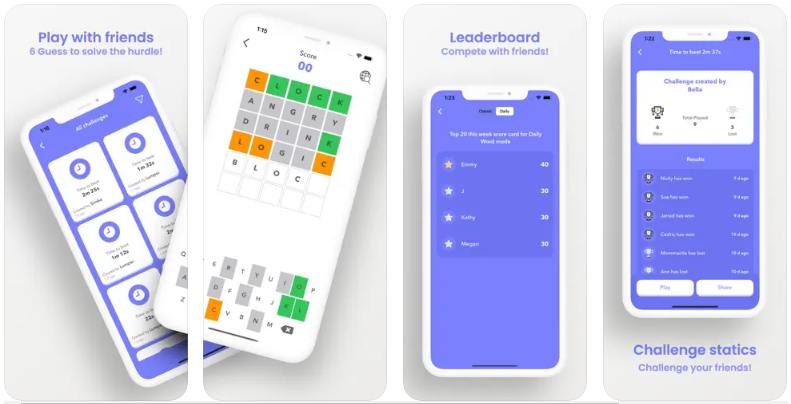 What makes Word Hurdle so fun and one of the best words guess games is how simple it is.
Players have to find the mystery word in 6 tries or less – and after each guess, the letters change colors to show you where you stand.
So, if you get green color, kudos to you because you've placed the right word at the right spot. If you get yellow color, you're super close – the word is right, just not the placement. But, if you get grey color, it means you've strayed a bit far – this isn't the right letter, choose another one.
The game starts pretty easy but quickly becomes challenging enough that you'll end up tapping random words hoping to accidentally create a word.
Price: Free
Download the Word Hurdle – Word Game app now.
7. Crossword US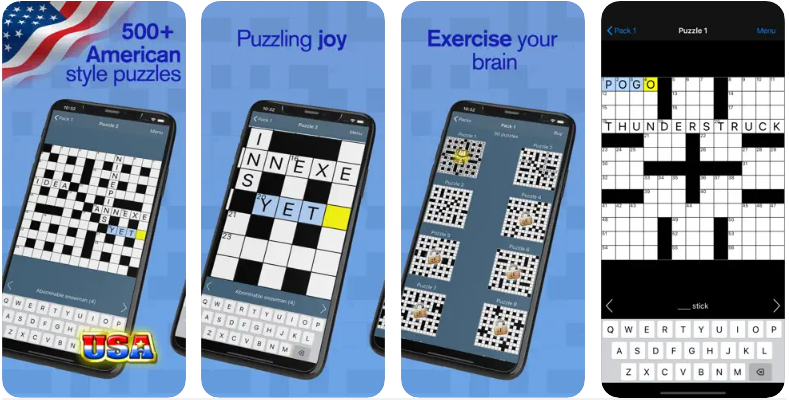 Play the classic board game on the go with 540+ American-style professional crossword puzzles waiting to be solved.
This daily word guessing game for iPhone has 27 free puzzles, all at a casual level suitable for all ages. If newspaper crosswords were a favorite part of your mornings, then Crossword US is just the right app for you.
In addition to offering fun and competitive gameplay, Crosswords US allows players to set their own preferences to enhance their gaming experience.
It also shakes up the traditional formula of the game by adding clues and answer cheats to indicate what a word might be. You can play in landscape mode with a clue list, zoom in with a pinch, and back up your saved games.
Price: Free with in-app purchases
Download the Crossword US app now.
Conclusion
There are several games on the app store but honestly, only a few are fun enough that you can really sink your teeth into.
The best word guess games aren't measured by their user ratings or number of downloads. One can only categorize a game as best if it serves the intended purpose: entertainment.
As long as you're enjoying the game, nothing should compare.
So, download all of these games, play them at least once, and keep only the ones you enjoy the most!