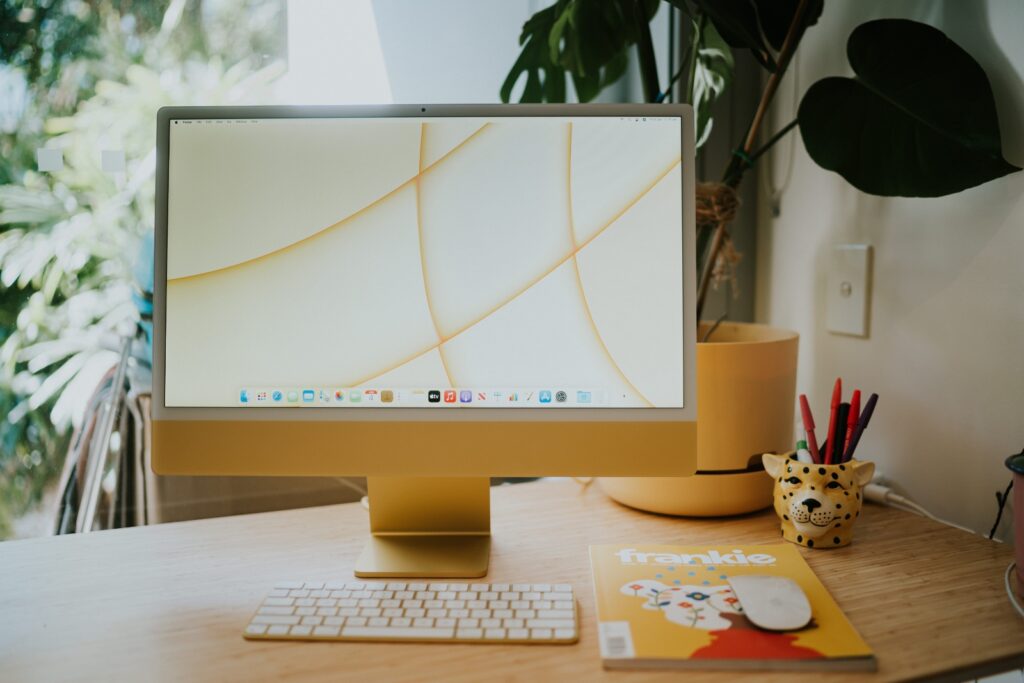 For decades, Photoshop and photo editing have been almost synonymous. And for a good reason – Adobe is at the pinnacle of image processing technologies. However, the Adobe brand alone has become something that users have to pay for.
Not to mention that Photoshop is filled to the brim with features that make the price crawl upward, but are hardly ever touched by most users. Thankfully, there is plenty of competition that offers exactly that – photo editing solutions without an overpriced brand name, as well as bells and whistles of little use. So, here are seven of the best Photoshop alternatives for Mac available to try right now.
PhotoWorks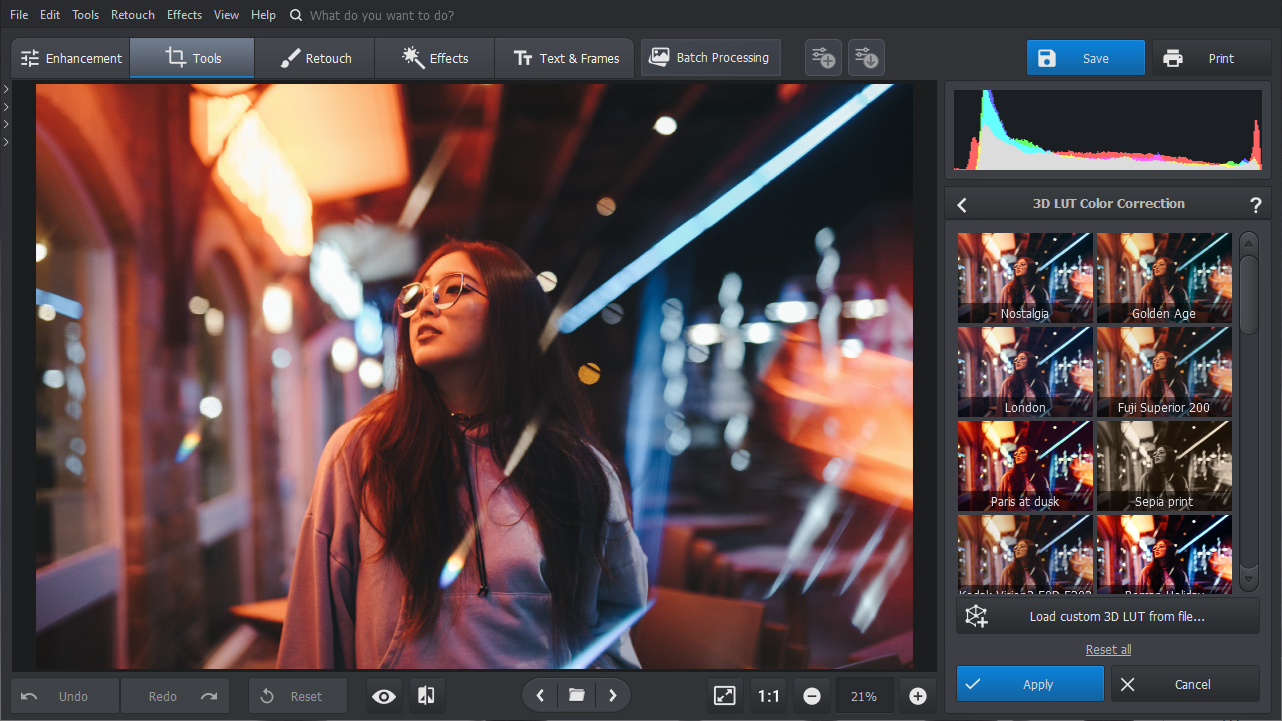 PhotoWorks actively rise in prominence as a jack of all trades and an interesting Photoshop alternative for Mac. A comprehensive and sleek interface, 180+ photo filters & effects, retouching tools, and one-click enhancement feature help improve and enhance any image in a snap. Even background swaps can be performed in a few clicks.
The more seasoned photographer will be happy to see the support of over 450+ RAW formats and an array of professional tools – 3D LUT presets, LAB colors, tone, and color correction. Batch processing mode allows editing multiple images at once and saves a great deal of time.
Another notable feature is a built-in portrait editing module. Pros and rookies alike can use it to make the models look their best with digital makeup, face and body line sculpting, and AI-powered enhancement.
A free trial will let you check this app out. If you wish to use it further, PhotoWorks comes in three packages: Standard for $19.25/year, Pro for $39.20/year, and Ultimate for $79.80 for a lifetime.
Affinity Photo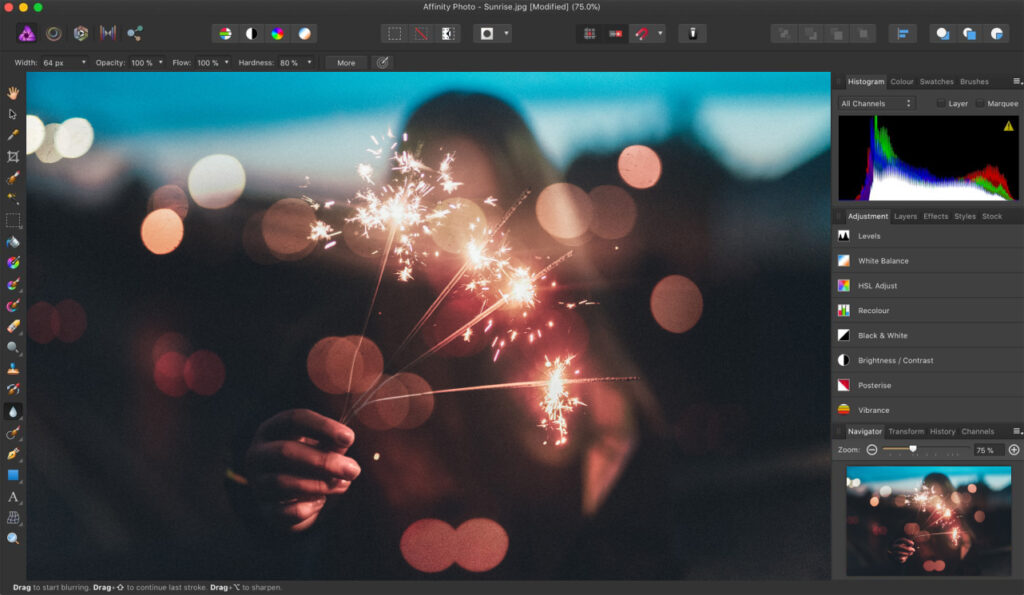 Affinity Photo is a Photoshop equivalent for Mac in all but name and price. Two programs even share most of the keyboard shortcuts, which makes the transition from one app to another rather smooth.
It is an incredibly potent application with almost every tool a professional photographer or graphic artist might need – non-destructive editing, layering, cloning, perspective correction, and many more. Affinity Photo has a learning curve, but also a plethora of tutorials and an active community that's ready to help you out.
However, Affinity Photo loses some points to Photoshop in terms of performance – some features just don't work as well. Check out the free trial to see if it is good enough for you. Regardless, Affinity still offers quite a lot for a $69.99 one-off payment.
Pixelmator Pro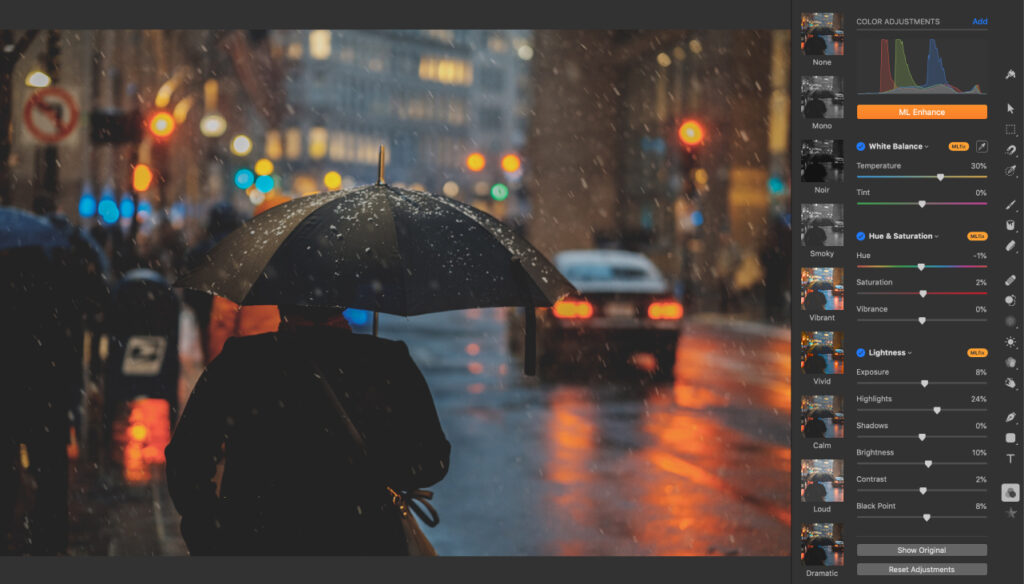 Pixelmator Pro includes pretty much all the features you'd expect from a Mac Photoshop alternative, but in a more accessible form. The package includes tools like clone, repair, quick selection, layers, and fully customizable filters. The warp tool of Pixelmator is a decent alternative to the Liquify tool in Photoshop.
Pixelmator also includes AI-powered features, such as ML Super Resolution – a method of one-click upscaling, as well as vector graphics processing.
Although there is a gap in performance quality between Pixelmator and Photoshop, the price gap is much wider – the former cost only $49.99 with no subscription fees.
DxO Photo Lab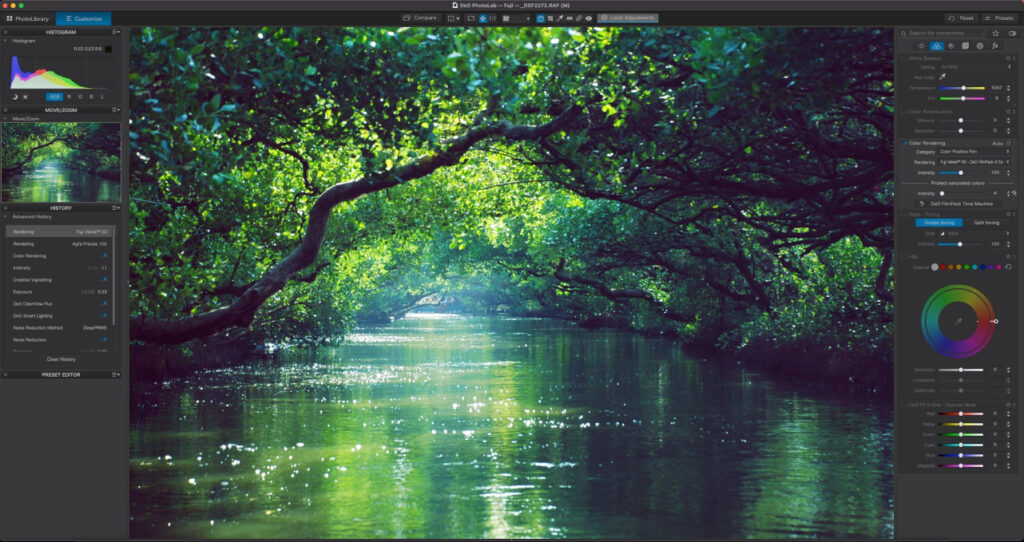 DxO Photo Lab's killer feature is camera emulation. It allows rendering your images as if made by one of 60 various cameras while preserving the details of your RAW files.
When it comes to editing, DxO Photo Lab can even surpass Photoshop in some regards. The toolkit includes smart lighting for fixing incorrectly exposed images, cloning and healing, automatic repairs, noise reduction, contrast enhancement, layers and masks, and whatnot.
Workflow can be greatly optimized with presets for automatic styling and asset management features – smart search tools, batch processing, metadata and keywords, and more.
However, every edge that DxO Photo Lab has over Photoshop is reflected in the price – $219 for a lifetime license. But it is a one-time payment, and a free trial will let us see whether it is worth it.
Luminar Neo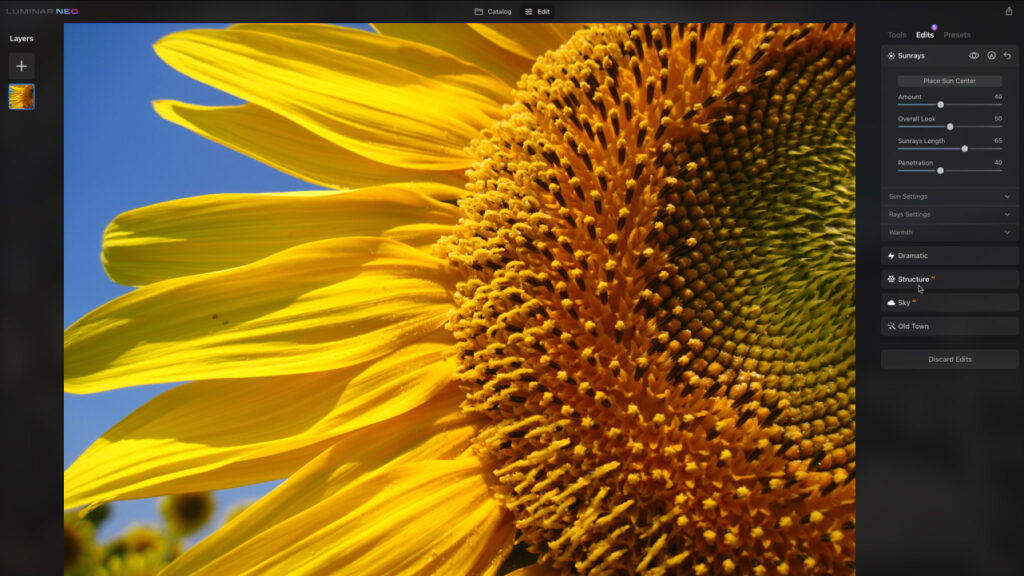 Luminar Neo is a non-destructive Photoshop substitute for Mac designed for professional photo processing and is stripped of excessive graphic design features. Still, its toolbox includes masking, layering, image retouching tools, adjustments, and creative filters, fonts, and effects.
Luminar Neo includes AI-powered content-aware tools: Sky AI, Background Removal AI, and Noiseless AI, to name a few. It also provides presets created by professional photographers. The workflow can be greatly optimized with a customizable workspace, comprehensive interface, and asset management system.
Luminar has a handful of downsides, though. For instance, the asset manager, as helpful as it can be, is rather limited in comparison with competitors. Plus, the app lacks export options. If you wish to purchase Luminar NEO, you can either get a subscription for $8.25/month or buy a lifetime license for $149.
ON1 Photo RAW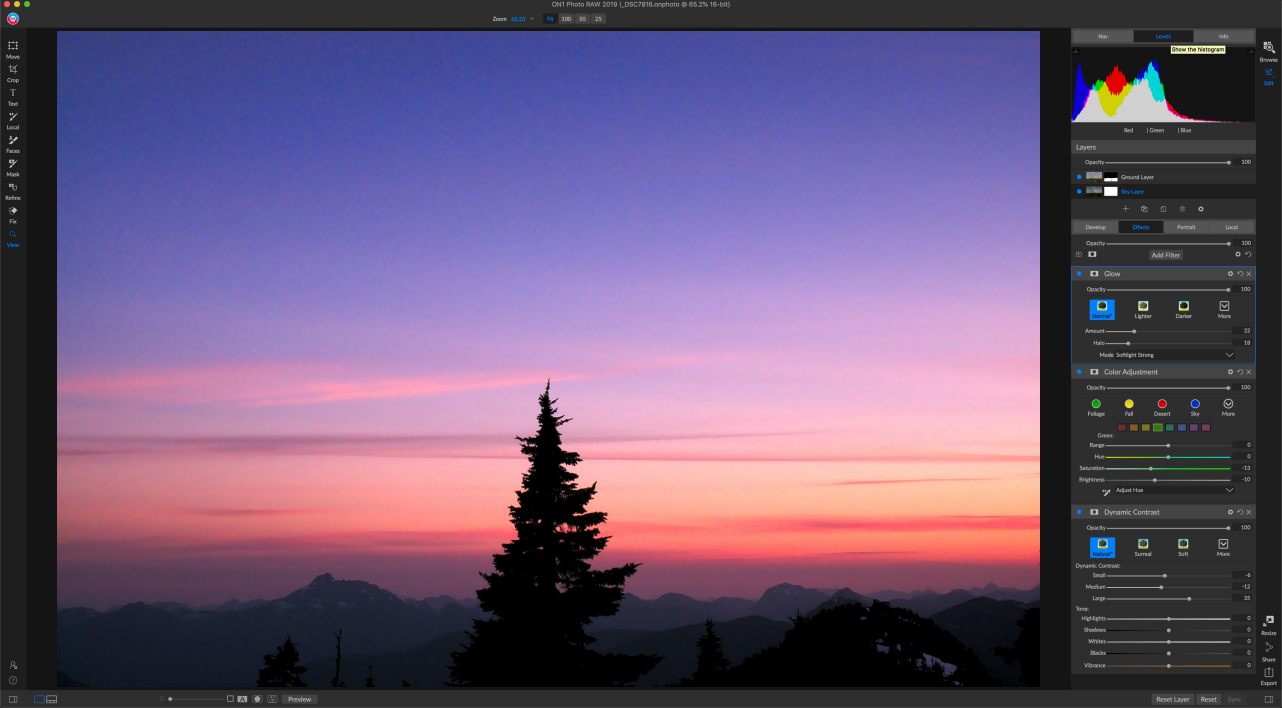 ON1 Photo RAW is a suitable alternative to Photoshop for Mac if you prefer manual editing over AI-based automatic tools. Portrait editing, numerous presets, filters, and masking tools to exercise your creativity – are a few of the ON1 Photo RAW's features.
This program might be overwhelming for a newbie due to the abundance of menus and options, but that is probably the only major drawback. There's a 14-day long free trial to wrap your head around it. After that, the price is quite lenient – $99.99 for a lifetime license.
Photopea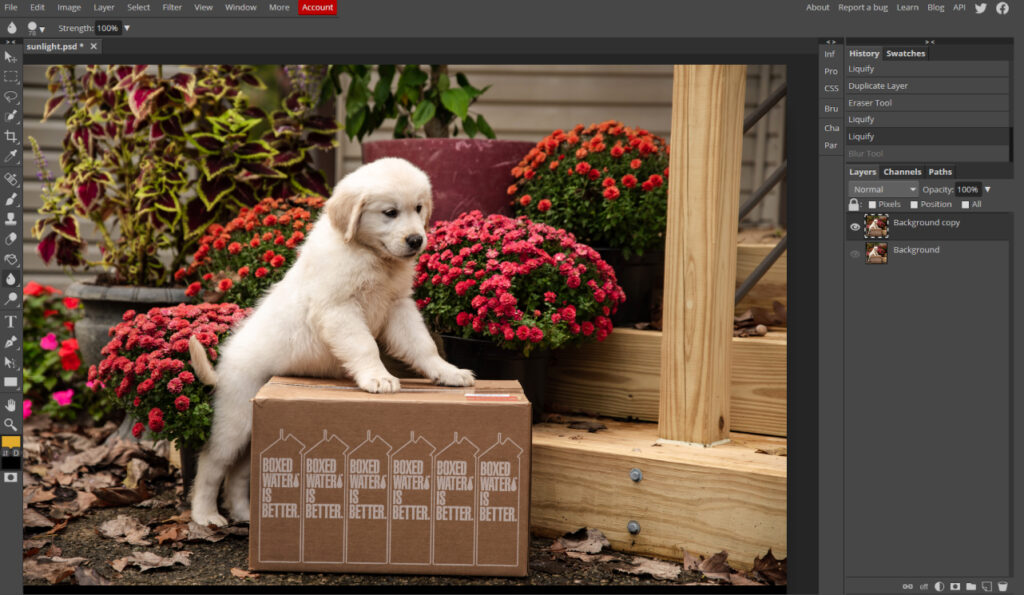 Photopea­ is a web-based free Photoshop alternative for Mac. It may not be as powerful as desktop software, but it is a great option to try making the first steps in photo editing, or do some retouching right then and there, without the installation of anything. In terms of features, Photopea offers a tool kit similar to Photoshop, while being much more affordable and accessible.
Online nature is both an advantage and a disadvantage because you have to rely on the stability of your Internet connection and upload your images to the web. On the other hand, it is completely free, as long as you're ready to tolerate ads.
Conclusion
So, can you really replace Photoshop? If you are a professional photographer or designer who needs an all-encompassing solution, then the answer is – unlikely. Very few apps include as many features and technology as the Adobe behemoth.
On the other hand, if you need a tool for a specific task or casual editing in general, then you have a plethora of applications like Photoshop for Mac at your disposal. There's something for any combination of experience, skill, and budget a user might have. Try out apps from our list or keep searching for more – you are sure to find something that fits your needs either way!