For anyone who has a serious work-from-home desk setup and wants to keep it looking nice and clean, managing cables and charging bricks can be a daunting task. Most of us have multiple gadgets that need constant power and many others that need to be recharged on a regular basis.
The Ugreen 65W USB C DigiNest Cube Charging Station, which I am going to review today can help in managing power for your gadgets and peripherals, while also making sure your workspace does not look like a cluttered mess.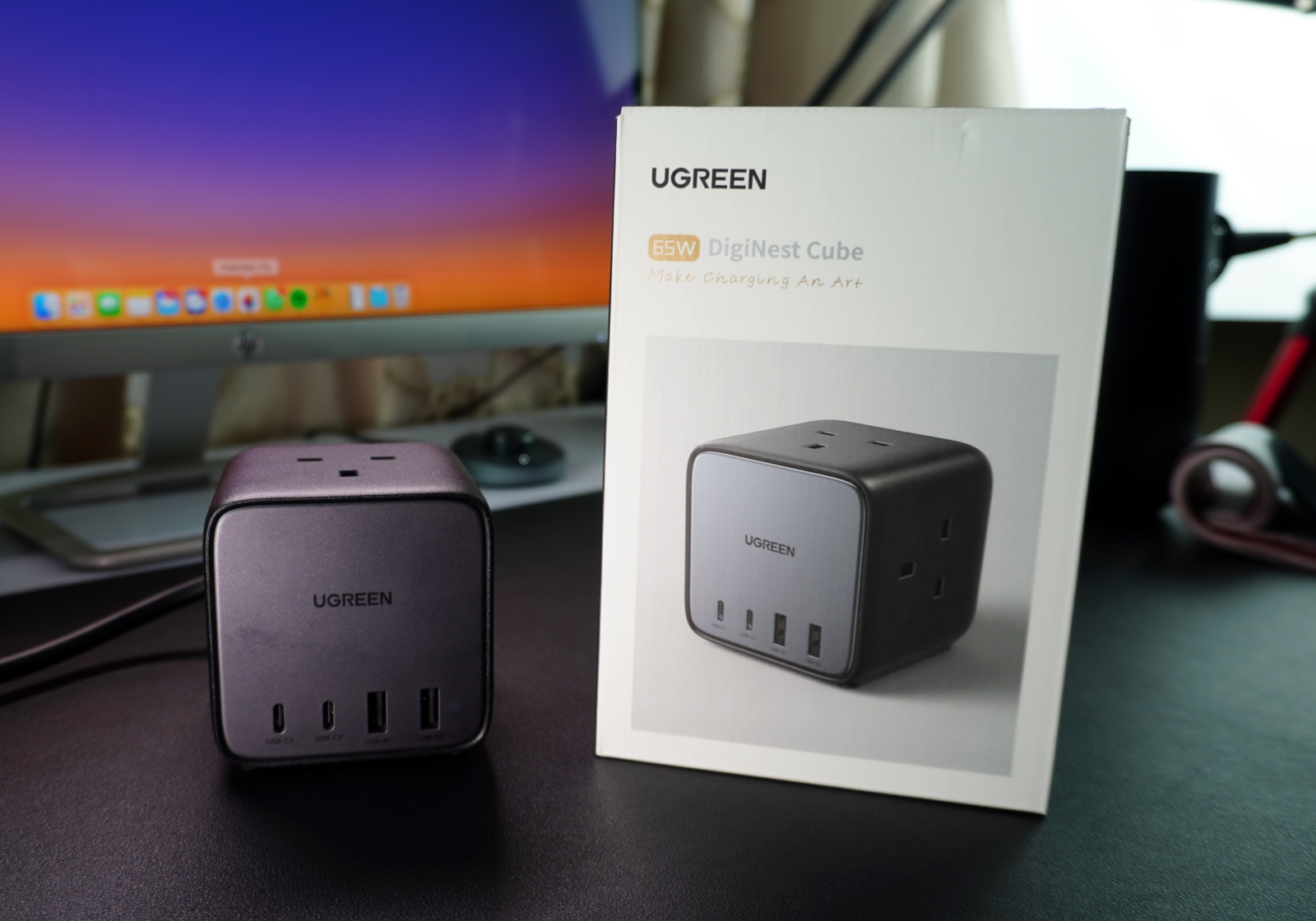 Features of Ugreen 65W DigiNest Cube Charging Station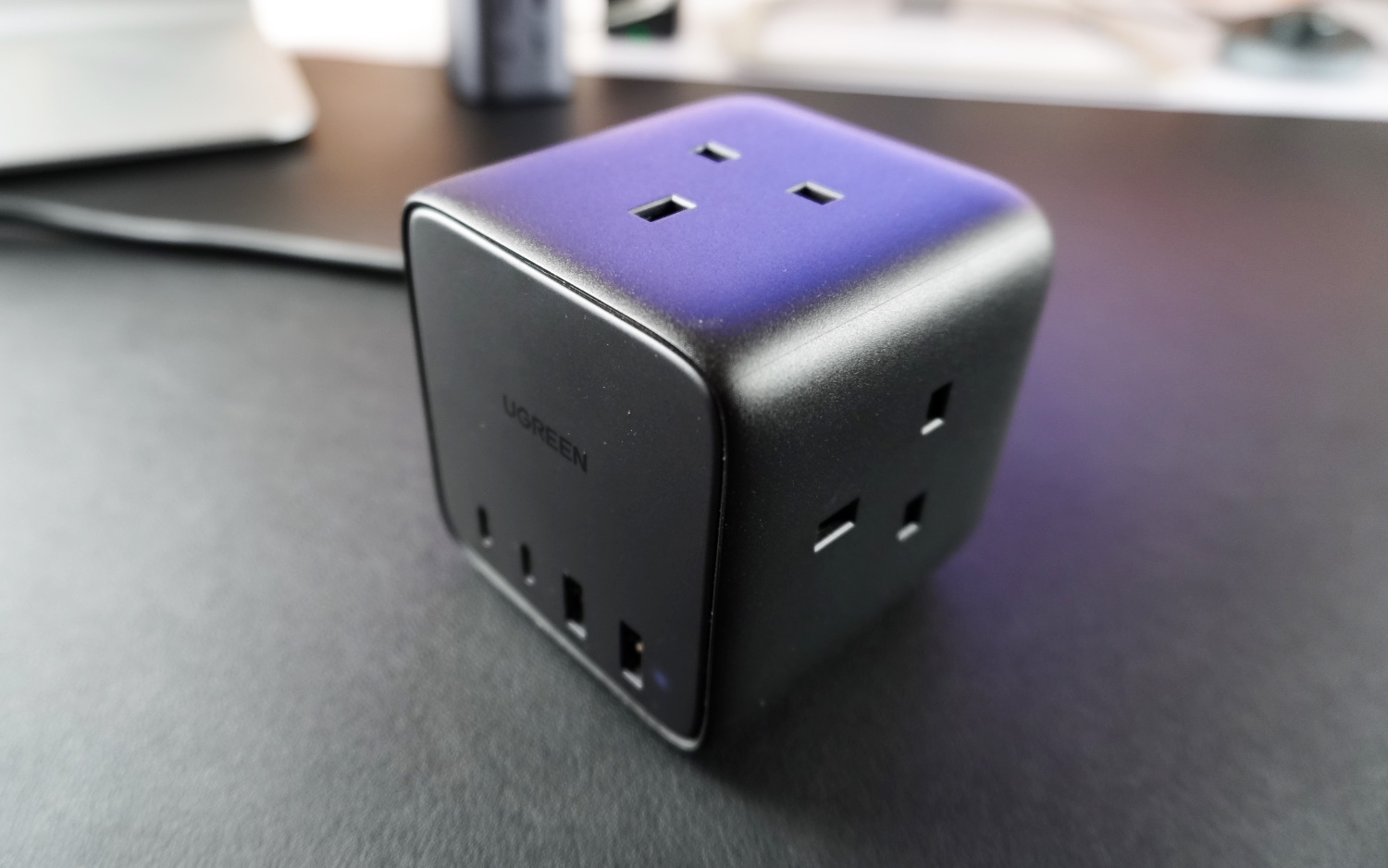 Ugreen 65W USB C DigiNest Cube Charging Station is essentially a multiple power strip that features 7 different types of power ports. It acts as an AC power source for 3 electronics while also providing USB power to four devices.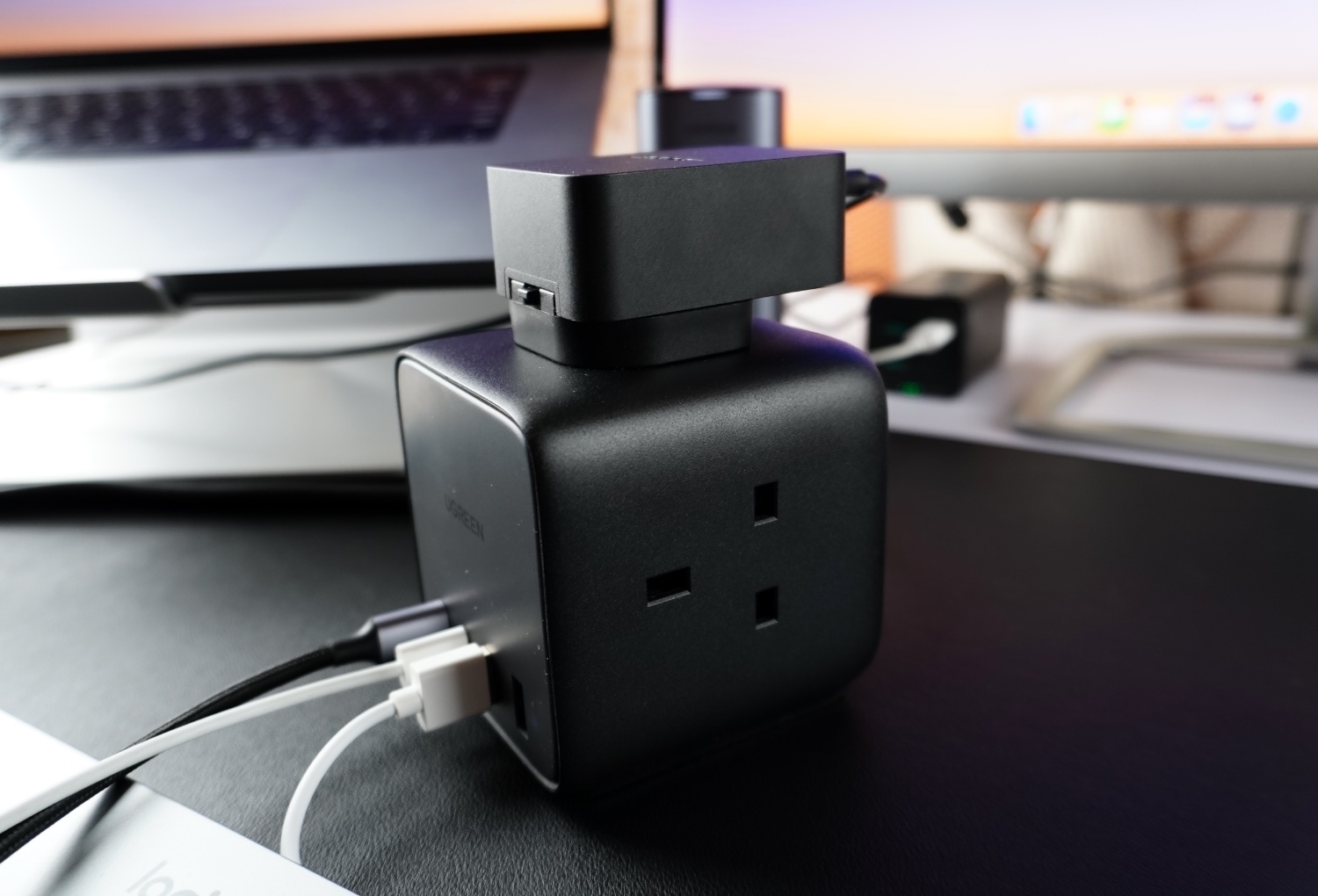 The cube has 3 AC outlets that can be used to directly plug gadgets with power cables or charging adapters. It also has 2 USB-C ports and 2 USB-A ports, which eliminate the need of using charging bricks that come with many modern devices.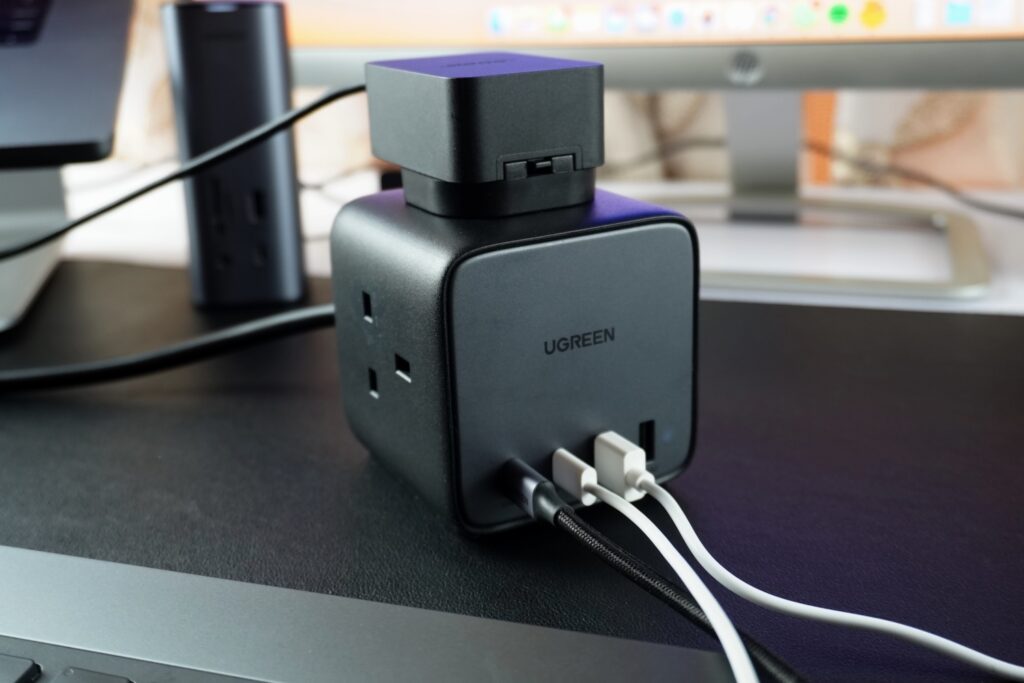 Measuring 2.9X2.9X2.9 inches, this charging cube replaces the large and bulky power strip that you might be using for powering your MacBook, monitor, iPad, iPhone, and other devices on your desk. As you can plug up to 7 different devices into this cube-shaped charging station simultaneously, this is the only charging station most people will need for their desk setup and other home charging needs.
Ugreen 65W USB C DigiNest Cube Charging Station comes with a 6ft extension cord, which is long enough to let you conveniently place the cube anywhere in the room.
On the back, the 65W DigiNest Cube charging station features a power switch that acts as the main power switch of the device. You can flip this switch off if you want to stop the power supply to all of your plugged-in devices. You also get a handy but subtle LED power indicator light that tells you when the device is on or off.
When it comes to charging, the Ugreen USB C DigiNest Cube Charging Station features fast charging capabilities and can charge your MacBook at 65W speed when using the USB-C PD port. This is enough to charge a 13-inch MacBook Pro from 0% to 100% in 2 hours.
In case you want to plug in more than one device to its DC ports, then the power is distributed between two devices with one USB-C PD port getting 45W and the other getting 20W. This also supports iPhone and Samsung smartphones' fast charging speeds.
Some of the devices that you can power or charge with the Ugreen USB C DigiNest Cube Charging Station at the same time include MacBook, iPad, iPhone, Printer, Monitor, Digital Camera, and Speakers. You can also plug your projector lamps, fans, and other electronics into the AC outlets of this charging station.
Safety Features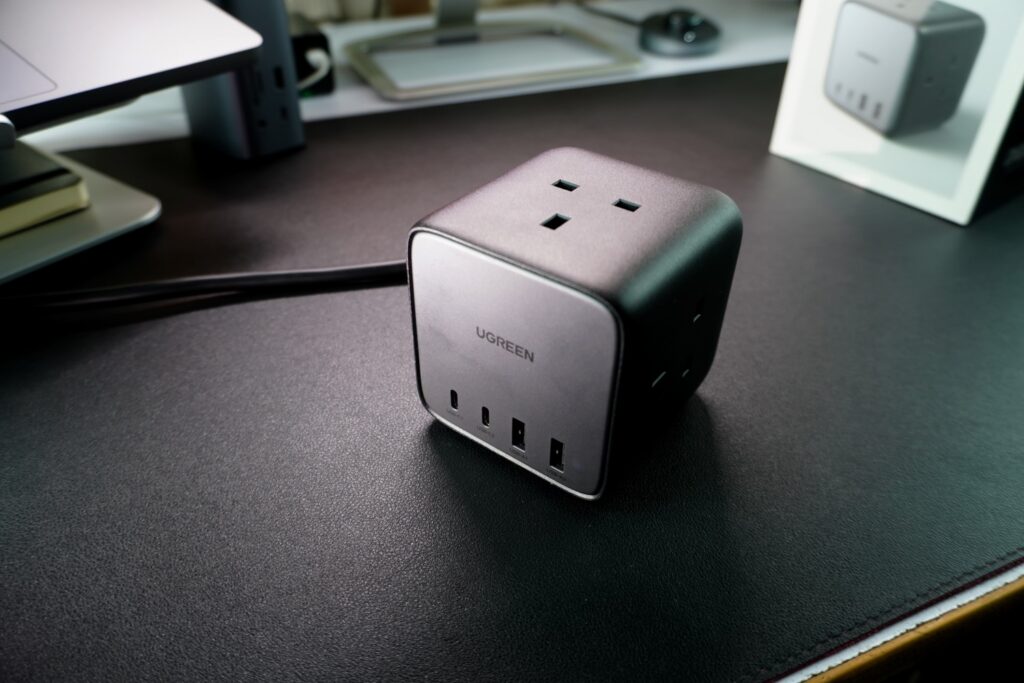 Plugging multiple devices into a single charging station raises safety concerns, and rightly so. We have seen many cases where a poorly designed charging station not only caused damage to the plugged-in devices but also caught fire.
Thankfully the Ugreen 65W USB C DigiNest Cube Charging Station is equipped with all the necessary safety features that are required to protect your house and devices.
This includes Over-Voltage protection, Over-Temperature protection, Overload protection, Grounded protection, Over-current protection, and Short-Circuit protection. With all of these safety features, you can rest assured that your devices and house will remain safe.
My Review Of The Ugreen 65W DigiNest Cube
After getting the Ugreen 65W USB C DigiNest Cube Charging Station I was able to replace the traditional power strip that I was using on my desk setup. Now this tiny cube-shaped charging station permanently powers my MacBook Pro, HP Display, and a Bose Bluetooth Speaker while also charging my iPhone, AirPods, and other USB-based gadgets.
Its cute cube-shaped design isn't the only thing that has made me its fan, but I have to say that I am a big fan of its simple and minimalistic black and grey aesthetic that goes really well with the overall look and feel of my desk and other gadgets on it.
As far as the build quality is concerned the Ugreen 65W USB C DigiNest Cube Charging Station's quality is as good as we have come to expect from a Ugreen product. It is well built and strong and I am sure will not break for a long time. The charging cube looks heavy-duty and delivers great power with all the necessary protections.
While I will be using this charging cube to power my work desk at home, this can also become a great charging companion for travel, as it will not only charge my devices without the need of adapters, the 3 AC ports can be helpful in powering other non-tech electronics that I normally carry with me including a beard trimmer.
Personally speaking, having a power switch at the back of the device is also great as I can use it to quickly stop power supply to all of the plugged-in gadgets without having to individually remove each device's cable or turn off the power button from the main wall outlet.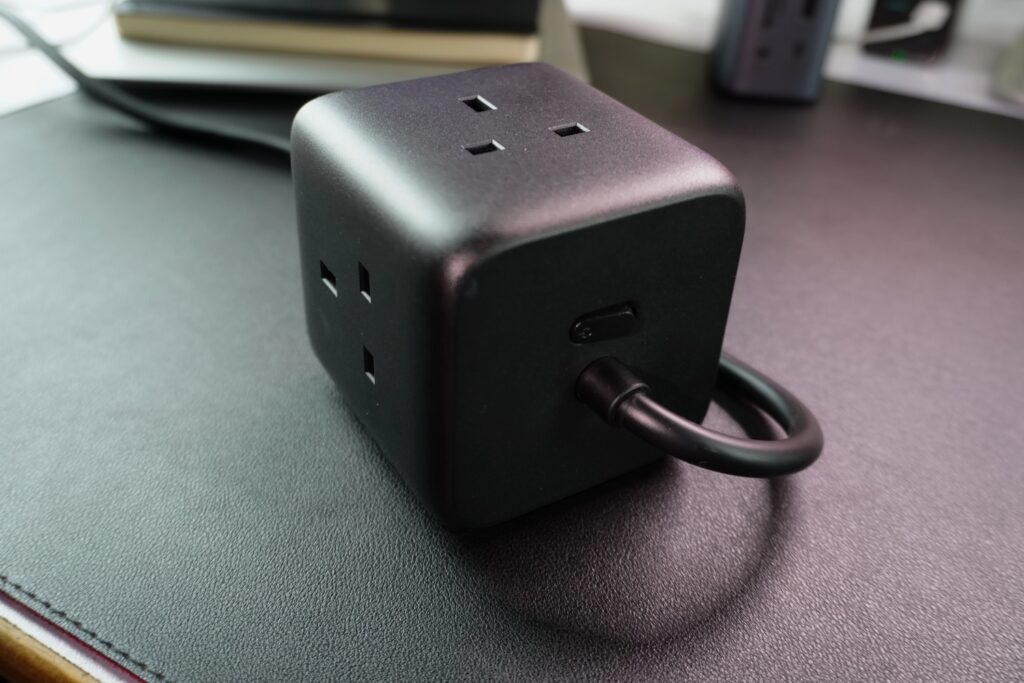 The only thing that I wish was part of this charging station is it was water-proof so that I could use it outdoors and near a pool. I hope Ugreen makes a waterproof version of the DigiNest Cube for those looking to use this charging station outdoors and take it with them to camping.
Overall I am very impressed with the Ugreen 65W USB C DigiNest Cube Charging Station and wholeheartedly recommend it to anyone looking to get rid of the old power strip in favor of something modern and more useful.
Pricing and availability
You can buy the Ugreen 65W USB C DigiNest Cube Charging Station at a price of £61.99 from Amazon here.