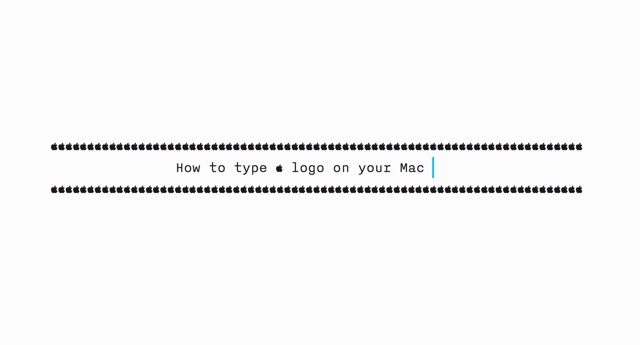 People who own Apple devices usually love the company. No matter if they have an iPhone, iPad, iPod touch, Mac, Apple Watch or any other product they are simply proud of their possession. People also love the iconic  logo, which is associated with the rich early history of the company and the gorgeous design of its products. Apple knows how much its users like the company logo, and that's why it has made it super easy for them to enter it from Macs. If you are using an Apple computer, you can type in the iconic logo by simply pressing a combination of keys. You can also send it on iMessage to your friends, enter in emails, different social media sites and more.
Here's how to type the Apple Logo  from a Mac
1 ) On your Mac go to any place where you can type. It can be any text editor, web form, text field etc.
2 ) Now press the Option + Shift + K keys together. Doing so should type the  logo. You can now send it to anyone.
Please note that  logo only appears on Apple devices. So if you are using it in an email or social media site, then only those who own an iPhone, iPad, iPod touch or a Mac will be able to see it. Others will either see a box or nothing in its place.
If you talk about Apple or its products with friends a lot then knowing this shortcut will make your life much easier and fun. You can now type company's logo  when referring to 'Apple' in general or type product names like  Watch,  iPhone,  iPad etc.