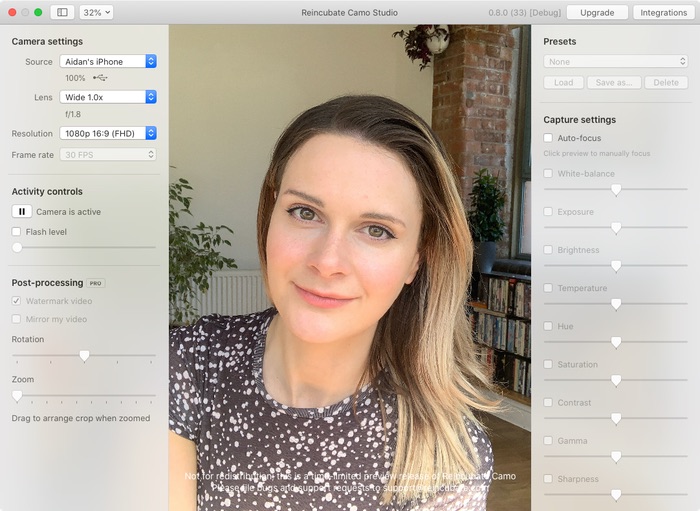 If you're tired of using your old low resolution webcam or are not satisfied with the below average webcam found on the Mac, then you are going to love the new Reincubate Camo app. This clever iOS app turns any iPhone or iPad into a high resolution webcam, which can be connected to any Mac through its dedicated desktop application.
Once you have installed both iOS and Mac Reincubate Camo apps you can then connect your iPhone or iPad to the computer using a USB cable. As soon as the device is connected it will turn into a webcam, allowing users to use both front and back cameras of the device for video input.
The result is a remarkable and crisp video output with no lag. What makes this even better is that the whole set up is so easy to manage since iPhone is a device that you carry with you anywhere you go anyway.
Reincubate Camo can be used with a wide variety of Mac communication apps. This includes popular communication apps like Zoom, Google Meet, FaceTime, Microsoft Teams, Cisco Webex Meetings, Skype, Chrome browser and many more.
By default the app runs at fullHD 1080p resolution however you can reduce the maximum resolution to 720p or lower resolutions well.
Reincubate Camo is free to use in its most basic form. However you can opt for the Pro version that will unlock a bunch of useful features like Flash, Watermark removal, mirrored video, zoom, ISO adjustment, exposure, brightness and more. The pro version comes with a $39.99 per year subscription.
Some features are also scheduled for future app updates, which includes Presets feature that can be used to save multiple settings presets and switch between them quickly.
You can download the Reincubate Camo app on your iPhone or iPad from the App Store for free. Once you have downloaded the app, you can then AirDrop the Mac app's installer from within the iOS app. To use the app run both iOS and Mac clients at the same time and then open the communication app you want to use your iPhone as a webcam with.