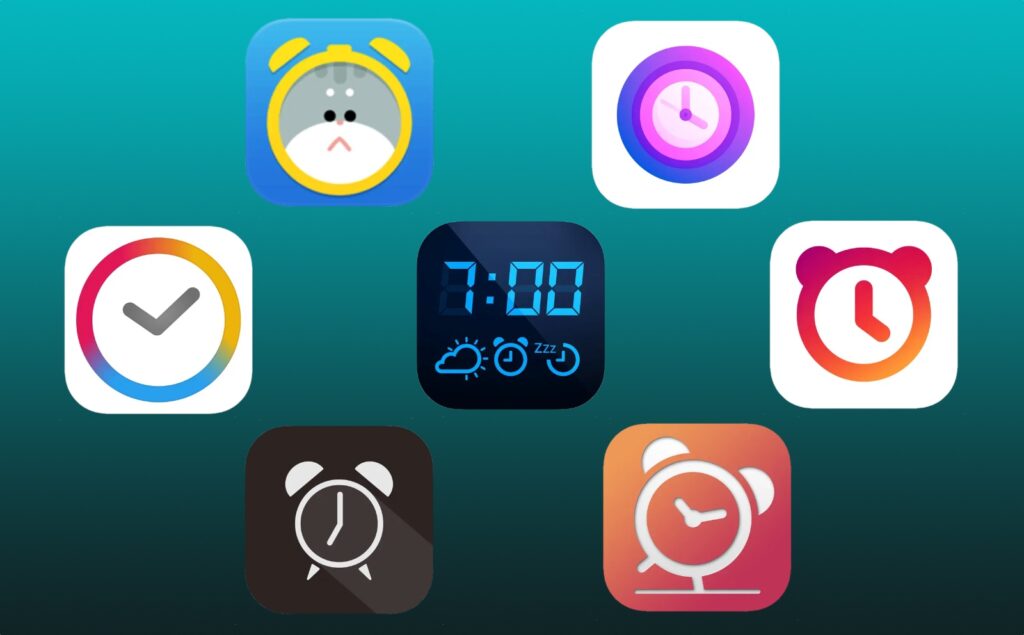 In this article, we discuss the best iPhone alarm clocks that will give you the right amount of push so that you never wake up late again.
You snooze, you lose. But sometimes, losing seems worth the extra 5 minutes of dozing off (that inevitably turns into half an hour at least).
For deep sleepers, the allure of a runaway alarm clock that scurries around, blaring until caught and silenced, may be tempting.
Fortunately, though, you can avoid that hassle by exploring the abundance of free alarm clock apps available on the Apple store.
Some of these apps are designed in a way that you won't be finding the snooze button easily. While some employ creative wake-up techniques like puzzles and barcode scanning to guarantee you're fully alert.
Let's discuss our top seven picks for the best iPhone alarm clocks providing diverse alarm sounds, sleep-tracking capabilities, weather updates, and customizable interfaces.
1. Alarmy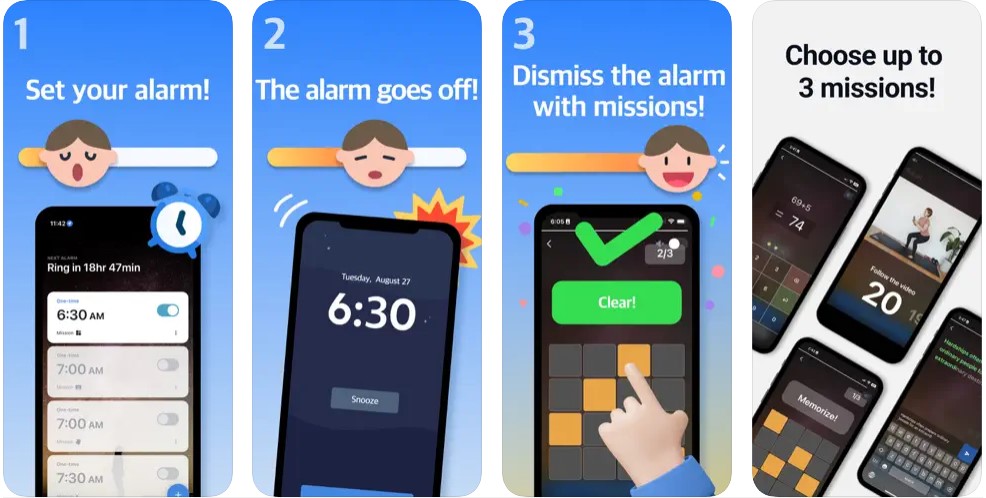 What makes it the best iPhone alarm clock and sets this app apart is its innovative and effective wake-up methods. Users can choose from various wake-up missions such as taking a photo of a specific object or shaking the phone vigorously to turn off the alarm.
But, Alarmy goes beyond just waking you up; it helps you sleep better too.
The top iPhone alarm clock of 2023 provides a collection of high-quality sleep sounds sourced directly from YouTube, allowing you to create a soothing sleep environment. With six categories to choose from you can tailor the sounds to your preferences.
If you upgrade to the premium version, enjoy additional features like Wake-up Check, Typing Mission, Step Mission, Multiple Mission, Extra Loud Effect, and Time and Label Reminders.
Price: Free to download with in-app purchases starting at $4.99
Download Alarmy Alarm Clock for iPhone now.
2. Alarm Clock for Me

The best free clock app for iPhone, Alarm Clock lets users personalize the appearance by selecting from digital, analog, and flip-style clocks.
Addressing the primary concern with third-party alarm apps, it offers background alarm support to ensure the alarm rings even when the app is inactive, eliminating the risk of oversleeping.
To stop the alarm, users have the option to shake their device or solve a math problem, adding an interactive element to the waking-up process.
This feature alone qualifies it as the best iPhone alarm clock for iPhone.
Furthermore, the app also provides customizable features, music integration, weather updates, a sleep timer, and additional functionalities like a flashlight and timer.
Price: Free
Download Alarm Clock for Me now.
3. Kiwake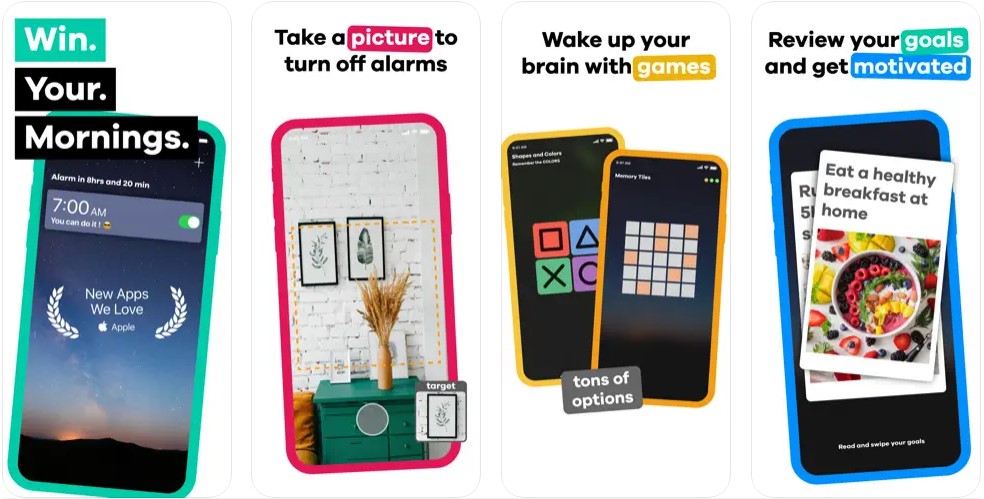 Put Kiwake on your radar if you're looking for the best alarm clock app for iPhone for heavy sleepers. Kiwake is the ultimate solution to break free from hitting the snooze button.
From gentle wake-ups to vibrant ones, you can customize your alarm experience according to your preferences. Choose from a variety of soft to loud ringtones and combine them with missions and additional helpful features, creating a refreshing way to start your day.
Moreover, Kiwake offers a sleep tracker that monitors your sleep patterns and provides insights to help you improve your sleep quality.
If you're seeking an alarm clock app that will get you out of bed and keep you motivated, Kiwake is the best iPhone alarm clock for you.
Price: Free to download with in-app purchases starting at $1.99
Download Kiwake Alarm Clock for iPhone now.
4. Alarmie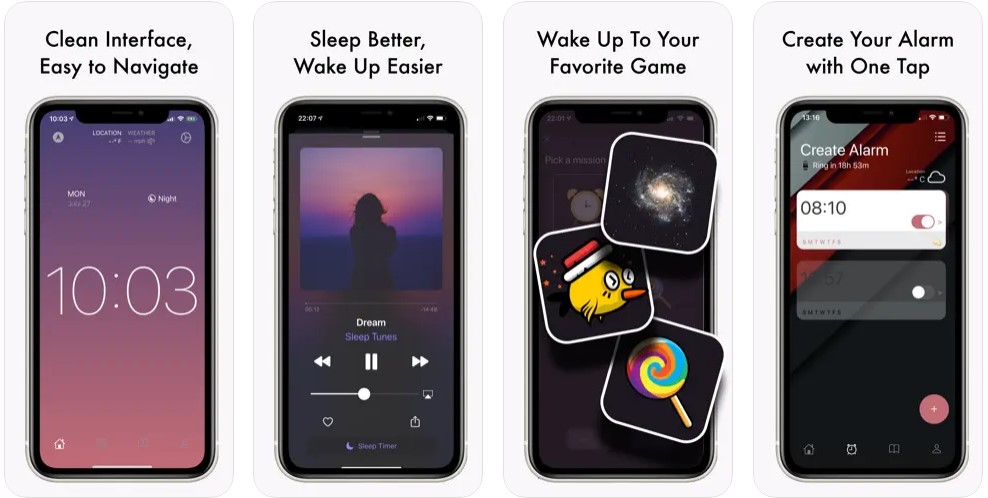 Possibly the best bedside clock app for iPhone, it boasts a clean and intuitive interface, allowing users to set alarms quickly and effortlessly.
Alarmie introduces mind-blowing AR games as a fun and effective way to wake up. When the alarm goes off, the only way to dismiss it is by playing the game you have set, ensuring that you are fully awake and engaged.
So, if you're a gaming enthusiast who has a hard time waking up, Alarmie is the best iPhone alarm clock for you.
Additionally, Alarmie offers a unique and engaging wake-up experience with its guaranteed wake-up efficacy, customizable features, motivational quotes, and convenient news integration.
Price: Free to download with in-app purchases starting at $2.99
Download Alarmie Alarm Clock for iPhone now.
5. AlarmMon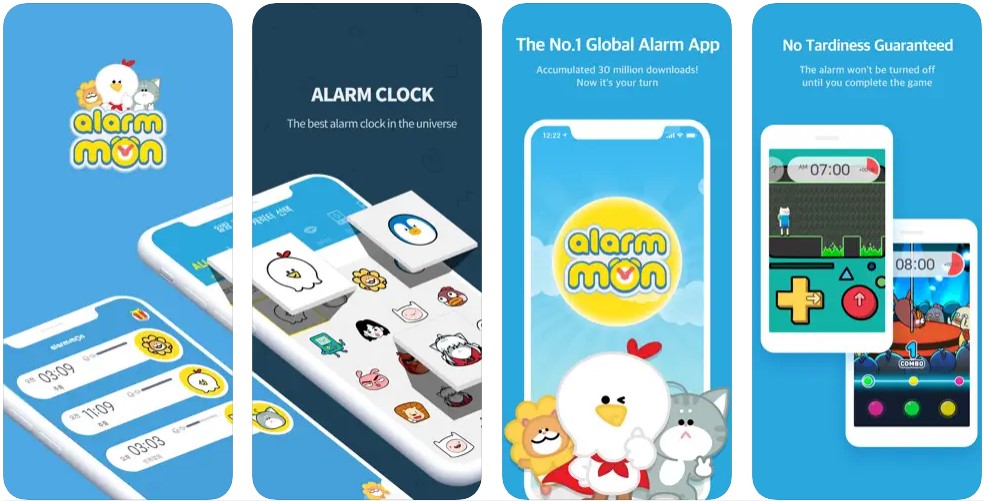 The best iPhone alarm clock in the playful and vibrant category, AlarmMon boasts a delightful collection of alarm characters. Each character comes with its own unique personality and style that can be customized per your preferences.
Add a touch of fun to your wake-up routine by playing mini-games to help you wake up and get your brain moving. These games range from simple puzzles to memory challenges, ensuring that you start your day with mental stimulation.
The app also includes useful features like weather forecasts and daily horoscopes, making AlarmMon a fun and informative free alarm clock app.
Its loud sounds, alarm history, quick alarm feature, and memo options make it a versatile morning partner that adds fun and functionality to your routine.
Price: Free to download with in-app purchases starting at $0.99
Download AlarmMon Alarm Clock for iPhone now.
6. myAlarm
Considered one of the best iPhone alarm clocks for music enthusiasts, myAlarm Clock allows you to set your favorite track as a music alarm. Wake up to the soothing sounds of your favorite tunes, making mornings more enjoyable.
If you can't select your favorite track, record your own wake-up sound.
You can also personalize the clock, choosing from multiple themes and colors, as well as digital or analog clock options. Additional features include vibration, an alarm with flash or light show, and the ability to restrict alarms based on your location or Wi-Fi network.
All iPhone alarm clocks in 2023 cater to diverse needs. This app stands out for providing a wide range of alarm options, supporting multiple alarms, and allowing to customize each alarm's label and snooze duration.
Price: Free to download | Remove ads for $5.99
Download myAlarm Alarm Clock for iPhone now.
7. One Touch Alarm Clock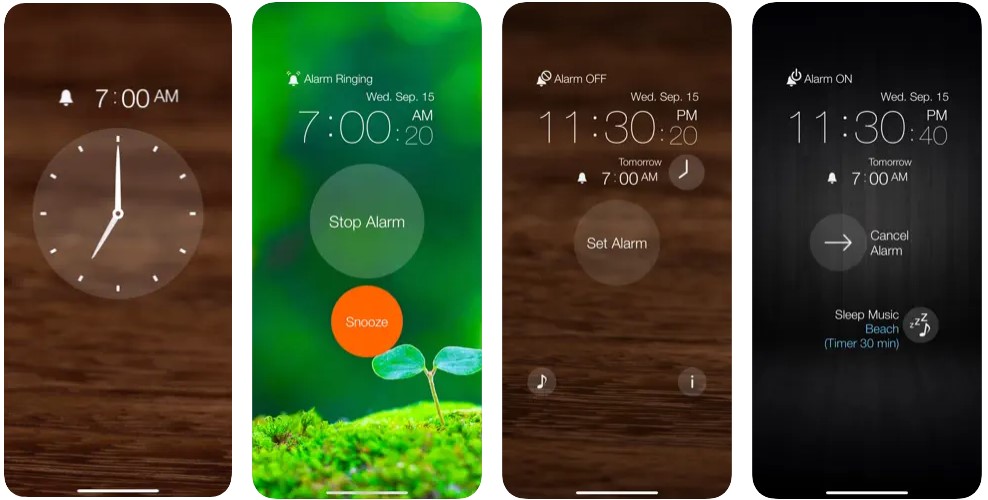 Simplicity and convenience take center stage with the One Touch Alarm Clock as it prides itself on its one-touch alarm setting feature. With just a single tap, effortlessly set the alarm time within two seconds and be ready to wake up on time.
The best alarm clock app for iPhone for heavy sleepers, it offers various alarm functions, including customizable snooze durations, vibration mode, and a gradual fade-in alarm.
It also includes a sleep timer with soothing music options, catering to a relaxing bedtime routine. Users can customize time formats and interface modes for personal preference, making it one of the best iPhone alarm clocks.
Price: Free
Download One Touch Alarm Clock for iPhone now.
Final Thoughts…
According to research, your morning routine can shape your mindset and experiences throughout the day.
So, how would your day unfold if you start it by hitting snooze ten times or waking up groggy because you couldn't sleep right last night?
Waking up right is just one piece of the larger puzzle that makes up a fulfilling and productive day.
Therefore, begin your day on the right foot using the best iPhone alarm clocks that help establish habits and routines that contribute to your overall well-being and success.