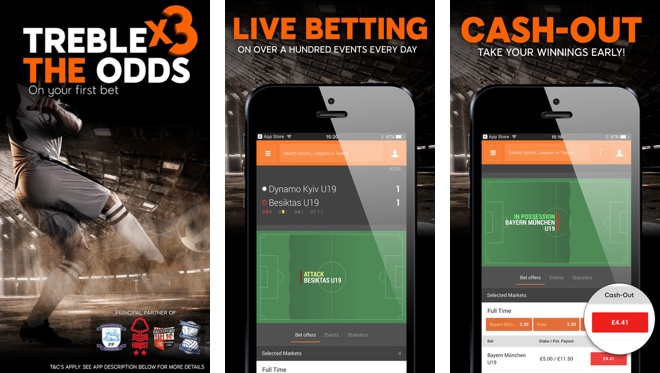 If you are looking for a well designed sport betting app for your iPhone or iPad, then look no further than 888sport for iOS. The app makes it super simple to monitor and place bets on hundreds of sports from around the world and on thousands of live betting markets. The games supported by 888sport app include football, tennis, cricket, horse racing, basketball, baseball, snooker, rugby and more.
Even though the app is full of features it does a pretty good job at organizing them, giving you quick access to markets, sports, teams and prices through its omnipresent search bar.
If you are into Premier League, Championship and Champions League matches, then you can view enhanced wincasts right inside the app on to go. You can even cash out instantly right from your iPhone or iPad once you are done playing without having to go to your computer and access your account. Even if you are not on the go, having the ability to cash out from the comfort of your couch is totally worth it.
The 888sport app offers graphic visualization of the live events that are happening on the screen, giving you access to useful stats and information that are not even available on the TV. For example, the Racing iCard gives you latest information on horse racing stats and facts. You can also get tips from Channel 4 presenter Emma Spencer.
The latest update to the app brought several improvements including ability for users to sign in using Touch ID and the brand new search bar that is more powerful than ever. Also check out 888sport betting site reviews on Twitter.
You can download the 888sport app from the App Store free. It is available for both iPhone and iPad. You need to be 18 years or over to be able to download this application and reside in UK, Russia, Sweden, Ireland, Greece, Portugal, Romania, Czech Republic, Luxembourg, Estonia, Finland, Slovakia, Slovenia, Austria, Malta, Hungary, Bulgaria, Poland, Latvia, Cyprus or Lithuania.